BUY STUFF AND SUPPORT AMP!
A percentage of every Amazon purchase made after clicking on the above link is donated to AMP. An easy and fun way to show support. Happy shopping! Or click here to make a tax deductible donation to AMP.
---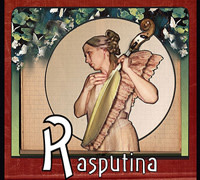 AMP Concerts & Launchpad present
Rasputina
Faun Fables
October 19, 2012 9:30 pm
- 11:00 pm
Add to Cal
//=$other_events?>
Time: 9:30pm Day: Friday Doors: 8:00pm Ages: 21+ Ages Price: $16.50
This Event Has Ended
Tickets are $16.50 including service charges.  In the unlikely event of a cancelation, service charges are not refunded.
Tickets are also available through Hold My Ticket (112 2nd St SW), 505-886-1251, Monday to Friday, 11 AM-6 PM.
Rasputina [web site | Amazon.com] works as an anomaly in popular music. By ignoring fashion trends and maintaining artistic integrity coupled with musical enthusiasm, the group has thrived as time has passed. They expose passionate fans to historical tales, and inspire young string players to seek alternatives to the classical world.
Born and raised in Kansas, Melora Creager—who has operated Rasputina for the past 19 years—comes from a musical family and received classical training. At 18 she moved to New York City to attend Parsons School of Design. While majoring in photography she began playing her cello in rock bands and became involved with drag performers. She formed The Fingerlakes Trio, a falsely geeky classical group that performed covers of disco hits, before joining NYC's Ultra Vivid Scene, who recorded three albums for cult British label, 4AD. It was her first exposure to the professional rock world—UVS opened for label mates like The Pixies, Belly and Throwing Muses. Following a tour with Nirvana as a cellist on their In Utero tour she desired to do a project of her own, and she created Rasputina.
The concept for the group came to her fully formed; the idea was written as a manifesto. Her intention was to create an electric cello choir - no boys or guitars allowed. Through want ads she recruited like-minded young cellists. Rasputina evolved, employing elaborate costuming, as they were unable to move about while forcibly stationary in their chairs. What began as strictly "Victorian Whites"—bloomers, corsets and hoopskirts—has evolved into an amalgam of historical feminine icons - Indian princesses, Hawaiian handmaidens and fallen medieval queens, and Rasputina keeps their cultish following enthralled with intimate recitals and post-show receiving lines.
The cello-driven steampunk trio's seventh album, Sister Kinderhook, is the first full length release by their most recent line-up. Joining Melora is—for the first time ever—a male cellist, Daniel De Jesus, and punk-folk drummer Catie D'Amica.
Faun Fables [web site | Amazon.com] is Dawn McCarthy's vivid imagination come to life in song and theater, made to explore human pathos amid an animate earth with musical & physical storytelling forms. It has been attracting a devoted and eclectic following since 1997. McCarthy is a writer, singer and theater artist whose work is a sea of gorgeous elemental nitty gritty; haunting melodies, breath, stomping, and natural theatricality led by the voice, rooted in the physical body. It is a crossroads where ancient ballad, art song, physical theater and rock music meet.
Faun Fables began in 1997, when Dawn 'the faun' McCarthy left the bands and cabarets of NYC for the wider world. She grew up in eastern Washington state enjoying drawing, dance, and make-believe amongst a large family. Dawn performs Faun Fables most often as a soloist or with frequent collaborator Nils Frykdahl of Sleepytime Gorilla Museum. Faun Fables tour the world regularly, studying landscape, culture and the art of feasting with locals. In the years to come, Dawn hopes to combine studies in rural housekeeping with songcraft in various countries. She is based in Oakland, CA.
---

---
All content © 2004-13 by AMP. Web site by interbridge. Banner by Golden Sage Creative.
Photo of Lyle Lovett by Michael Wilson. Photos of the Guerrilla Girls, Suzanne Vega, Cowboy Junkies, Po Girl, Wagogo and Sam Bush by Alan Mitchell.
Hosted by