BUY STUFF AND SUPPORT AMP!
A percentage of every Amazon purchase made after clicking on the above link is donated to AMP. An easy and fun way to show support. Happy shopping! Or click here to make a tax deductible donation to AMP.
---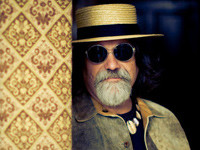 Darrell Scott
In Concert and Conversation
August 31, 2012 7:30 pm
- 9:30 pm
Add to Cal
//=$other_events?>
Time: 7:30pm Day: Friday Doors: 6:30pm Ages: All Ages Price: $20
This Event Has Ended
Tickets are $22 advance (inclusive of all service charges), $25 day of show. They are also available through Hold My Ticket (112 2nd St SW), 505-886-1251, Monday to Friday, 11 AM-6 PM.
The evening starts with a live interview by John & Viv from Art of the Song Creativity Radio and is followed by a full concert performance.  The whole thing will be turned into a one-hour syndicated radio special.
7:30 - Interview
8:15-ish - Concert
Born on a tobacco farm in London, Ky., in 1959, and raised in E. Gary, Indiana, Darrell Scott [web site | Amazon.com] was part of a musical family. His father Wayne, a steelworker by trade but a songwriter in his heart, moved his clan to Southern California when Darrell was 11. Soon Darrell and brothers Denny, Dale, Don, and David were part of their dad's band, getting on-the-job training in country music as they played its hits on the stages of roadhouses and taverns as far north as Alaska.
Darrell eventually left the band and California, paying some more musical dues in Toronto and in Boston and earning a degree in poetry from nearby Tufts University, where he also studied literature. With his lyric skills sharpened and his abilities on guitars, banjo and other instruments already road-tested, Darrell followed his muse to country music's Ground Zero, Nashville. His key to entering Music Row's inner circles was, at first, his string-slinging skills—starting in 1992, he appeared on albums by alt.country mavericks Guy Clark (for whom he later produced two CDs) and Steve Earle, Randy Travis, Patty Loveless, and dozens more.
As his "day job" as a picker flourished, Darrell channeled his other creative energies into his own songwriting and recordings. By the time he had released his debut CD, Aloha from Nashville (1997), its follow-up Family Tree (1999), and Real Time (2000), a duo album with "newgrass" trailblazer Tim O'Brien, Darrell's original songs were much in demand by singers looking for more than "big hat" bragging or slick country-pop. Suzy Bogguss was the first of many to record a Scott song, taking his "No Way Out" into the country singles charts in 1996. Darrell's compositions became highlights of albums by Garth Brooks, Faith Hill, Kathy Mattea, Maura O'Connell and even his mentor, Guy Clark. The Dixie Chicks' recording of "Long Time Gone" from Real Time was not only a hit for the Chicks but garnered a 2003 Grammy nomination for "Best Country Song"; "The Second Mouse," a Scott/O'Brien tune from Real Time, was a Grammy finalist as "Best Country Instrumental Performance" in 2001. That same year, Darrell was named Songwriter of the Year by the Nashville Songwriters Association International, an honor repeated by ASCAP in 2002.
Darrell's solo CDs, session work, touring gigs with Steve Earle's Bluegrass Dukes (of which he remains a member), Guy Clark, and Newgrass Revival founder Sam Bush, and his own live shows have steadily drawn reviews even payola can't buy. USA Today praised his "brilliantly clever songs"; Entertainment Tonight raved about his "powerful songwriting, passionate vocals and masterful picking"; Rolling Stone listed his 2003 CD, Theatre of the Unheard, in their list of Critics' Top Albums and compared him to Clark and Springsteen "at their best." Performing Songwriter went all the way, dubbing him "the best of the best."
Somehow, Darrell has continually found the time and energy to expand his musical activities ever further. In 2003, he launched his own label, Full Light Records, and his first move as owner was to produce a traditional, mountain country album for his father, This Weary Way, that finally showcased Wayne's original songs. For the past two years, Darrell has been the "artist in residence" with Orchestra Nashville (members appear on Modern Hymn's "Joan of Arc"), creating what he calls "diverse musical happenings—the odder the better," mixing the string section with such guests as Sam Bush, jazz guitarist Bill Frisell, and other musicians from many genres.
Darrell describes his new album, Long Ride Home, as "the old country music of cheating, drinking, working, longing—pre-Garth, pre-video, pre-urban-cowboy country music—the voice of working people—people of the land—it is their poetry...country music and king james—the country music cuts the deepest... it is country music how i remember it—with some of the players that made the very music that was both lifting & breaking my heart as a kid—what i find is the country music industry has changed, but country & working people have not changed so much—they still love country music when they hear it—i hope they get to hear this."
The evening will start with a live interview by John and Viv from Art of the Song Creativity Radio, followed by a full concert performance. 
---

---
All content © 2004-13 by AMP. Web site by interbridge. Banner by Golden Sage Creative.
Photo of Lyle Lovett by Michael Wilson. Photos of the Guerrilla Girls, Suzanne Vega, Cowboy Junkies, Po Girl, Wagogo and Sam Bush by Alan Mitchell.
Hosted by