BUY STUFF AND SUPPORT AMP!
A percentage of every Amazon purchase made after clicking on the above link is donated to AMP. An easy and fun way to show support. Happy shopping! Or click here to make a tax deductible donation to AMP.
---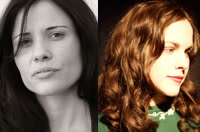 Shannon McNally & Amy LaVere
Sage Harrington
October 16, 2012 7:15 pm
- 10:30 pm
Add to Cal
//=$other_events?>
Time: 7:15pm Day: Tuesday Doors: 7:00pm Ages: 21+ without parent or guardian Price: $12
This Event Has Ended
Tickets are $12 advance, $13 day of show (plus $2 service charge). They are also available through Hold My Ticket (112 2nd St SW), 505-886-1251, Monday to Friday, 11 AM-6 PM.
We had such a good time with Shannon opening for Buffy Sainte-Marie at the KiMo that we couldn't wait to have her back, particularly not when she was touring with Amy LaVere!  Check out the video below from Shannon's KiMo performance.
Shannon McNally got her first guitar and JJ Cale album at the age of 12 and never looked back. Combined with the classic rock she grew up listening to—The Allman Brothers, Dr. John and Hendrix—it's the musical center of gravity she brought to her 2002 Capitol Records debut Jukebox Sparrow, gaining notice from Rolling Stone, the New York Times, Leno and Letterman. This decidedly rare approach for a woman drew the same accolades for indie-based Geronimo, helmed by Charlie Sexton. On the self-produced Coldwater, McNally led her Mississippi-based band, Hot Sauce, through the juncture where country and soul music meet—made all the more powerful by the keys of the late, great Jim Dickinson (his last recording.)
McNally sings her sly, sultry originals with a voice that combines the ache and silver of Emmylou Harris with the delivery of realists like Townes Van Zandt or Gillian Welch. The New York Times says she's "irresistible," and American Songwriter praised Coldwater with, "Willfully loose, swampy country-soul tracks, her sensual, humid singing smack-dab in the middle." Some artists are too idiosyncratic and noncommercial for even offshoots of major labels to feel comfortable with. That's McNally's situation, so instead of hooking up with a well-placed indie after a few albums for various EMI-distributed imprints, she ventured out on her own. Coldwater became an instant cult classic, and 2011's Western Ballad, her 9th release and her 2nd self release, can best be described as psychedelic Americana. The title track was written by Allen Ginsberg and sports lead guitar work by Shannon.
Her most current and visible album release joined her with Luther Dickinson's group The Wandering along with Amy Lavere, Valerie June and Sharde Thomas for the album Go On Now, You Can't Stay Here with an accompanying nationwide tour. But she also took a low-key approach to self-releasing an EP of new demo material called Lightwalker. Adding those projects to the self-produced Coldwater and the avant-garde Western Ballad, you could say that she's permanently in the crux of a prolific phase, with plans for other albums on the near horizon. This summer she's doing some solo dates as well with some shows with her band Smoke Signals, featuring Will Sexton on guitar, Susan Holmes on bass, and Wallace Lester on drums, with McNally leading on her own guitar.
Singer-songwriter and upright bassist Amy LaVere was born near the Texas-Louisiana border. She moved 13 times before she finished high school in Detroit. After stops in Louisiana and Nashville, she settled in Memphis, where she began to perform as a solo artist. Also an actress, she played pioneering rockabilly queen Wanda Jackson in the film "Walk the Line," and appeared in the Craig Brewer film "Black Snake Moan."  LaVere's forthcoming record, Stranger Me, was produced by Craig Silvey, who also produced Arcade Fire's Grammy-winning release The Suburbs. Alongside David Cousar on guitar and Shawn Zorn on drums, the vulnerability in LaVere's voice can be felt as she plays a carefully selected cycle of songs about love lost—the basis for Stranger Me. Stranger Me is the next step in the exciting evolution of Amy LaVere—clearly more confident in her musical point of view, possessing more wisdom about what love is not and ready to embrace the ideal of the stranger, whatever its iteration.
Amy and Shannon will be playing together along with a full band, as well as backing one another up on their material.
Opening the show is Sage Harrington. Sage's music sounds as if Regina Spektor had kidnapped a bluegrass band: she sings in her clear soprano, strums a ukulele, and secretly bows a fiddle. The silly songs she's written act as a catalogue of the mundane details of everyday life. Like refrigerator lights? Like it when soap floats? Then listen up! Local iQ says, "serious she is — seriously fun... Harrington giggles and bubbles on stage. Equal parts ukulele, fiddle, vocal range and charm..."
---

---
All content © 2004-13 by AMP. Web site by interbridge. Banner by Golden Sage Creative.
Photo of Lyle Lovett by Michael Wilson. Photos of the Guerrilla Girls, Suzanne Vega, Cowboy Junkies, Po Girl, Wagogo and Sam Bush by Alan Mitchell.
Hosted by