BUY STUFF AND SUPPORT AMP!
A percentage of every Amazon purchase made after clicking on this link is donated to AMP. An easy and fun way to show support. Happy shopping! Or click here to make a tax deductible donation to AMP.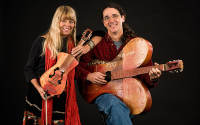 Still on the Hill
Time: 7:30pm Day: Saturday Doors: 6:30pm Ages: All Ages
This Event Has Ended
Tickets are $17 in advance, $22 day of show (including all service charges). They are also available through Hold My Ticket (112 2nd St SW), 505-886-1251, Monday to Friday 9 AM - 6 PM, Sat & Sun 11 AM - 6 PM.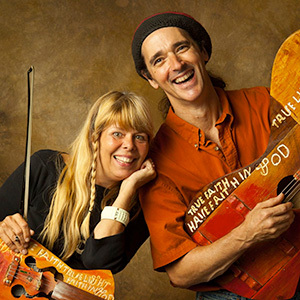 Still on the Hill is a national and international touring group from Arkansas that has been described as "Ambassadors of the Ozarks" for the work they do to preserve a rich culture that is quickly disappearing.
Kelly & Donna Mulhollan of Still on the Hill are award-winning "story-telling-songwriters." Different than most singer-songwriters, this dynamic duo embellishes their songs with a host of unique instruments from the hills they call home. Many of these were hand-made by old-timers and have amazing stories that go with them.
Kelly is a fifth generation native Arkansan who is a classically trained guitarist. At six years old he cut his teeth playing ukulele and listening to Bob Dylan, Woody Guthrie and Pete Seeger. As a teen he embraced the progressive rock bands like Genesis and Yes and perfected that complex style of music. Now when he plays the guitar, banjo, mandolin, harmonica, ukulele or upright bass, you can hear all those influences—along with his strong Ozark roots—coming through to create a sound that is unique to Still on the Hill. Kelly's masterful songwriting dips into the deep well of history, and his love for the Ozarks is alive in every word and note that he plays.
Donna learned the fiddle in the kitchen with her dad, who played the guitar and sang old Hank Williams and Bob Wills songs.  For 35 years she toured the country playing with various country-western bands and even did a stint with a large Las Vegas show. At 18, she met an old fiddle maker named Denton Boze who lived in a tarpaper shack in the Arkansas backwoods. His story haunted her for years and in her late 30s, she wrote her first song about him, opening a floodgate of songs, many about people and places in the Ozarks. Her instrumental palette includes several one of a kind Ozark-made fiddles, mandolin, musical saw, scrub-board, ukelin, guitar, mule-jawbone and Ozark pickin' bow.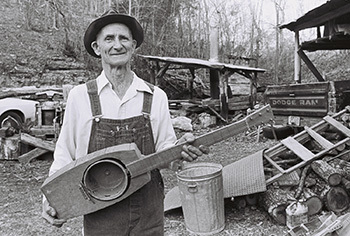 This show will includes fascinating stories and original songs about Ed Stilley performed on his instruments. In 1979, Ed Stilley was leading a simple life as a farmer and singer of religious hymns in Hogscald Hollow, a tiny Ozark community south of Eureka Springs, Arkansas. Life was filled with hard work and making do for Ed, his wife Eliza, and their five children, who lived in many ways as if the second half of the twentieth century had never happened. But one day Ed's life was permanently altered. While plowing his field, he became convinced he was having a heart attack. Ed stopped his work and lay down on the ground. Staring at the sky, he saw himself as a large tortoise struggling to swim across a river. On his back were five small tortoises—his children—clinging to him for survival. And then, as he lay there in the freshly plowed dirt, Ed received a vision from God, telling him that he would be restored to health if he would agree to do one thing: make musical instruments and give them to children. And so he did. Beginning with a few simple hand tools, Ed worked tirelessly for twenty-five years to create over two hundred instruments, each a crazy quilt of heavy, rough-sawn wood scraps joined with found objects. A rusty door hinge, a steak bone, a stack of dimes, springs, saw blades, pot lids, metal pipes, glass bottles, aerosol cans—Ed used anything he could to build a working guitar, fiddle, or dulcimer. On each instrument Ed inscribed "True Faith, True Light, Have Faith in God." Kelly's book True Faith, True Light: The Devotional Art of Ed Stilley documents Ed Stilley's life and work, giving us a glimpse into a singular life of austere devotion.
"These musicians have grafted the wild climbing vines of bluegrass, folk, classical and mountain music onto the hardiest of Ozark rootstock. The result is a yet-to-be-named hybrid music that simply compels people to stop and listen, to pause in their hectic lives and pay attention to something they've never heard before. It's magic, and there's simply not enough magic in the world today."
—Julie Koehler, Bluegrass Now Magazine
---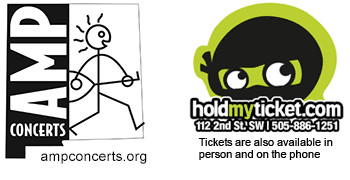 loading tweets
Coming Up