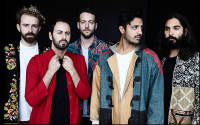 AMP Concerts and JAW presents
Young the Giant
with special guest Cold War Kids
Joywave
Time: 6:00pm Day: Thursday Doors: 5:00pm Ages: All Ages
This Event Has Ended
Tickets are $43 in advance, $48 day of show (including all service charges). They are also available through Hold My Ticket (112 2nd St SW), 505-886-1251, Monday to Friday 9 AM - 6 PM, Sat & Sun 11 AM - 6 PM.
Click on the image below to see a larger version: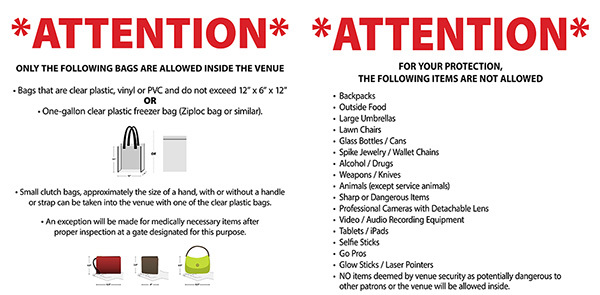 SPECIAL YOUNG THE GIANT VIP UPGRADE (NO LONGER AVAILABLE!): 
Early Entry to the Venue (where applicable)
Attend intimate acoustic performance and Q&A with Young the Giant
A group photo with the band
An autographed limited edition tour lithograph
VIP laminate
FREE PARKING AT THE FAIRGROUNDS FOR THIS CONCERT!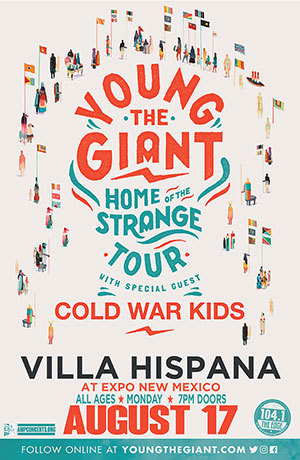 There comes a time in a young band's life when they hit that sweet spot where their voice, their sound, and their unity as a band gel perfectly. For Los Angeles-based indie rockers Young the Giant [website | Amazon.com], that time is now. This trifecta of musical magic manifests itself on the band's third album, Home of the Strange.
"With these new songs, we've fully embraced what it is to be lyricists. We're not trying to combine fiction writing and lyricism anymore," explains singer Sameer Gadhia, who minored in fiction writing at Stanford University where he studied human biology before dropping out to pursue music. "We've also taken a collective approach to the thematic and lyrical development of each song on this album. Most of these songs came together during the demo process at either Seahorse Studios in downtown Los Angeles where Francois, Eric and I would spend hours collaborating over coffee on the rooftop, or at our producer's home studio in West Los Angeles where we would do the same on his back patio. We used to view songwriting more like being a fly on the wall and not being in the story. But, on this record, we're in the story more than ever. It's personal, but universal at the same time."
The new record not only displays the group's new heights as lyricists and communicators, but it shows a rich, musical growth for the band as well. "We've always struggled to really capture what we do live on record. We accomplish that on this release. Now that we're on our third album we finally figured out how we need to work together. It helped that we had a theme and we all kept on that path in one solid mindset throughout the process."
The theme of Home of the Strange is of the modern American immigrant story. It's especially relevant to the quintet as they're from different ethnic backgrounds and most are immigrants or first-generation Americans. Gadhia is Indian-American, Jacob Tilley (guitar) is British, Eric Cannata (guitar/vocals) is New Jersey-born Italian-Jewish, Payam Doostzadeh (bass) is Persian-American, and Francois Comtois (drums/vocals) is French-Canadian. But, it also speaks to anyone who feels like they don't belong, or feels marginalized, angry about the state of affairs of our nation, or hopeless about a better future.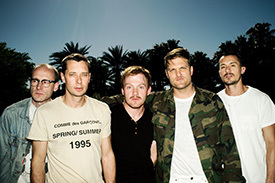 Formed in Fullerton in 2004, Cold War Kids [website | Amazon.com] have released 5 records, 6 EPs and multiple live records and singles over the last 12 years. Nathan Willett & Matt Maust, the founding members and heartbeat of the band, have poured everything they have into their art, which is the reason why the band has always garnered critical success and have now crossed into the mainstream with their single "First," which spent 8 weeks at #1 on the alternative radio charts. Now with a new and refreshed lineup made up of Nathan Willett, Matt Maust, Matthew Schwartz, Joe Plummer & David Quon, the band is ready to begin their newest chapter. In the words of Drowned in the Sound, "Cold War Kids are a band in control of their own destiny. They are a band to love, a band who are growing and drawing us along with them. Care to join?"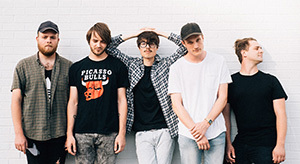 Joywave is an eclectic group specializing in alternative pop hailing from Rochester, NY. After the success of 2013's 88888 mixtape, they established their Hollywood Records imprint Cultco Music. The Joywave sound is grounded in classic songwriting, often injected with house music's energy, disco's playfulness and an overarching hip-hop spirit. Where any other band might lose its identity in the quest to experiment with so many different sounds, Joywave's all-embracing approach and ineffable knack for making music that feels good puts their distinct personality front and center. Of their debut album, How Do You Feel Now?, Rolling Stone Australia wrote, "There are lyrical and thematic smarts in spades... The New York natives have somehow managed to mash multiple sounds and styles into one cohesive, captivating and effortlessly convincing record."
---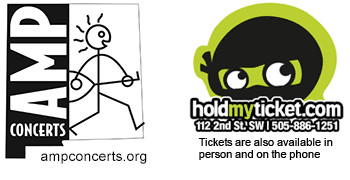 loading tweets
Coming Up