BUY STUFF AND SUPPORT AMP!
A percentage of every Amazon purchase made after clicking on this link is donated to AMP. An easy and fun way to show support. Happy shopping! Or click here to make a tax deductible donation to AMP.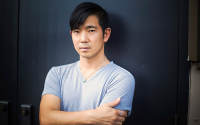 Jake Shimabukuro
Time: 7:30pm Day: Monday Doors: 6:30pm Ages: All Ages
This Event Has Ended
Tickets cost $25, $30 and $35 (plus applicable service charges). Tickets are available through the KiMo Box Office and Hold My Ticket (112 2nd St SW), 505-886-1251, Monday to Friday 9 AM - 6 PM, Sat & Sun 11 AM - 6 PM.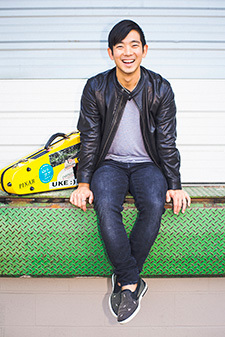 Jake Shimabukuro [website | Amazon.com] can still vividly remember the first time he held a ukulele, at age four. It was an encounter that would shape his destiny and give the world one of the most exceptional and innovative uke players in the history of the instrument—an artist who has drawn comparisons to musical titans such as Jimi Hendrix and Miles Davis.
"My mom played, and I kept bugging her to teach me," he recalls. "So one day we sat down on the floor and she put her old Kamaka ukulele in my hands. I remember being so nervous. Then she showed me how to strum the strings and taught me my first chord. I fell in love with the ukulele immediately. From that day on, you had to pry the instrument away from me in order to get me to do anything else."
That first brush with musical fate took place in Honolulu, Hawai'i, where Jake was born and still makes his home. Growing up, he studied and played a number of other musical instruments—drums, piano and guitar. "But none of those instruments spoke to me the way the ukulele did," he says. "There was something about the uke that was different. Music was my passion, but I had no idea that I could make it as a musician. I always thought that maybe I'd be a school teacher and incorporate music into the classroom, rather than being on a stage performing in front of people."
Of course, Shimabukuro would end up performing on many of the world's most renowned stages. Starting his career in Hawai'i, he took his inspiration from some of the islands' great uke players—Eddie Kamae, Ohta-San and Peter Moon. But he quickly expanded his scope from there, drawing influences from across the musical spectrum.
"As I got older," he says, "I realized that I could also learn from guitar players, drummers, violinists, pianists, singers and even dancers. And then I started to observe athletes. Athletes are artists too. I was heavily influenced by people like Bruce Lee and Michael Jordan—applying their philosophy and intense, mental focus to music performance."
Shimabukuro's busy touring schedule is complemented by a rich and varied catalog of albums that capture the many moods of the uke. His most recent CD, Nashville Sessions, is one of his most adventurous, multifaceted and engaging records to date, blending elements of jazz virtuosity with heartfelt melodicism.
---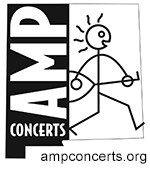 loading tweets
Coming Up