BUY STUFF AND SUPPORT AMP!
A percentage of every Amazon purchase made after clicking on this link is donated to AMP. An easy and fun way to show support. Happy shopping! Or click here to make a tax deductible donation to AMP.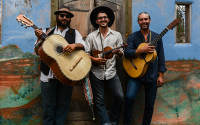 AMP Concerts, Melaza Music, and the National Hispanic Cultural Center Present
Lone Piñon, Otilio Ruiz and Chuy Martinez
Time: 6:00pm Day: Sunday Ages: All Ages
This Event Has Ended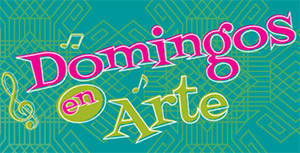 Domingos en Arte is a summer music and dance series presented by Melaza Music, AMP Concerts, and the National Hispanic Cultural Center in the NHCC's Fountain Courtyard. We have invited some of our musician friends, from the local community and outside, for lively community get-togethers right next to the beautiful Rio Grande Bosque. Spend Sunday evenings from 6-10 PM enjoying live music, drinks, and delicious Latin cuisine with family and friends in this enchanting courtyard setting, with one or all of the groups who will be performing this season.
Tickets cost $12 (plus applicable service charges). Admission is free for children 12 and younger; tickets are available online as well as from the NHCC Box Office, in person or by phone at (505) 724-4771.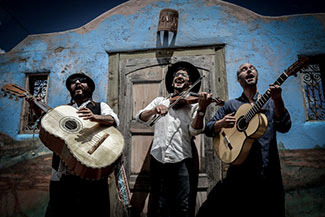 Lone Piñon is an acoustic trio from Santa Fe, New Mexico whose music celebrates their region's cultural roots.  Using violin, accordion, guitar, guitarrón, upright bass and harmony vocals in Spanish, English, and Nahuatl, the group has revived and updated the Chicano string band style that once flourished in New Mexico, bringing a devoted and explosive musicianship to Northern New Mexican polkas and chotes, virtuosic Mexican huapango and son calentano, and classic borderlands conjunto.
The musical landscape of New Mexico, like its culture, is beautiful and complex. Lone Piñon is the first of their generation of musicians to embrace the full scope of that complexity.  Onstage, they cluster around a single microphone and play with a fiery intensity, moving seamlessly through several dozens of the dance forms that resonate in their home state. The result is a new sound, rooted in respect for the past and undeniably alive.
The band features three musicians whose careers have woven through a wide spectrum of roots music before converging in 2012 in Northern New Mexican music.  
Jordan Wax (fiddle, accordion, vocals) grew up in Missouri and was traditionally trained by master Ozark fiddler Fred Stoneking and Central Missouri dance fiddler John White. He worked as bandleader and accordionist for a klezmer-punk brass band for years before his work with New Mexican fiddle styles inspired him to travel to Mexico for a 6-month immersion in Mexican huapango fiddling in the Huasteca region of San Luis Potosí. 
Greg Glassman (guitar, vocals ) first engaged his musical education as a clawhammer banjo player with the Gnawa musicians of Essouira, Morroco. Upon returning to North America, he began drumming for experimental jazz and Irish punk outfits, and performing rockabilly and gospel music before traveling to southern Veracruz, to study regional Mexican Son.
Noah Martinez (guitarrón, upright bass) grew up in Los Ranchos de Albuquerque immersed in the music of his community: Onda Chicana, New Mexican rancheras, punk rock, norteño, honky-tonk, Western swing, and the jaranero movement recently arrived from southern Veracruz. He is a descendant of several generations of activists who have worked to protect the agricultural and cultural traditions of Native New Mexicans and he raises sheep and goats on his family's land in the North Valley of Albuquerque.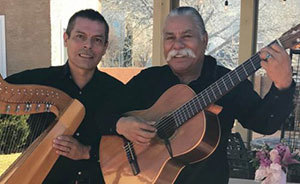 They are joined by veteran Albuquerque musicians Chuy Martínez, a guitarist, singer-songwriter, folklorist, and community cultural worker, and Otilio Ruiz, a virtuoso harpist, music teacher, and director of La Rondalla de Albuquerque. Chuy Martínez has more than 30 years of experience playing music, writing songs and doing theatre. He has shared the stage with many nationally and internationally renowned artists and hosts the popular television show "Lo Maduro De La Cultura." He has received many awards for his contributions to the community, including the Human Rights Unsung Hero Award in 1998 and the Artist of the Year Bravo Award in 1999 and was also a nominee for the Governor's Excellence in the Arts Award. Martinez works for the City of Albuquerque Cultural Services Department and is part of the NMEH Scholar programs.
Harpist Oti Ruiz has being playing music since the age of 13. He studied at the Music Conservatory in Xalapa Veracruz. His love for Latin American folklore has taken him throughout Europe, Central and South America. A former member of Achilzavata, an international artistic company based in Paris, and of international Telen-Huicani of the University of Veracruz, Ruiz currently resides in Albuquerque. He has recorded with many artists; his album Pa' Uste' is a collection of Latin American duets with Chuy Martínez.
New Mexico Culture Squared (NMC2) is a NM Department of Cultural Affairs (DCA) project to build and manage partnerships between DCA institutions and cultural organizations that will enhance the impact, effectiveness, attendance, and visitor experience of exhibits and programs of DCA entities. Under the management of AMP Concerts, NMC2 will create programs in collaboration with State Historic Sites, DCA Museums and various cultural organizations with the goal of increasing public programs statewide and promoting New Mexico as a destination for arts and culture.
---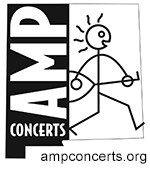 loading tweets
Coming Up