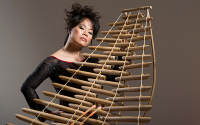 Vân-Ánh Võ and Chatter
Time: 7:30pm Day: Saturday Doors: 6:30pm Ages: All Ages
This Event Has Ended
Tickets are $22 in advance, $25 day of show (including all service charges). They are also available through Hold My Ticket (112 2nd St SW), 505-886-1251, Monday to Friday 9 AM - 6 PM, Sat & Sun 11 AM - 6 PM.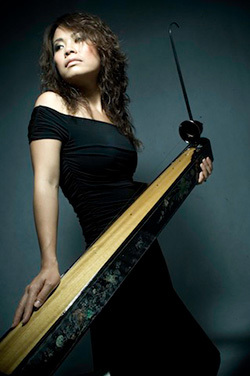 Vân-Ánh Vanessa Võ devotes her life-long passion and mastery of the dan tranh zither to the creation of distinctive music blended with a cultural essence that can only come from this unique Vietnamese instrument. Among her accomplishments are the 2009 Emmy Award-winning soundtrack for the documentary "Bolinao 52," which she co-composed and recorded, and the soundtrack for the Sundance best documentary and 2003 Academy Awards nominee "Daughter from Danang."
Vân-Ánh Võ comes from a family of musicians and began studying đàn tranh (16-string zither) from the age of four. She graduated with distinction from the Vietnam Academy of Music, where she later taught. In 1995, Vân-Ánh won the championship title in the Vietnam National Đàn Tranh Competition, along with the first prize for best solo performance of modern folk music. In Hanoi, Vân-Ánh was an ensemble member of Vietnam National Music Theatre as well as a member of the traditional music group Đồng Nội Ensemble, which she founded and directed. She has since performed in more than fourteen countries and recorded many broadcast programs in and outside of Vietnam.
In addition to touring internationally, Vân-Ánh has presented her music at Carnegie Hall, Zellerbach Hall, Lincoln Center, Kennedy Center, and as a composer and guest artist for the Kronos Quartet at the Olympic Games 2012 Music Festival. In 2002, Vân-Ánh released her first CD, Twelve Months, Four Seasons; and in 2009, she released She's Not She with award-winning composer Do Bao. Recently, she released her third CD, Three-Mountain Pass, with the Kronos Quartet as her guest artist.
Besides dan tranh, Vân-Ánh also performs as soloist on the monochord (bau), the 36-string hammered dulcimer (dan tam thap luc), the bamboo xylophone (dan t'rung), the k'longput, traditional drums (trong), and Chinese guzheng. She lives and teaches dan tranh and other Vietnamese traditional instruments in Fremont, California.
For this performance, Vân-Ánh will perform two pieces with the Chatter Ensemble as well as a collection of solo pieces on a wide variety of Vietnamese instruments.
The Chatter collaborations will be:
- Lullaby For A Country-Vietnam: featuring percussion (bass drum, wood block, cymbal ...), upright bass, and piano
- Ting Ning, featuring piano, upright bass, flute and percussion 
---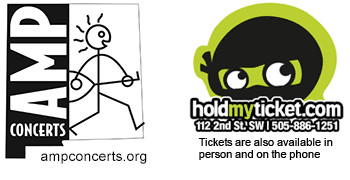 loading tweets
Coming Up