BUY STUFF AND SUPPORT AMP!
A percentage of every Amazon purchase made after clicking on this link is donated to AMP. An easy and fun way to show support. Happy shopping! Or click here to make a tax deductible donation to AMP.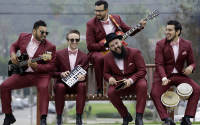 Levitt AMP Santa Fe Music Series at the Santa Fe Railyard
La Chamba - FREE SHOW
A Celebration of Peruvian Art, Music, Food & Culture
Presented in partnership with the Museum of International Folk Art
Time: 7:00pm Day: Saturday Doors: 6:00pm Ages: All Ages Price: FREE

The Levitt AMP Santa Fe Music Series is supported in part by the Mortimer & Mimi Levitt Foundation, a private foundation that empowers towns and cities across America to transform underused public spaces into thriving destinations through the power of free, live music. In 2018, more than 150 free Levitt concerts will take place in 15 towns and cities, featuring a rich array of music genres and high caliber talent. Learn more at levitt.org.
Register for the event and we'll also send you updates if there are any schedule changes as well as info on future free Railyard programs and events around Santa Fe and Albuquerque.
Join your Santa Fe neighbors on the Railyard Plaza beside the landmark Water Tower for great FREE concerts all summer long.
Feel free to bring chairs to the concert.
Food and drink are available inside Second Street Brewery and Violet Crown Cinema.
Come down early to get a spot on the Second Street Brewery patio to enjoy a a cold beer with the music!
Violet Crown has patio drink & dining options too.
Ample parking is available in the underground garage just north of REI.
Download a map (JPG) showing all of the Railyard parking and transportation options.
Bike to the Railyard this summer. We are encouraging safe bicycling to the Railyard Series using the Acequia Trail and St Francis Underpass. "Bike Valet" available on site by donation supporting multiple bicycle advocacy organizations and charities. Powered by Mellow Velo!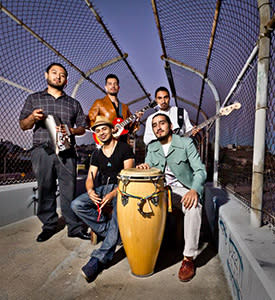 La Chamba is driven by electric guitar that fuses 60's psychedelic inspired surf-pop from Peru, with Afro-Latin rhythms. With roots in East and South Central Los Angeles, "Chamba" literally means "work," and is a word used throughout the barrios of Latin America to describe your hustle. Their sound pays homage to the melodies and grooves of Peruvian Chicha music popular among the working-classes of Lima and the Amazon. La Chamba encourages folks to let loose and release their grind on the dance floor!
"Chicha... is distinctly Peruvian, an obscure form that arose in the '70s from the shanties outside Lima. It was, in its earliest form, music played by working-class migrants from the jungles and mountains of Peru, banged out on cheap instruments at neighborhood parties. And, unexpectedly, the music has become one of the linchpins of L.A.'s thriving Latin alternative scene... 'What really called us to it was just the way that chicha was formed, the way it was treated in Peruvian society,' says Jason Zepeda, La Chamba's lead vocalist and conga player. 'It's the music of the lower class, of the working class. And we come from South Central and East L.A. We're first-generation college students, first-generation high school graduates. We come from marginalized communities, communities that have historically been socially disadvantaged. It made a lot of sense to us.'" (L.A. Weekly)
New Mexico Culture Squared (NMC2) is a NM Department of Cultural Affairs (DCA) project to build and manage partnerships between DCA institutions and cultural organizations that will enhance the impact, effectiveness, attendance, and visitor experience of exhibits and programs of DCA entities. Under the management of AMP Concerts, NMC2 will create programs in collaboration with State Historic Sites, DCA Museums and various cultural organizations with the goal of increasing public programs statewide and promoting New Mexico as a destination for arts and culture.
---

loading tweets
Coming Up