Prayers
VOWWS
Go Dark
Time: 8:00pm Day: Friday Doors: 7:00pm Ages: All Ages
This Event Has Ended
Tickets are $17 in advance, $20 day of show (including all service charges). They are also available through Hold My Ticket (112 2nd St SW), 505-886-1251, Monday to Friday 9 AM - 6 PM, Sat & Sun 11 AM - 6 PM.
Tickets to this show include full access to Meow Wolf and The House of Eternal Return!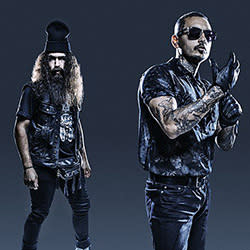 With gritty lyrics exposing the harsh realities of gang and street life coupled with love and loss over throbbing beats and swirling synthesizers, electronic duo PRAYERS brings an authentic urban feel to Goth music, a mix of genres that crosses cultural and societal boundaries and breaks stereotypes.
PRAYERS creates a modern dystopian landscape based in both brutal reality and transcendental occultism. Featuring Leafar Seyer on vocals and synth and Dave Parley on beats and synth, PRAYERS straddles interlocking worlds: Both members were born in Mexico—Seyer in Cotija, Michochan and Parley in Tijuana—and both grew up watching MTV and listening to punk and goth. Their creativity draws on the conflict of embracing of alternative, underground styles rather than traditional Chicancismo, the dissonance of their existence as indigenous people treated as immigrants on their ancestral land, and their status as Mexicans playing in what has long been viewed as a white genre. 
Influenced by Christian Death, Depeche Mode, Bauhaus, Pet Shop Boys and other dark 80s music as well as Seyer's life as member in one of San Diego's oldest gangs, Sherman Grant Hill Park 27, PRAYERS is considered the pioneer of Cholo Goth. Seyer's experiences in Sherman GHP and his transmutation into an acclaimed fine artist, author, and now counterculture idol, form the foundation of PRAYERS, with the singer expressing his real life conquests over betrayal, rejection, and false imprisonment of the body and spirit, as he fights the ultimate battle to transcend this world and its boundaries. 
PRAYERS' dynamic music, Seyer's direct yet poetic lyrics, the stark blackwhite neo-noir videos, which combine true street stories and esoteric spirituality, and their compelling, authentic live shows draw your immediate attention.
Fierce yet mystic, brutal yet beautiful, PRAYERS is the sound of the Southland, a stirring of the winds of changes that begin on the West Coast and moves across the globe. Combining street reality, traditional magic, and gothic dance beats, PRAYERS crashes through barriers to shift consciousness.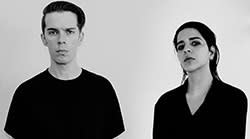 Australian duo VOWWS met while studying music in Western Sydney. They played in multiple prominent experimental rock bands together and quickly became fixtures in Sydney's underground music scene. It didn't take long for the duo to become restless, however, and soon enough they packed up, said goodbye to Australia and moved to Brooklyn in 2011—where where they began writing music together with full focus.
Initially, although Matt and Rizz shared many common inspirations and influences, they had distinctly different working and writing styles—often leaving them at odds as to how to flesh out their vision. Gradually their tension, conflict and chemistry began to define their world and their sound, and at the same time, friend, producer (and sometimes mediator) Kevin McMahon helped capture this dichotomy on tape. 
Their intensely focussed live show creates a thumping tempest of sound, with the charismatically restrained duo commanding proceedings from the eye of the storm.
VOWWS relocated to LA in 2015, where they are now based.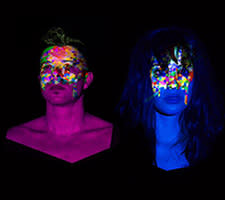 Go Dark is Ash & Doseone, who met watching some Oakland fists fly during a street fight one night. They've been thrashing buttons and cutting analog kick-drum-centric electronic music ever since. "Go Dark's music is impossible to pigeonhole, as it has some grounding in hip-hop as well as synth pop and eight-bit video-game music. Even the videos and the visual presentation of the band have roots in those old video-game systems. Ash grew up playing Sega and games like Alex the Kid and Altered Beast. Doseone has an extensive collection of classic games that by today's standards would seem quaint but which has an aesthetic that isn't trying to imitate real life." (Westword)
---


loading tweets
Coming Up