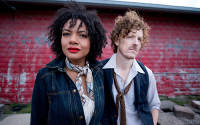 Levitt AMP Santa Fe Music Series at the Santa Fe Railyard
Birds of Chicago - FREE SHOW
Emily Kaye Miller
Time: 7:00pm Day: Saturday Doors: 6:00pm Ages: All Ages
This Event Has Ended
Register for the event and we'll also send you updates if there are any schedule changes as well as info on future free Railyard programs and events around Santa Fe and Albuquerque.
Join your Santa Fe neighbors on the Railyard Plaza beside the landmark Water Tower for great FREE concerts all summer long.
Feel free to bring chairs to the concert.
Food and drink are available inside Second Street Brewery and Violet Crown Cinema.
Come down early to get a spot on the Second Street Brewery patio to enjoy a a cold beer with the music!
Violet Crown has patio drink & dining options too.
Ample parking is available in the underground garage just north of REI.
Download a map (JPG) showing all of the Railyard parking and transportation options.
Bike to the Railyard this summer. We are encouraging safe bicycling to the Railyard Series using the Acequia Trail and St Francis Underpass. "Bike Valet" available on site by donation supporting multiple bicycle advocacy organizations and charities. Powered by Mellow Velo!
The Levitt AMP Santa Fe Music Series is supported in part by the Mortimer & Mimi Levitt Foundation, a private foundation that empowers towns and cities across America to transform underused public spaces into thriving destinations through the power of free, live music. In 2018, more than 150 free Levitt concerts will take place in 15 towns and cities, featuring a rich array of music genres and high caliber talent. Learn more at levitt.org.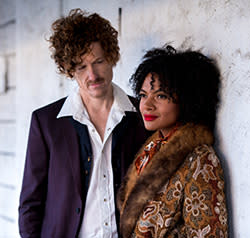 Birds of Chicago, the collective centered around Allison Russell and JT Nero, reassert the simple notion that beautiful words and music can still tap deep veins of emotion. Stark, elemental imagery that feels like scripture, or a lost folk song recovered; the Birds draw heavily on the gospel tradition and the music feels like a new, secular gospel of sorts. For Birds of Chicago, every word counts. Every note counts. No gold-dusting, no filler.
Birds of Chicago was born in 2012 when Nero began writing for his vocal star-muse, Russell. Both were accomplished singer/songwriters with projects of their own, Nero with JT and the Clouds and Russell with the acclaimed Canadian roots outfit Po'Girl, but together there was an unmistakable chemistry. Nero had found the perfect voice for his rock and roll psalms. Russell moved from being a primary songwriter to an interpreter, and her simmering restraint is deeply refreshing to a landscape scorched by post "The Voice"/"American Idol" vocal gymnastics and over-emoting.
Their sprawling rock and roll circus of an album, Love in Wartime, co-produced by Luther Dickinson (North Mississippi All Stars), will be released in April 2018. The raw, spontaneous, and warm EP American Flowers, released in November 2017, is Love in Wartime's cousin from the country, and it rounds out Birds of Chicago's offering of healing, communion and celebration of life in a dark and troubled time. 
---

loading tweets
Coming Up