The Harmaleighs
Kevin Herig & Greg Williams
Time: 7:30pm Day: Sunday Doors: 6:00pm Ages: 21+ without parent or guardian
This Event Has Ended
Tickets are $15 in advance, $20 day of show (including all service charges). Tickets are also available by phone through Hold My Ticket at 505-886-1251. 21 and over unless accompanied by parent or legal guardian. Limited seating available.
The Cooperage is a full service restaurant/nightclub specializing in steak & seafood, with a large salad bar, good desserts and a full bar.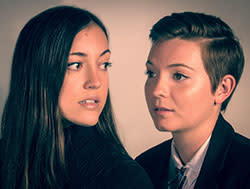 The Harmaleighs [website | Amazon.com] (pronunciation: the har-muh-lees) is composed of Haley Grant (guitar/vocals) and Kaylee Jasperson (bass/vocals). The Harmaleighs honestly craft poetic, passionate, and powerful songs cut from a pastiche of indie, folk, pop and Americana. In January 2015, The Harmaleighs embarked on something of a modern odyssey in support of their independent, full-length debut, Pretty Picture, Dirty Brush. The bandmates and partners got rid of their Nashville apartment, put everything they owned in a storage unit, bought a van, equipped it with a bed, and hit the road with their 8-month-old pug Gus sleeping on the dash for the next nine months. The trials, tribulations, and triumphs of this trek would ultimately inspire their 2017 EP, Hiraeth.
"Hiraeth is a Welsh word that we stumbled upon while we were on tour," says Kaylee. "It basically means, 'Longing for a home.' It's a feeling of rootlessness and homesickness that we started to collectively feel around month six. By the end, we had burned out."
"Even when we visited Nashville, we would be staying in a Walmart parking lot," sighs Haley. "That's where the whole concept came from. It's the basis for this body of work." 
"I was sitting at a bar in Portland on month six of our tour," Haley continues. "There was an ashtray full of cigarettes, and I was having this moral dilemma in my head. I thought, 'What if I put all of that in my mouth and swallow the burning cigarettes because there are flames and maybe I won't be burning out anymore?' I thought it might spark the flame again."
The flame has been sparked with Hiraeth and their journey really begins now.
Kevin Herig & Greg Williams will open the show. Kevin has been deeply rooted in the Albuquerque music community for nearly a decade, educating aspiring musicians as well as writing and performing his own music. He has released 4 studio albums, the most recent of which, All You Can't Control, was released in 2016. Kevin has a passion and a knack for bringing together people in community, and common purpose. He routinely gigs around the Southwest, collaborating with a myriad of talented musicians.
Greg has been a percussionist in Albuquerque for the past 16 years. He participated in various concert bands, jazz bands, and marching bands in high school. In addition to the drums, Greg picked up the harmonica five years ago. He graduated from Belmont University in Nashville, Tennessee in 2009 with a Bachelors of Science in Audio Engineering and Technology. Greg was the drummer, harmonica player, and recording engineer for local trio, Wildewood. Greg currently plays with Le Chat Lunatique, Free Fall, and an assortment of local songwriters.
---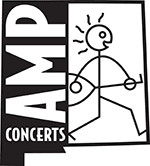 loading tweets
Coming Up