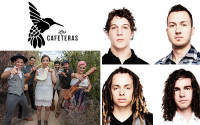 Levitt AMP Santa Fe Music Series at the Santa Fe Railyard
Las Cafeteras and Making Movies - FREE SHOW
Time: 7:00pm Day: Saturday Doors: 6:00pm Ages: All Ages
This Event Has Ended
The Levitt AMP Santa Fe Music Series is supported in part by the Mortimer & Mimi Levitt Foundation, a private foundation that empowers towns and cities across America to transform underused public spaces into thriving destinations through the power of free, live music. In 2018, more than 150 free Levitt concerts will take place in 15 towns and cities, featuring a rich array of music genres and high caliber talent. Learn more at levitt.org.
Register for the event and we'll also send you updates if there are any schedule changes as well as info on future free Railyard programs and events around Santa Fe and Albuquerque.
Join your Santa Fe neighbors on the Railyard Plaza beside the landmark Water Tower for great FREE concerts all summer long. 
& DON'T MISS THE OFFICIAL AFTER PARTY AT BOXCAR WITH NOSOTROS
Feel free to bring chairs to the concert.
Food and drink are available inside Second Street Brewery and Violet Crown Cinema.
Come down early to get a spot on the Second Street Brewery patio to enjoy a a cold beer with the music!
Violet Crown has patio drink & dining options too.
Ample parking is available in the underground garage just north of REI.
Download a map (JPG) showing all of the Railyard parking and transportation options.
Bike to the Railyard this summer. We are encouraging safe bicycling to the Railyard Series using the Acequia Trail and St Francis Underpass. "Bike Valet" available on site by donation supporting multiple bicycle advocacy organizations and charities. Powered by Mellow Velo!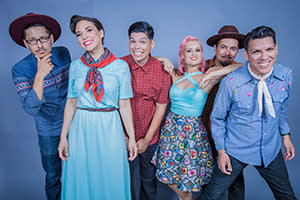 Las Cafeteras have taken the music scene by storm with their infectious live performances and have crossed genre and musical borders. Born and raised east of the Los Angeles river, Las Cafeteras are remixing roots music and telling modern-day stories. Las Cafeteras create a vibrant musical fusion with a unique East LA sound and positive message. Their Afro-Mexican beats, rhythms, and rhymes deliver inspiring lyrics that document stories of a community seeking love and justice in the concrete jungle of Los Angeles. Using traditional Son Jarocho instruments like the jarana, requinto, quijada (donkey jawbone) and tarima (a wooden platform), Las Cafeteras sing in English, Spanish, and Spanglish and add a remix of sounds, from rock to hip-hop to rancheras. Las Cafeteras use music as a vehicle to build bridges among different cultures and communities, and create "a world where many worlds fit."
The Los Angeles Times described Las Cafeteras as a "uniquely Angeleno mishmash of punk, hip-hop, beat music, cumbia and rock... live, they're magnetic."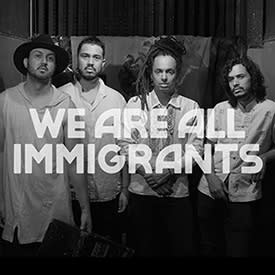 Making Movies thought for a while that their new album I Am Another You was cursed. Finishing the 20-track record got so complicated that supernatural interference started to seem like a legitimate possibility to the Kansas City rock 'n' roll band—and no wonder.
Produced by Steve Berlin of Los Lobos, with guest appearances from Hurray for the Riff Raff and members of Tennis and Ozomatli, I Am Another You is the group's second LP. It's a bold mix of sounds: psychedelia, experimental rock, son cubano, cumbia and various rhythms descended from Yoruba music, an African tradition that slaves carried to the New World as part of religious rites that evolved into Santería. Clearly, Making Movies was messing with some powerful juju.
"We wondered if maybe we were trying to go too deep into these rhythms, like we weren't qualified to be playing them," says singer and guitarist Enrique Chi, who founded Making Movies with his brother Diego. Another pair of brothers, Juan-Carlos and Andres Chaurand, round out the band on percussion and drums, respectively.
Forbidden rhythms aren't the only spiritual theme at work on I Am Another You. The album tells the story, in English and Spanish, of three young men suffering through separate life crises. Though one is from Venezuela, one is from Mexico and one is from the Midwest, the parallel challenges they face soon show them to be the same person. Their common experiences evoke the Mayan phrase "In Lak'Ech Ala K'In," which translates as "I am another you, you are another me."
---

loading tweets
Coming Up