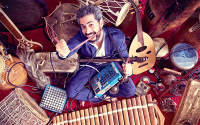 Levitt AMP Santa Fe Music Series at the Santa Fe Railyard
HAT - FREE SHOW
Heavy Breather
CURRENTS New Media Festival opening weekend
Time: 7:00pm Day: Saturday Doors: 6:00pm Ages: All Ages
This Event Has Ended
The Levitt AMP Santa Fe Music Series is supported in part by the Mortimer & Mimi Levitt Foundation, a private foundation that empowers towns and cities across America to transform underused public spaces into thriving destinations through the power of free, live music. In 2018, more than 150 free Levitt concerts will take place in 15 towns and cities, featuring a rich array of music genres and high caliber talent. Learn more at levitt.org.
Register for the event and we'll also send you updates if there are any schedule changes as well as info on future free Railyard programs and events around Santa Fe and Albuquerque.
Join your Santa Fe neighbors on the Railyard Plaza beside the landmark Water Tower for great FREE concerts all summer long.
Feel free to bring chairs to the concert.
Food and drink are available inside Second Street Brewery and Violet Crown Cinema.
Come down early to get a spot on the Second Street Brewery patio to enjoy a a cold beer with the music!
Violet Crown has patio drink & dining options too.
Ample parking is available in the underground garage just north of REI.
Download a map (JPG) showing all of the Railyard parking and transportation options.
Bike to the Railyard this summer. We are encouraging safe bicycling to the Railyard Series using the Acequia Trail and St Francis Underpass. "Bike Valet" available on site by donation supporting multiple bicycle advocacy organizations and charities. Powered by Mellow Velo!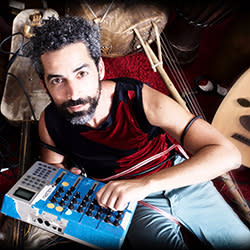 Since 2012, Hatim Belyamani—aka HAT—unites artists in an ever-evolving audio-visual dance between traditional music and digital remix art. In his one-of-a-kind live show, HAT is as an orchestra conductor from the future, beaming traditional musicians from the four corners of the world onto a big screen, and shaping them harmoniously into new electro beats. Like never before, you'll see that there is but one step from the rhythms of our ancestors to tomorrow's electro.
Growing up in Morocco, Hatim was an award-winning classical pianist, a guitarist, and surrounded by sounds of the country's Arabic, Amazigh, and Sub-Saharan African origins. At Harvard, he studied sociology, music composition, jazz, and ethnomusicology, but found his voice in electronic music—a medium that opened doors towards unifying his eclectic influences. For the next decade, Hatim composed, produced, and performed in various solo and collaborative projects, under the moniker officerfishdumplings.
In 2012, Hatim founded remix ←→ culture, an international artist collective committed to creating new harmonious links between traditional music and remix art. Carried out with passionate collaborators, the project consists in identifying a country's various musical traditions, then recording, filming, producing, mixing, and remixing them. Work began in Hatim's native Morocco, a land uniquely rich in melodies and rhythms of diverse origins and influences, and later expanded to other countries, most recently Brazil.
In 2015, Hatim began sharing his work with larger audiences (sometimes tens of thousands) at various festivals in Morocco, as well as at the Lincoln Center in NY, where he performed live remixes of the videos shot by the collective.  Since 2016, Hatim continually premiered new video remixes at various festivals and venues in Europe (notably the Roskilde Festival in Denmark and WOMEX in Santiago de Compostela, Spain), as well as in China, Réunion, Tunisia, and Lebanon.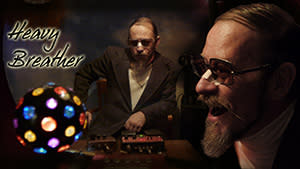 Heavy Breather is Santa Fe's own original Mouth Jockey. With highly nimble electronically assisted vocals and the intermittent use of samples, Heavy Breather barks out chunky beats and morbidly obese bass lines overlaid with soaring choruses, blatherings and beat-scat. His lyrics are uplifting and full of messages that we can all relate to. Or could be, probably. When Heavy Breather throws it down, it lays there panting for a minute, then rolls around until it can get back up again, dances like crazy until it's asked to stop, then comes home with you to meet your mom. And he does it all with his face. "A bizarre synthesis of instrumental hip hop, cartoon music, plunderphonics, and god knows what else, Heavy Breather may very well be the most fascinating musician in the area. As he continues to perfect his act he could very well be a breakout star." (Mecca Lecca)
---

loading tweets
Coming Up