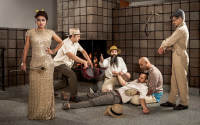 Levitt AMP Santa Fe Music Series at the Santa Fe Railyard
Dengue Fever - FREE SHOW
Red Light Cameras
Time: 7:00pm Day: Saturday Doors: 6:00pm Ages: All Ages Price: FREE
This Event Has Ended
The Levitt AMP Santa Fe Music Series is supported in part by the Mortimer & Mimi Levitt Foundation, a private foundation that empowers towns and cities across America to transform underused public spaces into thriving destinations through the power of free, live music. In 2018, more than 150 free Levitt concerts will take place in 15 towns and cities, featuring a rich array of music genres and high caliber talent. Learn more at levitt.org.
Register for the event and we'll also send you updates if there are any schedule changes as well as info on future free Railyard programs and events around Santa Fe and Albuquerque.
Join your Santa Fe neighbors on the Railyard Plaza beside the landmark Water Tower for great FREE concerts all summer long.
Feel free to bring chairs to the concert.
Food and drink are available inside Second Street Brewery and Violet Crown Cinema.
Come down early to get a spot on the Second Street Brewery patio to enjoy a a cold beer with the music!
Violet Crown has patio drink & dining options too.
Ample parking is available in the underground garage just north of REI.
Download a map (JPG) showing all of the Railyard parking and transportation options.
Bike to the Railyard this summer. We are encouraging safe bicycling to the Railyard Series using the Acequia Trail and St Francis Underpass. "Bike Valet" available on site by donation supporting multiple bicycle advocacy organizations and charities. Powered by Mellow Velo!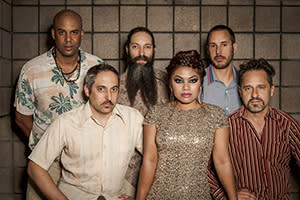 The Los Angeles-based Cambodian and American band Dengue Fever released their first album, (2003's self-titled debut) with no idea how it would be received. Was Khmer-rock, or the very idea of covering lost classic Cambodian songs, even something that would resonate with music fans? Would anyone in the indie community want to hear songs in Khmer? Would anyone in the world music community want to hear psych or garage rock? More than a decade later, the answer to that question is an emphatic YES. 
In fact, the reaction to Dengue Fever's music was so strong in the early 2000s that the band's sophomore album, 2005's Escape from Dragon House, was an attempt to steady the waves their debut caused by expanding their boundaries writing original material. All the while, they still needed to keep the key elements of their debut intact. Oh, and could you dance to it? Again, an emphatic and resounding "Yes!" from the sweaty bodies and revelry at shows from Europe to Asia, Russia to Brazil, and from the United Arab Emirates to Australia & New Zealand. 
Today, partly because of those first two albums, Dengue Fever are recognized for their trademark blend of sixties Cambodian pop and psychedelic rock. Later albums like Venus on Earth, Cannibal Courtship and the lesser known In The Ley Lines cemented the band as true global pioneers who are constantly evolving their sound forward.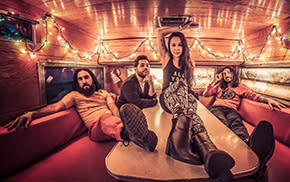 Red Light Cameras started as a Pixies-inspired garage band called Evol Lived in 2010. After the addition of powerhouse vocalist Amanda Machon in 2011, the band took a soulful turn to become a more blues-inspired garage pop group. The group has been playing ever since, supporting such acts at Dum Dum Girls, Said the Whale, Priests, Jessica Hernandez and the Deltas, and Girl in a Coma. Their debut, self-titled album was recorded at ¿Que? Studio in Albuquerque and garnered them Local iQ's Best Band in Albuquerque. Their follow-up EP For Those Who Favor Fire garnered them a New Mexico Music Award for Best Pop Album of 2013 and a repeat Best Band award from the Local iQ. The band is characterized by infectious hooks and bouncing beats that are destined to have you on the dance floor. Red Light Cameras put on a high energy performance that will leave you coming back for more.
Join Electrovibe Events + AMP Concerts for the offical Dengue Fever After-Party with Silent Disco!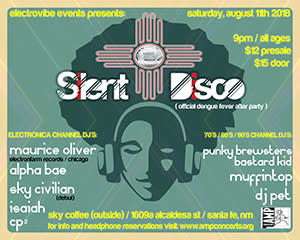 We are offering 2 channels of LIVE DJ action! 
Electronica Channel DJ's: 
Maurice Oliver - Electronfarm Records, Chill Factor-5 / Chicago, IL 
Sky Civilian - ALL Original Material / Debut set! 
Alpha Bae 
Isaiah
CP2 
70's/80's/90's Channel DJ's: 
Punky Brewster's Bastard Kid 
Muffintop
DJ PET 

What is Silent Disco??
Silent disco is a unique way of experiencing live music—whether it be a DJ or even a live band. Guests wear wireless headphones and a silent atmosphere instantly transforms into a high energy musical performance.
When the silent disco headphones are on, the sound is crisp and clear anywhere in the venue—whether you are in front, in the back or even in line for the restroom (just because you need to take a break, doesn't mean the music has to). And since both you and the performer(s) are wearing headphones, guests can hear the music exactly how it is intended to be heard in true stereo sound regardless of your position in the audience. 
Don't miss out! The last Silent Disco event we did SOLD OUT! Don't be left out of the headphone party!
---

loading tweets
Coming Up