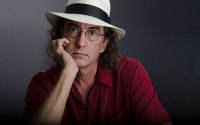 James McMurtry
Time: 7:30pm Day: Tuesday Doors: 6:30pm Ages: All Ages
This Event Has Ended
Tickets are $23 in advance, $25 day of show (including all service charges). They are also available by phone through Hold My Ticket at 505-886-1251.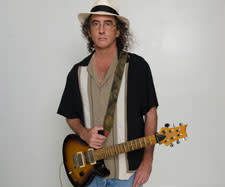 James McMurtry continues riding waves of universal acclaim for Complicated Game. "At a stage where most veteran musicians fall into a groove or rut, McMurtry continues to surprise," Texas Music magazine recently noted. "[Complicated Game] is a collection of narratives as sharply observed as any from McMurtry, but with a contemplative depth that comes with maturity." Indeed, the Austin resident's latest collection spotlights a singular craftsman as he turns inward ("These Things I've Come to Know," "You Got to Me"). "The lyrical theme is mostly about relationships," McMurtry says. "It's also a little about the big old world versus the poor little farmer or fisherman."
Either way, McMurtry spins his stories with a novelist's eye ("Long Island Sound") and a painter's precision ("She Loves Me") throughout. "[McMurtry] takes listeners on a road trip of unprecedented geographic and emotional scope," No Depression raved of Complicated Game. "Lyrically, the album is wise and adventurous, with McMurtry — who's not prone to autobiographical tales — credibly inhabiting characters from all walks of life." "[McMurtry] fuses wry, literate observations about the world with the snarl of barroom rock," National Public Radio echoed. "The result is at times sardonic, subversive and funny, but often vulnerable and always poignant."
Longtime fans know McMurtry's vibrant vignettes have turned heads for more than a quarter-century now. His critically successful first album Too Long in the Wasteland (1989), which was produced by John Mellencamp, marked the beginning of a series of acclaimed projects for Columbia and Sugar Hill Records. In 1996, McMurtry received a Grammy nomination for Long Form Music Video for "Where'd You Hide the Body." Additionally, It Had To Happen (1997) received the American Indie Award for Best Americana Album. In his long career, songs like "Childish Things," "Choctaw Bingo," "Peter Pan," "Levelland," and "Out Here in the Middle" only begin the list of high watermarks. (Yes, Robert Earl Keen covered those last two, "Levelland" remaining a live staple.) Childish Things (2005) scored endless critical praise and spent six full weeks topping the Americana Music Radio chart. In 2006, it won the Americana Music Association's Album of the Year. The track "We Can't Make It Here" was named that rapidly rising organization's Song of the Year, and was cited among The Nation's "Best Protest Songs Ever." Just Us Kids (2008) earned McMurtry his highest Billboard 200 chart position in nearly two decades and notched Americana Music Award nominations. Just Us Kids alone includes fan favorites "Hurricane Party," "Ruby and Carlos" and "You'd a Thought." Songs detailing the lives of everyday people, like "Fireline Road," pierce listeners' hearts with sharp sociopolitical commentary. "James McMurtry may be the truest, fiercest songwriter of his generation," said Stephen King.
---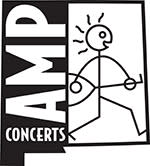 loading tweets
Coming Up