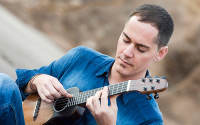 Germán López and Darol Anger's Fiddlers' Summit
Time: 7:30pm Day: Sunday Doors: 7:00pm Ages: All Ages

Tickets are $25 in advance, $30 day of show (including all service charges). They are also available by phone through Hold My Ticket at 505-886-1251.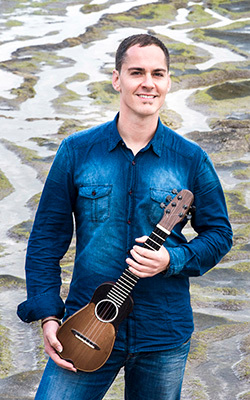 Brilliant young star of the timple, a diminutive 5-stringed instrument intrinsic to music of the Canary Islands, Germán López touches audiences with original instrumental music from the Canary Islands. Germán harnesses the grit of Spanish flamenco, the structure of West African rhythms, the flourishing spirit of jazz, and an innovative 21st century approach to performing "island music." His principal instrument is one of the grandfathers of the ukelele, and part of the same instrumental family that includes the cavaquinho, the cuatro and the charango. Germán López's music has been praised for "entrancing" performances of "delicately rippling notes" (Huffington Post), notes that flow from musical traditions uniting Spain, Africa, and the New World.
Germán López was born in Gran Canaria in 1982. His musical studies begin at an early age, where he was accepted to study at the Conservatory of Music in Las Palmas at seven years of age. In the conservatory, Germán studied piano, music theory, and jazz studies. At the ripe age of ten years, he began to concertize publicly, notably collaborating with legendary timple virtuoso José Antonio Ramos. It was around this time that Germán developed a keen interest in the timple and other traditional Canary Island instruments. In addition to duo and ensemble concerts, Germán has also collaborated with symphony orchestras, including the Philharmonic Orchestra of Gran Canaria in the "Teresa de Bolívar" festival. As both an educator and performer, Germán López has been awarded public prizes by the government of the Canary Islands on several occasions.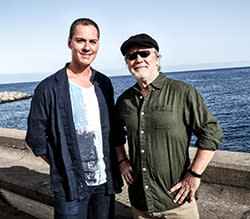 Germán will be accompanied by guitarist Antonio Toledo. Antonio Toledo was born in San Fernando (Andalusia, Spain), and began playing at the age of nine. At 16, he began to study classical music at the Manuel de Falla Conservatory in Cadiz, Spain, during which he developed a keen interest in Brazilian music, jazz, and flamenco.
Antonio Toledo has performed and collaborated with many illustrious musicians, including Joan Manuel Serrat, Javier Ruibal, Joaquín Sabina, Ana Belén, Chano Domínguez, Antonio Serrano, Jorge Pardo, Andreas Prittwitz, José Mercé, and many more. As an arranger and producer, he has worked on numerous albums in his career, including two under his own name.
Hot on the heels of the enormous American String Teachers' Conference in Albuquerque, legendary fiddler/educator/producer Darol Anger assembles a one-time only show with some of the hottest contemporary string players on the planet. This is your chance to see some real musical fireworks among the violinists, cellists and others who are re-inventing string playing for the 21st Century, including Andy Reiner (fiddle) and Joy Adams (cello).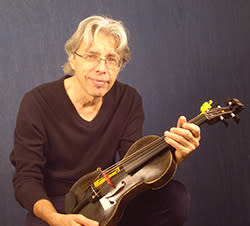 Freestyle Fiddler, composer, producer and educator,  Darol Anger is at home in a number of musical genres, some of which he helped to invent. Exceptional among modern fiddlers for his versatility and depth, Anger has helped drive the evolution of the contemporary string band through his involvement with numerous pathbreaking ensembles such as his Republic Of Strings, the Turtle Island String Quartet, the David Grisman Quintet, Montreux, his Duo with Mike Marshall, and others.
Raised on a small farm in Spokane, Washington, Joy Adams began playing the cello at age 15 and is a graduate of the Eastman School of Music. Despite a string of classical adventures that included winning Musicfest Northwest, attending the Aspen Music Festival, soloing with the Spokane Symphony, and touring with the Selden String Quartet, Joy ultimately joined an old-time band during her last year at Eastman. Recipient of a Mancini Fellowship at the Frost School of Music (where she also taught bluegrass songwriting, contemporary improvisation, and led the Frost Fiddle Band), Joy completed her Doctorate in 2016. She teaches at Denver School of the Arts and on the faculties of fiddle camps all over the US. 
Andy Reiner, an award-winning fiddler, composer and educator, began playing at age five with the Reiner Family Band. Also known as the "Skiing Fiddler," Andy skis every month of the year and many of his compositions are influenced by mountains and nature.  Andy currently tours both as a solo artist and with groups such as the Furies, and composes fiddle tunes, songs, new works, and arrangements for string orchestra. He teaches improvisation, composition and fiddle styles privately and at schools, universities, and at music camps across the US.
---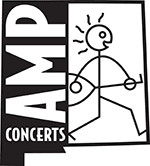 loading tweets
Coming Up