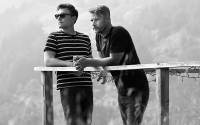 El Ten Eleven
Tennis System
Time: 8:00pm Day: Saturday Doors: 7:00pm Ages: All Ages
This Event Has Ended
Tickets are $20 in advance, $23 day of show (including all service charges). They are also available by phone through Hold My Ticket at 505-886-1251.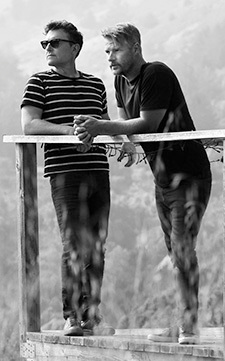 Armed with merely a double-neck bass/guitar, drums and a dizzying array of foot pedals, El Ten Eleven creates complex, deeply felt music, from scratch, onstage, with no help from laptops or additional musicians. Made up of Kristian Dunn (bass, guitar) and Tim Fogarty (Drums), they utilize multiple looping pedals to create songs that sound as though they are being played by at least six people. Most first-timers to an El Ten Eleven show are stunned that the band is a duo. It's a refreshing sight in this age of letting the computers do all the work.
Since the band's inception in 2002, they have always been just two people who produce their own records. That attitude of self-reliance led to the band launching their own Fake Record Label, where they have self-released 6 full-length albums over the past decade-plus. For 2018's Banker's Hill, the band brought producer Sonny Diperri into the fold and moved up to the beautiful Panoramic House studios in Stinson Beach, CA for a month to create their 7th long-player. The decision to bring another collaborative force onboard has proven well worth the change of process.
Part of El Ten Eleven's success has come from tasteful licensing to Film & TV. Their music has been used in everything from Lexus commercials to the MTV Video Music Awards, but the most notoriety has come from licensing partnerships with Gary Hustwit's award-winning design documentary trilogy, "Helvetica," "Objectified" and "Urbanized." Featuring both original music from El Ten Eleven and scores from Kristian Dunn, the films' beautiful precision are a perfect marriage for El Ten Eleven's meticulously-layered sounds.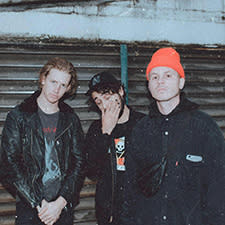 If upheaval and uncertainty are the undercurrents of our times, few musicians sound more like the rumblings of our discontent than L.A.'s Tennis System. The band shined so brightly on the city's scene that it prompted LA Weekly to dub Tennis System "one of the city's best live acts." Behind Tennis System's sweat-drenched performances, the Orange amps, and squalling anthems is the trio of guitarist and singer Matty Taylor, bassist Sam Glassberg and drummer Garren Orr. It was in gritty Washington, DC, that a young Taylor, the band's founder, steeped in the music of Fugazi, Bad Brains, and Nation of Ulysses—the sounds of discord and dissent that now underpin Tennis System's sound. Tennis System's slash-and-burn live shows are proof this is a band best experienced in real time. Of their latest EP, P A I N, Glassberg says: "It's called 'pain' for a reason. It was painful to make. We made sacrifices to make the album." Jobs were abandoned. Loved ones were lost, or separated by distance. All the while the band was keenly connected to the national mood. "It's a painful time right now, and everyone's understanding their own relationship with pain," says Orr.
---


loading tweets
Coming Up