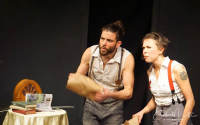 Figmentally
Time: 1:00pm Day: Thursday Doors: 12:00pm Ages: All Ages
This Event Has Ended
We are currently full for this event.  You can also join us Tuesday, March 19 at noon at the South Broadway Library.  Click here to make reservations for that free event.
This event is part of the 2019 Revolutions International Theatre (and Music!) Festival, put on by our friends at Tricklock Company.
We are pleased to host Figmentally as part of our integrated series at N4th Theatre, where we bring musicians to perform for the artists with developmental disabilities at N4th and invite the community to come join the fun and see the great work they do there. Community spots are limited to 60 people and reservations are required.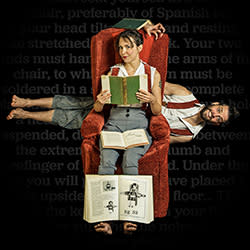 "Prepare to be dazzled and delighted by wild, circus-inspired imagination." (Georgia Straight) Dive into the surreal world of a curious writer whose uncontrollable imagination overtakes her life and permanently warps reality. Brought to life through a hilarious theatrical circus fusion: part magic, unexpected puppetry, artistic juggling, and acrobatic dance.
"Figmentally" is written for adults, but kids love it. Consider this show truly all ages!
Drea Lusion and Eric Parthum, from Oakland (CA) and the Lookout Arts Quarry (WA), are two touring artists who uniquely blend new and old world vaudevillian antics with theater and circus. They construct a new universe of laughter and magic for their audiences—using circus, dance, improv comedy, and physical theatre that entices audience participation and wonder.
Drea Lusion was born at the crossroads of dance, mime, clown, and puppetry. She is a graduate of San Francisco Clown Conservatory, and Clown through Mask, Vancouver, BC (David MacMurray Smith). She also trains in numerous dance disciplines—particularly ballet and turfing.
Eric Parthum is skilled in diverse artistic expressions—he is an adept juggler, object manipulator, visual artist, dancer, and circus arts teacher. Curiosity propels him through evolving explorations of performance possibilities (and impossibilities), while tinkering with the tickings of contraptions that surround us. Also, he designed Figmentally's soundscape.
---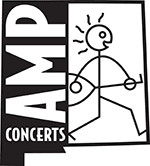 loading tweets
Coming Up