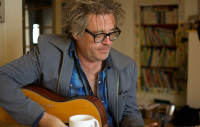 AMP Drive-In Concert
Joe West & Friends feat. Bill Hearne
Tailgate & Picnic on the Grass at Santa Fe's Horse Park
Time: 8:00pm Day: Saturday Doors: 5:00pm Ages: All Ages
This Event Has Ended
Tickets are sold per car. Up to 6 per car with a legal seat/ seatbelt for each person. Carloads are $44, $55, $82 and $110 (including all service charges). Tickets also available by phone through Hold My Ticket at 505-886-1251.
Stream the show live on Facebook and YouTube!
AMP Drive-In Concerts are made possible with the generous support of Falling Colors Foundation. 


ADVANCE SALES ONLY. NO TICKET SALES AT THE GATE.
YOU MUST SELECT YOUR ARRIVAL TIME WHEN BUYING YOUR TICKET. ARRIVAL TIMES ARE LIMITED TO ASSURE EASE OF ACCESS.
5:00-5:50 EARLY BIRD: Set up your spot and enjoy your evening on the grass
6:00-6:50 
7:00-7:50 LATE ARRIVAL: MUST arrive no later than 7:50 to be parked by showtime at 8:00. LATE ARRIVALS WILL NOT BE PERMITTED.
We allow sedans, mini-vans, trucks, SUVs. NO buses or large vans.
Each space is 27' wide by 18' deep and offer patrons a personal 9' x 18' tailgate/picnic zone beside their parked vehicle maintaining safe distancing for all with 18' between cars.
Please be aware that the greatest risk of potential exposure will be during the time you and your group are in the enclosed space of your vehicle. Do not overcrowd. Share your vehicles cautiously and selectively. 
FOOD VENDORS on site for text message Booth Delivery will be JAMBO and Tacos Gracias Madre!!
There will be two large HD video screens, one on stage and one behind Row 5. A full concert PA with delay towers will ensure quality sound throughout the venue. It is our goal to give patrons the best concert experience we can under the current circumstances. 
EVENT RESTRICTIONS
As per New Mexico law, a cloth face covering must be warn at all times except when eating or drinking. This is an alcohol FREE event. Alcohol is not permitted and will not be available for sale. 
Coolers/picnics/tailgates are welcome, but ABSOLUTELY no grills or any other kind of flammables. Food vendors will also be available for contactless ordering.
Lawn Chairs and pop up tents are welcome. Pop-up tents will need to be struck before showtime to be conscious of other people's sight lines. Don't be that guy.
No one drunk or intoxicated will be allowed admission to the event. 
JOE WEST
As well as being one of Santa Fe's most beloved songwriters, Joe West is also a local impresario, producing theatrical events around his hometown of Santa Fe and throughout the state of New Mexico. 
But it is his music that has found a greater audience around the globe.
Quirky, offbeat and melodic, his award-winning "theatrical folk music" is a singular mix of country and rock, which he has been recording and releasing on cassettes, CDs and vinyl records since the mid-eighties. He has toured extensively throughout the States and Europe, opening and sharing the stage with the likes of Peter Rowan, the Violent Femmes, Arlo and Sara Lee Guthrie, Mojo Nixon and James McMurtry. 
Over the last few years Joe has created a rock opera, produced music for film and television, originated a conceptual radio show, created a film festival and founded a theater company that performs his dark horror-comedies with original live music. 
Recently, with support from a grant from The New Mexico Bureau of Cultural Affairs, Joe has been collaborating with writer Andrew Wice on a full length historical folk/rock musical based on the events surrounding Billy the Kid and the Lincoln County Wars. 
Joe lives on his family homestead south of Santa Fe where he spends his free hours gardening and tending to a flock of chickens.
BILL HEARNE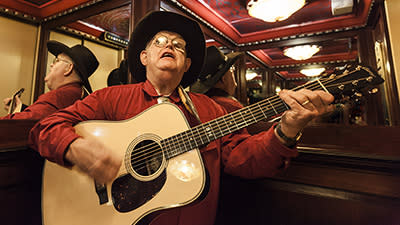 Bill Hearne calls it "The Road": that metaphorical ribbon of honky-tonks, roadhouses, empty whiskey glasses, prison cells and unrequited love lined with signposts and mile markers tattooed with names like Haggard, as in Merle, Williams, as in Hank, Owens, as in Buck and Lovett, as in Lyle. Being legally blind, Bill has never actually driven The Road himself, but he sings with such authority of the tales he's heard while riding shotgun that you'd never know it.
Bill doesn't write his own songs. His greatness lies in his interpretive skills. His husky Texas baritone finds its way into a song's interior with the mellowness of fine bourbon and the warmth of a Sunday picnic. And of course, there's his pickin', a style he calls "cross picking." He picked up the guitar when he was seven years old. "Since I didn't have people to play with, I developed a style that incorporated a percussion rhythm while playing lead riffs. Basically, I tried to be a one man band," he says. Like fellow cross-pickers Tony Rice and Doc Watson, Bill is improvisational. "I hardly ever play the same thing twice," he says. Not only does he rarely play the same thing twice, he rarely plays the same song twice. His repertoire is as vast as Texas and New Mexico. Bill is the Real Deal, a genuine article in a country-music world that seems to have forsaken its roots.
---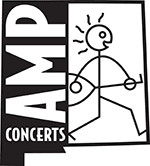 loading tweets
Coming Up