BUY STUFF AND SUPPORT AMP!
A percentage of every Amazon purchase made after clicking on this link is donated to AMP. An easy and fun way to show support. Happy shopping! Or click here to make a tax deductible donation to AMP.

AMP Concerts and Walking Rain Productions presents
Alabama Shakes
Dawes
Time: 7:30pm Day: Saturday Doors: 5:00pm Ages: All Ages
This Event Has Ended
Tickets are $60 in advance, $65 day of show (including all service charges). They are also available through Hold My Ticket (112 2nd St SW), 505-886-1251, Monday to Friday 9 AM - 6 PM, Sat & Sun 11 AM - 6 PM.
Click here for show guidelines to find out what you can and can't bring, information about children and pets, etc.
The show is 100% RAIN or SHINE so come prepared. 
NO UMBRELLAS:  Ponchos, Rain jackets and Tarps are fine but umbrellas are both a hazard in large crowds and obstruct the view of all patrons so are NOT allowed into the park.
DRESS WARMLY: Temperatures in Taos will drop considerably from the time the gates open until the end of the show. It will likely be in the mid-to-low 60º's when you are leaving. BRING a WARM jacket as well as rain gear.
Please click here to see the full guidelines of what you can and can't bring into Kit Carson Park
Make it a Taos weekend!  Come early and enjoy Galactic at Taos Mesa Brewing Company the night before!
"We took our time to write this record, and I'm really glad we did," says Brittany Howard, lead singer and guitarist of Alabama Shakes [web site | Amazon.com], about the band's latest album, Sound & Color. "We were able to sit down and think about what's exciting to us, explore all the things we wanted to on our first album. This record is full of genre-bending songs—it's even harder now when people ask, 'What kind of band are you?' I have no clue."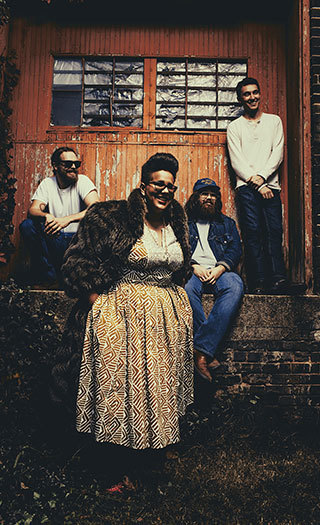 Sound & Color is the eagerly anticipated follow-up to the Shakes' 2012 debut Boys & Girls, which earned the group three Grammy nominations, including a nod for Best New Artist. (Sound & Color was recently Grammy-nominated for Album of the Year, Best Alternative Music Album and Best Engineered Album, Non-Classical, while "Don't Wanna Fight," the album's first single, received nods for Best Rock Performance and Best Rock Song; Blake Mills, who co-produced Sound & Color with the band, received a nomination for Producer of the Year, Non-Classical). The gold-certified album's breakthrough paved the way for the Shakes—Howard, guitarist Heath Fogg, bassist Zac Cockrell, drummer Steve Johnson, and touring keyboard players Ben Tanner and Paul Horton—to become one of the most celebrated live acts in the world, as they delivered unforgettable performances everywhere from "Saturday Night Live" to the main stages of such festivals as Bonnaroo and Glastonbury.
"There was definitely a slight wave of pressure after that success," says Fogg, "but everyone was really on the same page about letting that pass and making the record that we wanted to make, trying to be creative and free and not limit ourselves."
With Sound & Color, Alabama Shakes prove that the response to Boys & Girls was no fluke. Expanding on the soulful blues-rock base that made their name, they defy predictable expectations and map an exciting, surprising, and innovative new direction. As they prepare to return to the road, what shines through is a sense of pride and self-assuredness—feelings not often associated with the always-tricky sophomore album.
"We really thought about what record we wanted to make, and decided that we didn't want to do something like Boys & Girls, Part Two," says Brittany Howard. "We've grown a lot, learned a lot about music, listened and thought about a lot of things—about being minimal and tasteful, keeping it classy. After that decision to start over, with a clean slate, it was easy. We could just do what we wanted to do."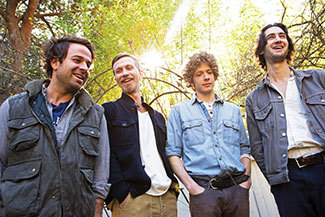 "With its modern take on old-fashioned songcraft and interplay, Dawes may ultimately be the most satisfying American band of its generation." –Chicago Sun-Times
LA rock quartet Dawes' [web site | Amazon.com] latest album, All Your Favorite Bands, highlights the outstanding musicianship of Taylor Goldsmith (lead vocals, guitar), Griffin Goldsmith (drums, background vocals), Wylie Gelber (bass) and Tay Strathairn (keyboards, background vocals) that Dawes fans around the world have come to cherish. All Your Favorite Bands is Dawes' first record since 2013′s acclaimed Stories Don't End, which Rolling Stone awarded four out of five stars, saying its "gorgeous tunes hide a not-so-peaceful, not-so-easy feeling."
Taylor explains why the album is called All Your Favorite Bands:
"The main line of the title track is 'And may all your favorite bands stay together.'  I know that my favorite bands are a really deep part of who I am.  They help define me, they help represent me, they trigger certain emotional memories, and they stand for the ideals and lifestyle that I will always hope to achieve.  And I don't mean rock and roll fantasies, but rather concepts like freedom and enlightenment. I would love for someone wishing me well to put it in the terms of 'may all your favorite bands stay together.'  That would be a real friend.  That person would know what truly matters. To me, the statement of 'All Your Favorite Bands' immediately gets down to a highly personal and singular part of anybody in a way that few other concepts can.  So that's why we named our record after that song."
Click here for show guidelines to find out what you can and can't bring, information about children and pets, etc.
---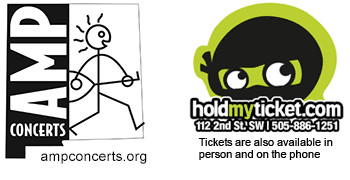 loading tweets
Coming Up