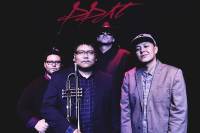 Jammin' in Jemez
featuring DDAT
Marlon Magdalena
Time: 10:00am Day: Sunday Doors: 9:30am Ages: All Ages Price: FREE
This Event Has Ended
This day-long event will feature traditional Native American music at 11 AM and contemporary hip-hop/jazz from the DDAT at 1:15 PM. Ranger-led tours of the historic site will occur throughout the day. Arts, crafts, and food will be available for purchase. Visitors are encouraged to bring folding chairs and sunscreen.
"Funky"
"Poetic"
"Complex"
"Forward Thinking"
"Outside the Box"
"Bad Mothers"
DDAT has been described using those words by national media for good reason. Blending Def-i's intelligent and poetic words and hip hop style with the hard driving funk and jazz jams of Delbert Anderson (Trumpet), Nicholas Lucero (Drums), Chris Bidtah (vocals) and Mike McCluhan (Bass)—DDAT has carved their own path with their desert forged influences and world class musicianship.
All of the members are touring artists both nationally and internationally. One impromptu group performance at a festival sparked the fire that has burned across the country and is now known as DDAT. 
Named by NPR as one of the top 10 bands in the US, DDAT combines hip hop, jazz, funk and soul to their original southwestern feel and genre. Performances by DDAT are known to be full of energy and excitement. Audiences never know what to expect... dancing, improvisation, audience participation, live painting—sky's the limit at a DDAT show! DDAT creates a unique exciting tie with audiences of all ages who appreciate live performing arts. Music from the quartet has been heard all over the world with features on National Public Radio (NPR), Sirius XM, Indian Country Today, SAY Magazine, Weekly Alibi and many more. DDAT tours include several West Coast Tours, Canada's Music is Medicine Tour, Aboriginal Music Week Tour in Canada, and Van's Warped Tour-USA.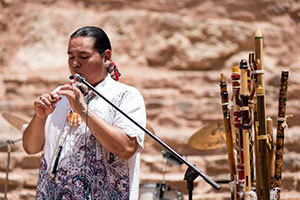 Marlon Magdalena will be performing in the morning. He is a tribal member of Jemez Pueblo and participates in all aspects of Jemez life, such as speaking the Jemez language, planting Jemez corn, singing Jemez songs, and dancing Jemez dances. He is proud to be from a place that still continues the ancient ways of life. 
Magdalena performs flute music in many types of venues. "When I perform I try to present myself in the most respectful way that I can. I dress how a traditional Jemez Man would for any of our special occasions, because that is who I am representing. I also represent the Flute Spirit. In Jemez, we say that if you are performing in the plaza, or at other places, you are performing not only as yourself, but as the spirits you are dancing, drumming or singing for. I sing through the flute, I give the Flute Spirit a voice with my breath, my heart and my mind. I respect it. That is why I dress the way I do when I perform. I give that much respect with each performance, and I give that much respect to the people hearing my songs."
About Jemez Historic Site:
A short drive from Albuquerque and Bernalillo, the Jemez Historic Site is one of the most beautiful prehistoric and historic sites in the Southwest. It includes the stone ruins of a 500 year old Indian village and the San José de los Jemez church dating to 1621/2. The village of Giusewa was built in the narrow San Diego Canyon by the ancestors of the present-day people of Jemez (Walatowa) Pueblo. The name Giusewa refers to the natural springs in the area.
In the 17th century, the Spanish established a Catholic mission at the village. The mission was short-lived, and, in time, the people abandoned the site and moved to the current location of Jemez Pueblo. The massive stonewalls were constructed about the same time the Pilgrims landed at Plymouth Rock. The heritage center contains exhibitions that tell the story of the site through the words of the Jemez people. A 1,400-foot interpretive trail winds through the impressive site ruins.
Click on the image below to see a larger version!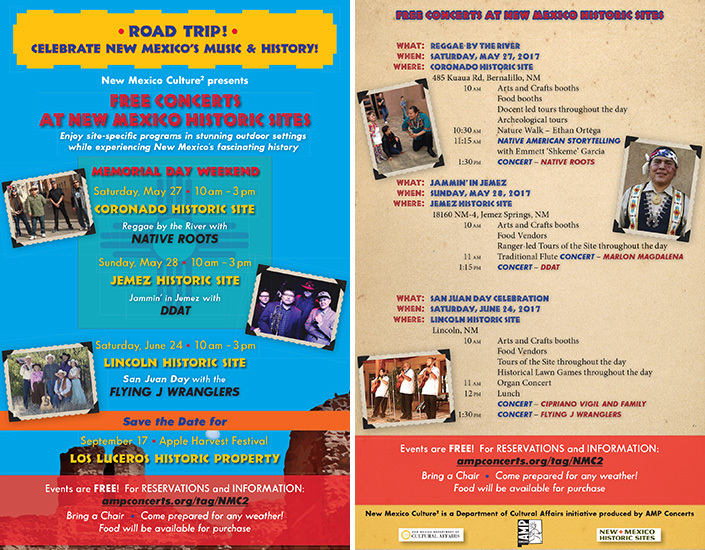 New Mexico Culture Squared (NMC2) is a NM Department of Cultural Affairs (DCA) project to build and manage partnerships between DCA institutions and cultural organizations that will enhance the impact, effectiveness, attendance, and visitor experience of exhibits and programs of DCA entities. Under the management of AMP Concerts, NMC2 will create programs in collaboration with State Historic Sites, DCA Museums and various cultural organizations with the goal of increasing public programs statewide and promoting New Mexico as a destination for arts and culture.


---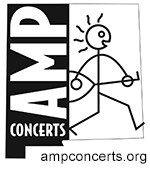 loading tweets
Coming Up