BUY STUFF AND SUPPORT AMP!
A percentage of every Amazon purchase made after clicking on the above link is donated to AMP. An easy and fun way to show support. Happy shopping! Or click here to make a tax deductible donation to AMP.
---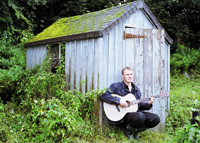 Jim Malcolm
October 23, 2012 7:30 pm
- 9:30 pm
Add to Cal
//=$other_events?>
Time: 7:30pm Day: Tuesday Doors: 6:00pm Ages: 21+ without parent or guardian Price: $15
This Event Has Ended
Tickets are $15 in advance, $18 day of show (plus $2 service charges). They are also available through Hold My Ticket (112 2nd St SW), 505-886-1251, Monday to Friday, 11 AM-6 PM. 21 and over unless accompanied by parent or legal guardian. Limited seating available.
Jim Malcolm [web site | Amazon.com] is the ultimate Scots troubadour. Traveling the world with his guitar, harmonicas, and engaging wit, he sings the traditional songs of Scotland and his own masterfully crafted songs in a style which is modern and accessible, yet utterly authentic. He is highly regarded as an interpreter of the songs of Robert Burns, and has been described as "one of the finest singers in Scotland in any style."
Though he now works solo, Jim was lead singer with the world-renowned and multi-award-winning Old Blind Dogs for eight years, a fantastic experience with some of Scotland's finest musicians, taking him to the most prestigious festivals in North America and around Europe.
With family roots in Perthshire and Strathclyde, Jim has been a professional musician since graduating from Edinburgh University. His first arena was the folk music scene in Scotland, where he gigged in almost every town and isle from Berwick to Benbecula and from Stranraer to Lerwick. Working solo or in various bands and combos in far flung pubs, hotels and clubs toughened him up or a future life on the road.
Solo tours in England, Ireland, Denmark and Germany followed, including musical adventures in some off-the-charts places like Uganda.
The opportunity to join the already established Celtic folk/rock band Old Blind Dogs saw Jim further explore countries on the European continent and North America, traveling as far as Alaska and Hawaii. Over his eight years with the band, Jim recorded three studio albums and a live CD. Jim's 2011 release Sparkling Flash sees a band reunion "across the ether," as several Dogs members make a guest appearance. His latest album is Disaster for Scotland: The Satirical Songs of Jim Malcolm.
As a solo performer with ten solo CDs to his credit, Jim can mix it with anyone out there. As well as a renowned singer, he is in the top handful of simultaneous guitar and harmonica players in the world. He plays mostly in the folk guitar tuning dadgad in both fingerpicking and plectrum styles.
His concerts are always highly entertaining, peppered with funny stories and observations, in the great tradition of Scottish artists through the ages.
The Cooperage is a full service restaurant/nightclub specializing in steak & seafood, with a large salad bar, good desserts and a full bar.
---

---
All content © 2004-13 by AMP. Web site by interbridge. Banner by Golden Sage Creative.
Photo of Lyle Lovett by Michael Wilson. Photos of the Guerrilla Girls, Suzanne Vega, Cowboy Junkies, Po Girl, Wagogo and Sam Bush by Alan Mitchell.
Hosted by