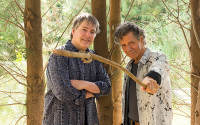 Béla Fleck & Chick Corea
Time: 7:30pm Day: Friday Doors: 6:30pm Ages: All Ages
This Event Has Ended
Tickets for this show cost $33 to $97 (including all service charges). They are also available through Hold My Ticket (112 2nd St SW), 505-886-1251, Monday to Friday 9 AM - 6 PM, Sat & Sun 11 AM - 6 PM.
This concert is sponsored by Rick & Gail Thaler and OGB Architectural Millwork.  Thanks as always for the ongoing support!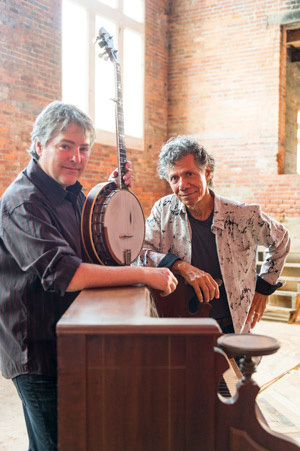 Chick Corea & Béla Fleck, two master songwriters, musicians, and band leaders meet in a historic duet of piano and banjo, combining Corea and Fleck's classic tunes with the music from their Grammy-winning album The Enchantment. The Enchantment was not only deemed one of the best recordings of 2007 but also sparked multiyear international live tours where sold-out crowds were treated to Corea's and Fleck's genre-shattering, jaw-dropping display of technical mastery—all delivered with deep emotion and an unexpected spirit of play. 
The most compelling performances culled from those years of touring comprise Two, the simply titled, live double-album, scheduled for release on September 11. The track list includes compositions from The Enchantment, which are re-worked with boundary-stretching improvisation, Corea and Fleck classics, as well as choice new music added to the repertoire along the way.
With a mix of jazz and pop standards, crossing a myriad of genres, from jazz, bluegrass, rock, flamenco and gospel, this will be a casual, intimate evening with two legends from different musical worlds.
A DownBeat Hall of Famer and NEA Jazz Master, 22-time Grammy winner, and keyboard virtuoso, Chick Corea [web site | Amazon.com] has attained living legend status after five decades of unparalleled creativity and an artistic output that is simply staggering. Chick is the fourth-most-nominated artist in the history of the Grammys, with 63 nominations. He's also earned 3 Latin Grammy Awards, the most of any artist in the Best Instrumental Album category. From straight ahead to avant-garde, bebop to fusion, children's songs to chamber music, along with some far-reaching forays into symphonic works, Chick has touched an astonishing number of musical bases in his illustrious career while maintaining a standard of excellence that is awe-inspiring. A tirelessly creative spirit, Chick continues to forge ahead, continually reinventing himself in the process.
There are some who say Béla Fleck [web site | Amazon.com] is the premiere banjo player in the world. Others claim that Béla has virtually reinvented the image and the sound of the banjo through a remarkable performing and recording career that has taken him all over the musical map and on a range of solo projects and collaborations. If you are familiar with Béla, you know that he just loves to play the banjo, and put it into unique settings. The recipient of multiple Grammy Awards going back to 1998, Béla Fleck's total Grammy count is 15 Grammys won, and 30 nominations. He has been nominated in more different musical categories than anyone in Grammy history.
"This album and tour were (and are still) a dream come true for me. Imagine getting to play with one of my heroes, create a set of new duet music together with him for banjo and piano, and play beautiful concert halls in such an intimate acoustic setting, and you can see why I'm still shaking myself. We made The Enchantment several years back, and then toured extensively for a year. Now we've taken the duo out of mothballs, shook it out, and discovered that it fits us both well, and that there is more to experience together."
—Béla Fleck
---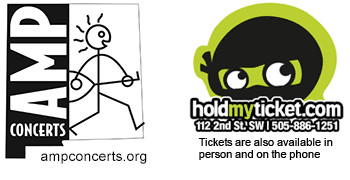 loading tweets
Coming Up