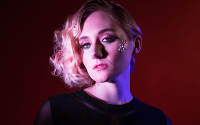 Jessica Lea Mayfield
Sun Seeker
Time: 8:00pm Day: Monday Doors: 7:00pm Ages: All Ages
This Event Has Ended
Tickets are $14 in advance, $17 day of show (including all service charges). They are also available through Hold My Ticket (112 2nd St SW), 505-886-1251, Monday to Friday 9 AM - 6 PM, Sat & Sun 11 AM - 6 PM.
Tickets to this show include full access to Meow Wolf and The House of Eternal Return!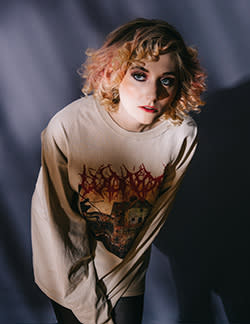 Jessica Lea Mayfield [website | Amazon.com] might make some people uncomfortable with the level of honesty she projects on her new LP, Sorry Is Gone, but she's not going to apologize—for that, or for anything else on her complex, confessional fourth album. Recorded with producer John Agnello (Sonic Youth, Kurt Vile, Phosphorescent and Dinosaur Jr.), Sorry Is Gone is a raw document of a woman in progress; one weathering cruel storms but finally able to blame the rain itself for the flood. Written as the truth of her own poisonous marriage unfolded before her eyes, Sorry Is Gone is a record of permission. Permission to create freely, to escape what is no longer safe and to stop bearing responsibility for things done to her, not by her. As Mayfield sings on the title track, "the sorry is gone." Indeed, it is; kicked to the curb with every strum of her guitar.
Written in the years since her last solo LP, Make My Head Sing, in 2014, and her 2015 collaboration with Seth Avett, Seth Avett and Jessica Lea Mayfield Sing Elliott Smith, Sorry Is Gone became the soundtrack to a highly personal and traumatic story. The Ohio-born Mayfield was quietly enduring years of domestic abuse, smiling and touring while she hid a brewing tempest—and the bruises, too. But lyrics don't lie even as bruises fade, and they started to tell the tale of her marriage before she was even able to; songs often dark and dangerous and ready to confront and claim her life. Written primarily on an acoustic baritone guitar—out of necessity at first, in her thin-walled apartment—Mayfield started to process the years of hurt and uncertainty through words and melodies that helped her see the light in the darkness.
"I have to sing about things and write about things that have happened to me as therapy," says Mayfield, who shaped so many of these songs in the isolation of the small apartment she shared with her husband while their marriage fell apart in her hands—in many ways, those songs pointed to the way out before she could get there herself. "That's what connects me to other music I listen to. I want music to make me feel things. This is my inner dialogue, and my chance to get the last word."
Mayfield has paved an unconventional lifestyle—playing in her family's bluegrass band since the age of eight, she didn't have any traditional schooling and released her first album at the age of fifteen, when she was discovered by Dan Auerbach of the Black Keys. Influenced by everything from that mountain sound to the modern garage, Mayfield has been able to come at songwriting from a pure perspective, lead more by her heart than any textbook. It's what makes the tracks of Sorry Is Gone so striking and visceral—there is no filter on the emotions, no rulebook and certainly no excuses for anything she's been through or the candor she fires.
"I'm not going to bite my lip on anything," she says. "If there is one thing I am going to do, it's talk and sing about what I want to. No one is going to manipulate me."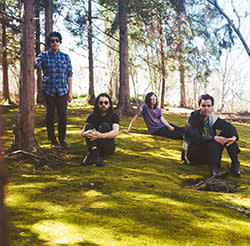 Sun Seeker has drawn applause for their unhurried breed of Cosmic American Music and with Biddeford (Third Man Records), their long-awaited debut EP, the Nashville-based band more than affirm their promise. The EP—which follows Sun Seeker's widely acclaimed Third Man debut single, 2016's "Georgia Dust" b/w "No One Knows"—sees Alex Benick (guitar, vocals), Asher Horton (bass guitar, vocals), and Ben Parks (drums, vocals) exploring nostalgia, melancholy, and emotional turmoil via laid-back psychedelia pollinated with tight harmonies, classic folk songcraft, and country rock spirit, an ageless approach that is simultaneously archetypal and now utterly their own. Songs like "With Nothing (But Our Last Words)" and the yearning "Won't Keep Me Up At Night" meld Benick's candid lyricism and stark melodies with creative arrangement and production technique, fashioning a sonic world to match their interior emotional scope. The bunch of musical friends at the core of Sun Seeker have been collaborating in some sense since eighth grade. The trio formed a loose collective of combos, playing together in each other's bands, with Sun Seeker officially convening in January 2013. The band became fast favorites on the Nashville scene, earning word of mouth and a fervent fan following via an electric live presence and a striking collection of songs.
---


loading tweets
Coming Up