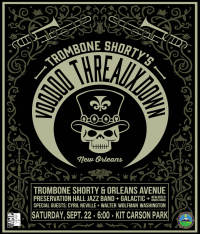 AMP Concerts presents
VOODOO THREAUXDOWN
Trombone Shorty & Orleans Avenue
Time: 6:00pm Day: Saturday Doors: 5:00pm Ages: All Ages
This Event Has Ended
Tickets are $61 (including all service charges). Kids 12 and under only $12 (including all service charges). Tickets are also available by phone through Hold My Ticket at 505-886-1251.
LAWN AND CAMPING STYLE CHAIRS WELCOME • NO COOLERS • NO OUTSIDE FOOD OR DRINK • SEALED BOTTLES OF WATER OK • SORRY, NO PETS!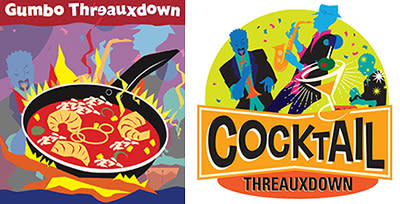 Gumbo Threauxdown by Gumbo Gourmet a GoGo!
Authentic Louisiana Gumbo, Jambalaya, traditional and vegetarian Red Beans and Rice
Buy your plate in advance and save! $11 per plate in advance; $13 day of the show (including all service charges).
Taos Cocktail Threauxdown!
Cocktail tasting with four Taos mixologists making a signature Southern Comfort cocktail. Get a taster of each drink, and then you can use your ticket to get a full glass of your favorite. The winning bartender will receive a cash prize. $12 (including all service charges).
Voodoo Threauxdown featuring 
Trombone Shorty & Orleans Avenue
Galactic
Preservation Hall Jazz Band
New Breed Brass Band
With special guests Cyril Neville & Walter Wolfman Washington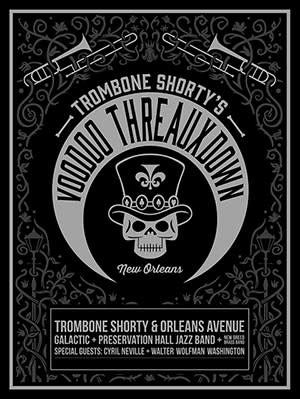 Trombone Shorty, the bandleader, singer, songwriter and horn-blower born Troy Andrews, was raised in one of the Tremé's most musical families. Andrews got his name when he picked up his instrument at four ("My parents pushed me toward trombone because they didn't need another trumpet player," he laughs). By eight, he led his own band in parades, halls and even bars: "They'd have to lock the door so the police couldn't come in." Promoters would try to hand money to his older cousins, but they'd kindly redirect them to the boy. In his teens, Andrews played shows abroad with the Neville Brothers. Fresh out of high school (New Orleans Center for Creative Arts), he joined Lenny Kravitz' band.
Across that time, three Trombone Shorty albums and many collaborations since, Andrews nurtured a voracious appetite for all types of music—a phenomenon on fluid display with his latest release, Parking Lot Symphony. True to its title, this album contains multitudes of sound—from brass band blare and deep-groove funk, to bluesy beauty and hip-hop/pop swagger—and plenty of emotion all anchored, of course, by stellar playing and the idea that, even in the toughest of times, as Andrews says, "Music brings unity."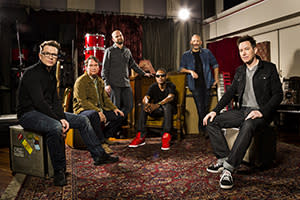 It's been more than 20 years since Ben Ellman, Robert Mercurio, Stanton Moore, Jeff Raines and Rich Vogel began exploring the seemingly limitless musical possibilities born out of their work together as Galactic. Since then, the seminal New Orleans band has consistently pushed artistic boundaries on the road and in the studio, approaching their music with open ears and drawing inspiration as much from the sounds bubbling up from their city's streets as they do from each other.
A key part of that creative spark comes from the teamwork of Mercurio and Ellman, whose ever-evolving production and arranging skills helped usher the band into a new phase of studio work beginning with the loop-centric "Ruckus" in 2007. A series of albums focused around specific concepts like Carnival followed, as did collaborations with guests hailing from worlds outside the one Galactic calls its own.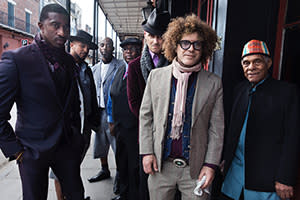 At a moment when musical streams are crossing with unprecedented frequency, it's crucial to remember that throughout its history, New Orleans has been the point at which sounds and cultures from around the world converge, mingle, and resurface, transformed by the Crescent City's inimitable spirit and joie de vivre. Nowhere is that idea more vividly embodied than in the Preservation Hall Jazz Band, which has held the torch of New Orleans music aloft for more than 50 years, all the while carrying it enthusiastically forward as a reminder that the history they were founded to preserve is a vibrantly living history.
PHJB marches that tradition forward once again on So It Is, the septet's second release featuring all-new original music. The album redefines what New Orleans music means by tapping into a sonic continuum that stretches back to the city's Afro-Cuban roots, through its common ancestry with the Afrobeat of Fela Kuti and the Fire Music of Pharoah Sanders and John Coltrane, and forward to cutting-edge artists with whom the PHJB have shared festival stages from Coachella to Newport, including legends like Stevie Wonder, Elvis Costello and the Grateful Dead and modern giants like My Morning Jacket, Arcade Fire and the Black Keys.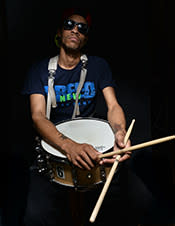 New Breed Brass Band lives and breathes the culture of New Orleans, infusing funk, rock, jazz, and hip-hop into a custom-made enhancement of second-line brass band tradition.
"That's what we came up under," says snare-drummer Jenard Andrews of second line bands like the ReBirth, Dirty Dozen and Lil' Rascals Brass Bands. "Now we're trying to take that sound and bring in some new stuff and expand it. We bring outside influences like Earth Wind & Fire and Brass Construction, trying to interpret a different song for every genre, and make it all our own sound."
Whether performing in their hometown or on the road, New Breed will forever bring the vibe of the New Orleans second-line with them. "We can't wait," Andrews says of bringing the New Breed sound to stages and festivals around the world. "It's a new breed of music that we'll be bringing to our culture, and we hope to create a new sound for our city in the process."
---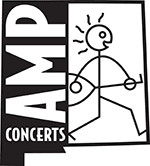 loading tweets
Coming Up