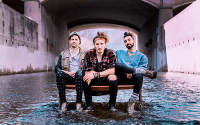 Levitt AMP Santa Fe Music Series at the Santa Fe Railyard
Magic Giant - FREE SHOW
Lindy Vision
Time: 7:00pm Day: Saturday Doors: 6:00pm Ages: All Ages Price: FREE
This Event Has Ended
The Levitt AMP Santa Fe Music Series is supported in part by the Mortimer & Mimi Levitt Foundation, a private foundation that empowers towns and cities across America to transform underused public spaces into thriving destinations through the power of free, live music. In 2018, more than 150 free Levitt concerts will take place in 15 towns and cities, featuring a rich array of music genres and high caliber talent. Learn more at levitt.org.
Register for the event and we'll also send you updates if there are any schedule changes as well as info on future free Railyard programs and events around Santa Fe and Albuquerque.
Join your Santa Fe neighbors on the Railyard Plaza beside the landmark Water Tower for great FREE concerts all summer long.
Feel free to bring chairs to the concert.
Food and drink are available inside Second Street Brewery and Violet Crown Cinema.
Come down early to get a spot on the Second Street Brewery patio to enjoy a a cold beer with the music!
Violet Crown has patio drink & dining options too.
Ample parking is available in the underground garage just north of REI.
Download a map (JPG) showing all of the Railyard parking and transportation options.
Bike to the Railyard this summer. We are encouraging safe bicycling to the Railyard Series using the Acequia Trail and St Francis Underpass. "Bike Valet" available on site by donation supporting multiple bicycle advocacy organizations and charities. Powered by Mellow Velo!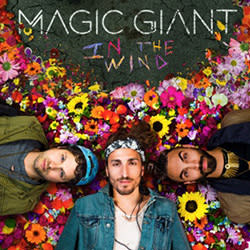 LA-based Magic Giant has been thrilling growing crowds at every stop along its 70-city North American and European tour, celebrating the release of its debut album In The Wind. DuJour has proclaimed Magic Giant "the most festive band in the festival circuit, quickly becoming a must-see." Its style has been described by NPR as "upbeat, passionate indie-folk" and by Billboard as inspiring "mass dance-alongs." Its initial single "Set on Fire" broke the top 25 on the US Alternative chart and its current single "Window" recently leaped into the Top 40 on Billboard's Hot AC and Adult Pop charts. 
The trio, comprised of Austin (lead vocals), Zambricki (viola, banjo, harmonica), and Zang (acoustic guitar, cello) weaves together a musical quilt of alternative, pop, and folk on its LP, uniquely recorded from their solar-powered mobile recording studio while traveling throughout the US.
"The band blends folk and pop in equal doses, creating killer harmonies, intriguing instrumental accompaniment, literally using any instrument they happen to find, including drums, banjo, trumpet, saxophone, harmonica, synthesizers, electric bass, cello, viola, violin, dobro, lap steel, mandolin, and more. Their sound is huge and features melodies that soar to majestic heights, and the way the album was created has a lot to do with that." (Popmatters)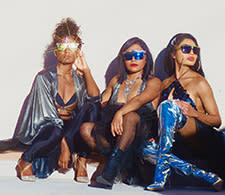 Lindy Vision will open the show. Lindy Vision was formed in 2014 in Albuquerque. Prior to 2014, they were known as Black Natives (with no official releases). They underwent the name change to Lindy Vision to better describe themselves and their attraction to music. The term "Lindy" was inspired by the autobiography of Malcolm X and the "Vision" comes from their shared personal mantra to always dream and keep goals. If you can visualize your dream, it can happen. They affectionately call all of their followers "Visionaries."
---

loading tweets
Coming Up