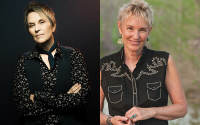 Mary Gauthier and Eliza Gilkyson
with special guest Melissa Crabtree
Time: 7:30pm Day: Friday Doors: 7:00pm Ages: All Ages
This Event Has Ended
Tickets are $36 (including all service charges). They are also available by phone through Hold My Ticket at 505-886-1251.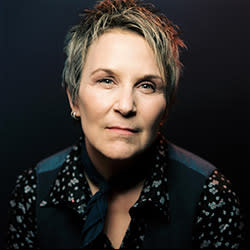 On Mary Gauthier's tenth album, Rifles & Rosary Beads (Thirty Tigers), all eleven songs were co-written with and for wounded veterans. Eleven of the nearly four hundred songs that highly accomplished songwriters have co-written as part of the five-year-old SongwritingWith:Soldiers program. Participants of the program have shared that the experience of songwriting was life-changing for them, some even said life-saving. Something about writing that song—telling that story—is healing. What program co-founder Darden Smith calls post-traumatic-growth.
Gauthier's first nine albums presented extraordinary confessional songs, deeply personal, profoundly emotional pieces ranging from "I Drink," a blunt accounting of addiction, to "March 11, 1962," the day she was born—and relinquished to an orphanage—to "Worthy," in which the singer finally understands she is deserving of love. Maybe that's where the confessional song cycle ends, for she has midwifed these eleven new songs in careful collaboration with other souls whose struggle is urgent, immediate, and palpable. And none are about her. 
Each song on Rifles & Rosary Beads is a gut punch: deceptively simple and emotionally complex. From the opening "Soldiering On" ("What saves you in the battle/Can kill you at home") to "Bullet Holes in the Sky" ("They thank me for my service/And wave their little flags/They genuflect on Sundays/And yes, they'd send us back"), while "Iraq" depicts the helpless horror of a female military mechanic being dehumanized and sexually harassed by fellow soldiers.
"My job as a songwriter is to find that thing a soul needs to say," Mary says. "Each retreat brings together a dozen or so soldiers and four songwriters, three songs each in two days. We don't have a choice. We have to stay focused, listen carefully, and make sure every veteran gets their own song. And we always do."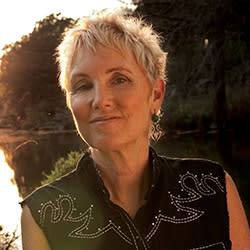 Eliza Gilkyson is a twice Grammy-nominated (2006/2015) singer songwriter and activist who is one of the most respected musicians in Folk, Roots and Americana circles. Her songs have been covered by Joan Baez, Bob Geldof, Tom Rush and Rosanne Cash and have appeared in films, PBS specials and on prime-time TV.  A member of the Austin Music Hall of Fame, and a recent inductee into the Austin Songwriter Hall of Fame, she has won countless Folk Alliance and Austin Music awards, including 2014's Songwriter of the Year. Eliza's music has always offered a vivid reflection of the times we live in, full of joys and sorrows, each song a window into a life of struggle and triumph in a world she feels is "poised on the edge of moral, economic and environmental bankruptcy."
Eliza's 2018 release is Secularia, a collection of spiritually charged songs that do not fit within the parameters of traditional religious beliefs but challenge us to respect all life and be accountable for our actions in such perilous times. The new collection features a stunning performance with the acclaimed Tosca String Quartet, cameos with Shawn Colvin, gospel singer Sam Butler, and a duet with her friend the late Jimmy LaFave, as well as several songs adapted from poetry by her grandmother Phoebe Hunter Gilkyson, who co-wrote with Eliza's father, folksinger Terry Gilkyson.
On stage, Eliza presents a vibrant spontaneous mix of storytelling with self-effacing humor and tenderness, within a wide-ranging spectrum of human experience, from intimate love songs to political diatribe.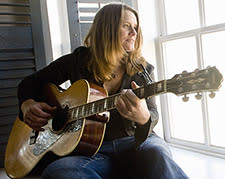 Whether guiding a raft through the Grand Canyon on the Colorado River, or writing songs and singing about the majesty of the American West, Melissa Crabtree's heartfelt love for the natural world transports her listeners to the wild places she knows best. Melissa, you see, lives two lives; one as a wilderness guide and the other as a working musician, and at this intersection of nature and music, she conjures songs—like a contemporary, female Woody Guthrie—that amuse, inspire and entertain. In performance, Crabtree delivers her poignant stories in a distinctly husky alto, with a pleasingly twangy guitar.
"A road-wise folkie with a bluesy soul reminiscent of early Michelle Shocked, Melissa Crabtree is an original storyteller and performer not to be missed."
—Catie Curtis
---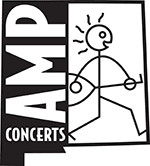 loading tweets
Coming Up