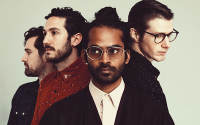 Darlingside
River Whyless
Time: 8:00pm Day: Friday Doors: 6:30pm Ages: 21+ without parent or guardian
This Event Has Ended
Tickets are $17 in advance, $22 day of show (including all service charges). They are also available by phone through Hold My Ticket at 505-886-1251. 21 and over unless accompanied by parent or legal guardian. Limited seating available.
The Cooperage is a full service restaurant/nightclub specializing in steak & seafood, with a large salad bar, good desserts and a full bar.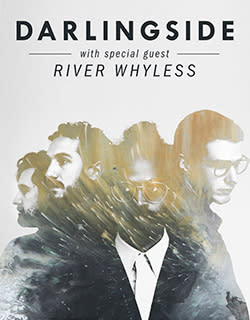 "It's over now / The flag is sunk / The world has flattened out," are the first words of Extralife, the new album by Boston-based quartet Darlingside. While the band's critically acclaimed 2015 release Birds Say was steeped in nostalgia and the conviction of youth, Extralife grapples with dystopian realities and uncertain futures.
Hope arrives in the form of Darlingside's signature superpower harmonies, drawing frequent comparisons to late-60's era groups like Crosby, Stills & Nash; Simon & Garfunkel; and The Byrds. And yet, their penchant for science fiction and speculative futurism counteracts any urge to pigeonhole their aesthetic as "retro." The four close friends construct every piece of their music collaboratively, pooling musical and lyrical ideas so that each song bears the imprint of four different writing voices. NPR Music dubs the result "exquisitely-arranged, literary-minded, baroque folk-pop", and calls Extralife "perfectly crafted." Darlingside perform all of their music around a single vocal microphone, inviting audiences into a lush, intimate world where four voices are truly one.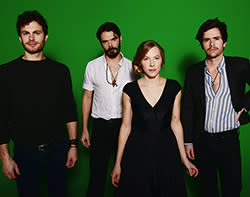 For many bands, and especially those who've been together for several years, recognizing maturation, progress or palpable evolution is a daunting task. Is it continued creative accomplishment that signals progression? Or perhaps it's profitable commercial endeavors? The answer is often quite unclear.
Six years, two albums and countless gigs after first forming as a band, River Whyless, the North Carolina-bred folk-rock outfit, has discovered their evolution is a subtler, albeit monumentally important, one. Deep in the throes of writing and recording their bold new album, Kindness, A Rebel, the four musicians reached a necessary and collective understanding. Namely: this band is their lifeblood, their family and their love. To that end, with unspoken acceptance, the members of River Whyless, each songwriters in their own right, collectively put aside their respective egos, coalesced around each other's creative vision, and fully embraced the beauty of their enduring partnership.
"It feels like you're on a journey with your family," McWalters says of the satisfaction of being in a band like River Whyless. "It's a beautiful thing." 
---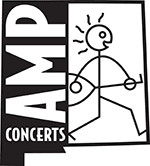 loading tweets
Coming Up