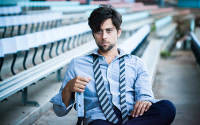 David Berkeley
Time: 12:00pm Day: Tuesday Doors: 11:00am Ages: All Ages
This Event Has Ended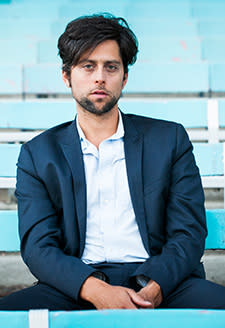 Santa Fe-based songwriter and author David Berkeley writes songs capable of both breaking and mending the heart. The San Francisco Chronicle calls him a "musical poet," and the New York Times praises his "lustrous, melancholy voice with shades of Tim Buckley and Nick Drake." He was a guest on This American Life, and he's won many songwriting awards and honors, including ASCAPs Johnny Mercer Songwriting Award. He's released six studio albums, one live album, a DVD, and authored two books. Berkeley's last release was a never-before tried concept: a novella comprising ten intertwining stories and an album of ten accompanying songs (one for each story). He is one half of the wildly creative Trans-Atlantic costumed duo Son of Town Hall, and (surprising most perhaps to Berkeley himself) his music has been remixed by many of the world's top EDM DJs. Berkeley is back with his most relevant and powerful music yet, a set of political love songs called The Faded Red and Blue.
David Berkeley's gift as a songwriter and storyteller is that he sees both the tragedy and comedy in life, managing to both reveal the sorrow at the heart of the human condition and the blazing joy and beauty in the same. It's a duality that audiences experience at all of Berkeley's shows as he tells uproarious stories between cathartic songs. It's also why his fans respond so deeply to his music and why so many look to him to express what they are often unable to articulate. Berkeley's songs are at once hard and hopeful.
This is the latest in a monthly series of free events in collaboration with the Friends for the Public Library.


---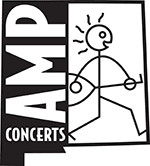 loading tweets
Coming Up