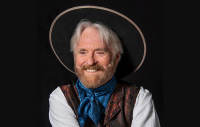 AMP Drive-In Concert and Tailgate Party
*** CANCELED ***
Michael Martin Murphey and the Rio Grande Band
Time: 7:00pm Day: Friday Doors: 5:30pm Ages: All Ages
This Event Has Ended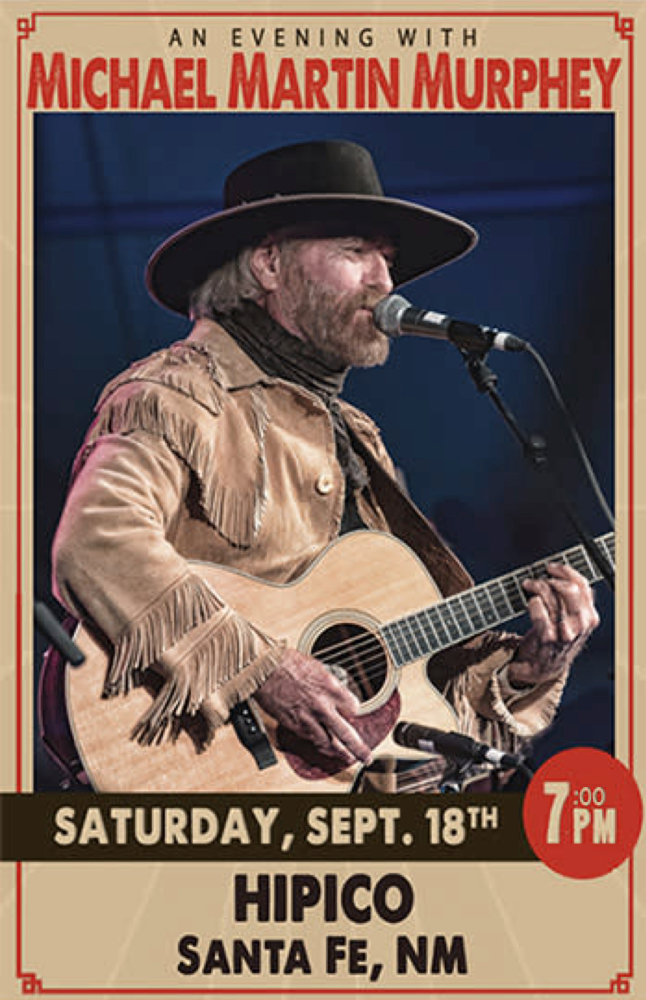 Tickets are sold per car. Up to 6 per car with a legal seat/seatbelt for each person. Carloads are $77, $105, $132 and $176 (including all service charges). Tickets also available by phone through Hold My Ticket at 505-886-1251.
Tickets will go on sale to AMP members on Tuesday, Sept. 8 at 10 AM. Click here for info on AMP Membership.
Regular on-sale is Wednesday, Sept. 9 at 10 AM.
Stream the show live on Facebook and YouTube!
ADVANCE SALES ONLY. NO TICKET SALES AT THE GATE.
YOU MUST SELECT YOUR ARRIVAL TIME WHEN BUYING YOUR TICKET. ARRIVAL TIMES ARE LIMITED TO ASSURE EASE OF ACCESS.
4:30 - 5:30 EARLY BIRD: Set up your spot and enjoy your evening on the grass
5:30 - 6:30 
6:30 - 6:50 LATE ARRIVAL: MUST arrive no later than 6:50 to be parked by showtime at 7:00. LATE ARRIVALS WILL NOT BE PERMITTED.
We allow sedans, mini-vans, trucks, SUVs. NO buses or large vans.
Each space is 27' wide by 18' deep and offer patrons a personal 9' x 18' tailgate/picnic zone beside their parked vehicle maintaining safe distancing for all with 18' between cars.
Please be aware that the greatest risk of potential exposure will be during the time you and your group are in the enclosed space of your vehicle. Do not overcrowd. Share your vehicles cautiously and selectively. 
There will be two large HD video screens, one on stage and one behind Row 5. A full concert PA with delay towers will ensure quality sound throughout the venue. It is our goal to give patrons the best concert experience we can under the current circumstances. 
FOOD VENDORS on site for text message Booth Delivery will be JAMBO and Tacos Gracias Madre!!
EVENT RESTRICTIONS:
A cloth face covering must be worn by all patrons except when eating or drinking as per New Mexico law. 
This is an ALCOHOL FREE event. Alcohol is not permitted and will not be available for sale.
Coolers/picnics/tailgates are welcome, but ABSOLUTELY NO GRILLS or any other kind of flammables. Food vendors will also be available for contactless ordering.
Lawn Chairs and pop up tents are welcome. Pop-up tents will need to be struck before showtime to be conscious of other people's sight lines. Don't be that guy. 

No one drunk or intoxicated will be allowed admission to the event. 
MICHAEL MARTIN MURPHEY
Michael Martin Murphey's musical journey has taken many unpredictable paths over the past 50 years. Topping the Pop, Country, Western and Bluegrass charts, Murphey has never been one to rest on his laurels.
A loyal American son from Texas, Murphey is best known for his chart-topping hits "Wildfire," Carolina In The Pines," "What's Forever For," "Long Line of Love," "Geronimo's Cadillac," "Cowboy Logic," and many more across his 35 albums released to date.
Murphey's long-running incarnation as a purveyor of the music, lifestyle, and values of the American West is one of many musical mantles he has worn over the years. To track his career path is to span the country itself, from coming of age in the Texas folk music scene, to Los Angeles to Colorado to Nashville and then back to his native Texas.
In April 2019 Murph was awarded the Lifetime Achievement Award at the 59th Annual Western Heritage Awards. The National & Western Heritage Museum honored him for his producing and celebrating western music.  "In the Old West," Murphey said, "songs were shared by pioneers, cattlemen, ranchers, painted ladies and even gunslingers as a way of keeping the West alive. I have always been drawn to songs about the love of the land, the strength of the prairie folks, the dusty trails, the mythic tales and the legends of a bygone era. I have always admired Westerners for their stubborn determination and deep love of life. That's what I celebrate in my music."  
AMP Drive-In Concerts are made possible with the generous support of Falling Colors Foundation. 


---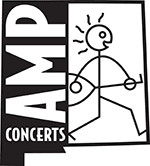 loading tweets
Coming Up