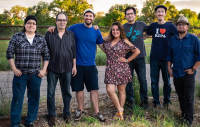 AMP Drive-In Concert and Tailgate Party
Baracutanga
Time: 7:00pm Day: Saturday Doors: 5:00pm Ages: All Ages
This Event Has Ended
Tickets are sold per car. Up to 6 per car with a legal seat/seatbelt for each person. Carloads are $44, $55, $82 and $110 (including all service charges). Tickets also available by phone through Hold My Ticket at 505-886-1251.
Stream the show live on Facebook and YouTube!
ADVANCE SALES ONLY. NO TICKET SALES AT THE GATE.
YOU MUST SELECT YOUR ARRIVAL TIME WHEN BUYING YOUR TICKET. ARRIVAL TIMES ARE LIMITED TO ASSURE EASE OF ACCESS.
4:30 - 5:30 EARLY BIRD: Set up your spot and enjoy your evening on the grass
5:30 - 6:30 
6:30 - 6:50 LATE ARRIVAL: MUST arrive no later than 6:50 to be parked by showtime at 7:00. LATE ARRIVALS WILL NOT BE PERMITTED.
We allow sedans, mini-vans, trucks, SUVs. NO buses or large vans.
Each space is 27' wide by 18' deep and offer patrons a personal 9' x 18' tailgate/picnic zone beside their parked vehicle maintaining safe distancing for all with 18' between cars.
Please be aware that the greatest risk of potential exposure will be during the time you and your group are in the enclosed space of your vehicle. Do not overcrowd. Share your vehicles cautiously and selectively. 
There will be two large HD video screens, one on stage and one behind Row 5. A full concert PA with delay towers will ensure quality sound throughout the venue. It is our goal to give patrons the best concert experience we can under the current circumstances. 
FOOD VENDORS on site for text message Booth Delivery will be JAMBO and Tacos Gracias Madre!!
EVENT RESTRICTIONS:
A cloth face covering must be worn by all patrons except when eating or drinking as per New Mexico law. 
This is an ALCOHOL FREE event. Alcohol is not permitted and will not be available for sale.
Coolers/picnics/tailgates are welcome, but ABSOLUTELY NO GRILLS or any other kind of flammables. Food vendors will also be available for contactless ordering.
Lawn Chairs and pop up tents are welcome. Pop-up tents will need to be struck before showtime to be conscious of other people's sight lines. Don't be that guy. 

No one drunk or intoxicated will be allowed admission to the event. 
BARACUTANGA
Baracutanga is an eight-piece band representing four different countries (Bolivia, Ecuador, Peru, USA) that arranges traditional South American rhythms in new and interesting ways.  One minute you'll hear huayño and cumbia with Middle-Eastern darbuka, and the next they'll be mixing Afro-Cuban bata and Afro-Peruvian festejo with Andean zampoñas. This kind of experimentation, coupled with blending ancestral traditions with a modern sensibility, has resulted in an exciting and distinct Latin flavor that leaves dancing crowds always wanting more.
Lyrically and musically, Baracutanga builds bridges between the south and the north, overcoming the barriers of discrimination. Aside from their affinity and respect for native rhythms from the lands of their ancestors, the group finds common ground in creating songs those cross-linguistic and cultural barriers, promoting intercultural experiences that empower Latinos with a positive message of self-affirmation.
Baracutanga's live shows are joyous, intense and explosive with fronting duties split between powerful Peruvian songstress Jackie Zamora and the band's exuberant beating heart, Bolivian multi-instrumentalist Kilko Paz (son of famed Bolivian activist Silvia Rivera Cusicanqui). Added magic comes from extraordinary Ecuadorian multi-instrumentalist Carlos Noboa. The group is rounded out by an extremely talented and inventive cast performing on guitars, horns, flutes, accordions, vibes, an array of percussion and all manner of string instruments. The band is currently crowdfunding its sophomore album, Volver Atrás.
AMP Drive-In Concerts are made possible with the generous support of Falling Colors Foundation. 


---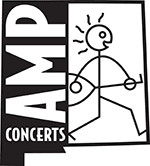 loading tweets
Coming Up