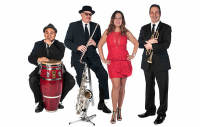 Emerge from the Pandemic with
Jackie Zamora with the NM Jazz Latino Orchestra
Time: 7:30pm Day: Saturday Doors: 7:00pm Ages: All Ages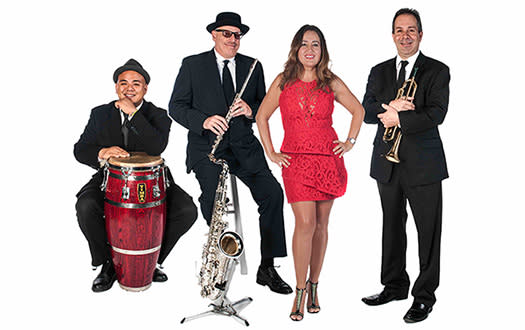 Tickets cost $20 (including all service charges). They are also available by phone through Hold My Ticket at 505-886-1251.
Emerge from the Pandemic with live music at a beautiful outdoor performance space at Casa Flamenca! The space can hold around 120 people at full capacity. With 3-foot distancing, we are going to sell 80 tickets. This is a great way to get used to going out again with a killer lineup of many of Albuquerque's best artists. Come out and support local music and check out this amazing new community space. Casa Flamenca created this space in the fall while dealing with the devastating impact of the pandemic on their business. A portion of the proceeds from each show will go to help them pay for the cost of building this space (around $10K, so a substantial investment!). If you would like to make additional donations to support them, you'll have an opportunity to do that when you buy your tickets.
Masks required when not eating or drinking.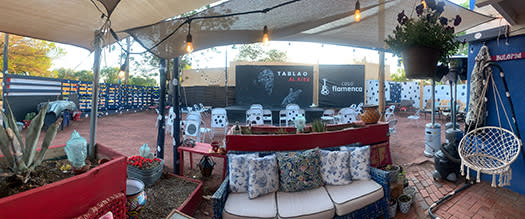 PARKING: There is plenty of street parking, but you are also welcome to park at Monica's El Portal across the street. Big thanks to Monica for letting us use their lot after hours!
Jackie Zamora was born and raised in Lima, Perú. She began studying with her mother, a former dancer/choreographer and Zarzuela singer, at the age of 13. Upon arrival in the United States at age 15, she continued to study choral ensemble singing and was a member of the Western New Mexico Chamber singers and the University of New Mexico Concert Choir. Inspired by her Latin roots, she joined the salsa band Casablanca and began to explore salsa, Latin jazz and bossa nova idioms. Her 2002 recording with Casablanca, entitled Peregrinos, received the best tropical/salsa song of the year award and the female vocalist of the year award from the New Mexico Hispano Entertainers Association. In 2007 she was part of the cast of the first Zarzuela in Albuquerque by Teatro Nuevo Mexico, titled "Luisa Fernanda," and then again in 2007, she was cast in "La Corte de Faraón." Jackie has also played with the salsa band Encanto and the Afro-Peruvian band Concepto Tambor. Jackie is currently the lead vocalist for Calle 66 and Baracutanga.
The New Mexico Jazz Latino Orchestra seeks to highlight the great musical talents of New Mexico residents, introduce audiences to traditional instrumentation and rhythms from Latin America, and demonstrate how jazz fusion can provide a harmonious and exciting blend of ancestral and contemporary tones. Jackie has put together a great lineup of players from the orchestra for this show.  She'll be joined by Paul Gonzales, Count Basie Orchestra tenor sax player Doug Lawrence, Steve Figueroa, Colin Deuble, Ricky Carrido & Tower of Power horn player Adolfo Acosta.
---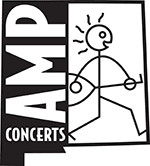 loading tweets
Coming Up