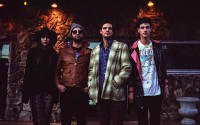 Houndmouth
Howard
Time: 7:30pm Day: Sunday Doors: 6:30pm Ages: 21+ without parent or guardian
This Event Has Ended
Tickets are $22 in advance, $25 day of show (including all service charges). They are also available through Hold My Ticket (112 2nd St SW), 505-886-1251, Monday to Friday 9 AM - 6 PM, Sat & Sun 11 AM - 6 PM.
There are a limited number of reserved two-top tables available at $32 a seat. This is the only seating available in the club.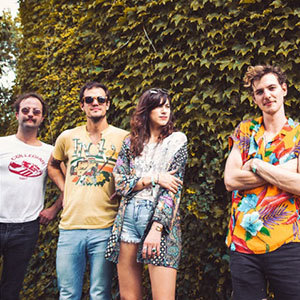 Less than a half-decade ago in the small Indiana city of New Albany, four pals were crafting tunes on their own, with few ambitions of turning those songs into a spectacle. That all changed when these friends crossed paths, and joined forces. Matt Myers, Shane Cody, Katie Toupin, and Zak Appleby became the drums and keys, guitars and harmonies of Houndmouth, and those personal numbers became the irrepressible core of an outfit turned magnetic.
In 2012, the group issued a self-titled EP on Rough Trade Records, the legendary imprint that signed them after seeing a single gig. One of 2013's most incandescent debuts, their From the Hills Below the City LP affirmed what label owner Geoff Travis had heard: the sounds of Americana, renewed by the youthful glow of songwriters, musicians and pals unafraid to both celebrate and desecrate them. 
Others noticed, too. Rolling Stone's David Fricke lauded the "earthy melancholy with a rude garage-rock streak." Treks with the Drive-by Truckers and the Alabama Shakes followed, plus performances at the Newport Folk Festival, Lollapalooza and Bonnaroo. In cramped clubs and big theaters alike, Houndmouth earned a reputation as a must-see act, their hooks, energy and charisma making them feel like a lifelong friend you'd just met.
That success, though, turned what had started as fun into something closer to work. Houndmouth learned that being full-time musicians required much more than the nine-to-five endeavors they had left behind in Indiana. But they grew into the role and grew from it. Experiences accumulated; perspectives expanded. Relationships stalled; others progressed.
"We're not in party mode all the time anymore," says Matt Myers. "We're refining how we write songs, writing about people we love, more important things than just nonsensical stuff." If that was the charge, then their second album, Little Neon Limelight, is an unapologetic success. These eleven songs sparkle, fade, and sparkle again, mixing innocence and experience, acceptance and aspiration, horror and hope.
"Houndmouth's sophomore effort proves the New Albany, Ind., quartet has progressed well beyond most of the new Americana rock and pop pack. Synthesizing the best elements of Dawes' Laurel Canyon rock, Alabama Shakes' soulful swagger, and even the sing-along exuberance of bands like the Lumineers, Houndmouth ranges far stylistically between its four singers and songwriters." (Austin Chronicle)
Opening the show is Brooklyn band Howard, a folktronic trio that explores song-crafting through airy vocals, ethereal space, and hypnotic rhythm. Citing Other Lives, Philip Glass, Aphex Twin, and Fleet Foxes as influences, this band creates intricate and textured folk songs with a mood that provokes introspection.
After making waves as Orange Television in the Boston scene, a move to New York allowed the band to form a new identity. Their first single, "Song About Something," was released by Consequence of Sound in October 2014 and introduced an expansive, dark sound with a Bon Iver meets Thom Yorke approach to vocals and instrumentation. Howard's debut album, Religion, followed in 2015.
---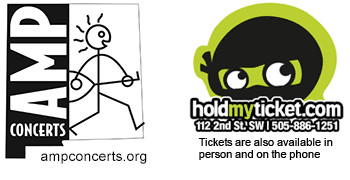 loading tweets
Coming Up