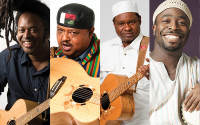 African Guitar Summit
Time: 7:30pm Day: Wednesday Doors: 6:30pm Ages: All Ages
This Event Has Ended
Tickets are $20 and $25 (plus applicable service charges).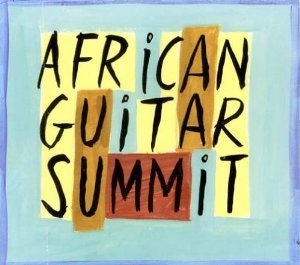 Masters from Guinea, Ghana, and Madagascar! Indulge in the sounds of the finest Canadian guitarists of African origin—2005 Juno Award winners for World Music Album of the Year—African Guitar Summit. This star-studded collective unites the talents of six musicians, each an expert in their individual style and together creating musical magic with African Guitar Summit. Experience live this superb and unique achievement for African music; the mix of musicians who are distinct in cultural backgrounds and languages yet sharing stories and singing each other's praises, the inspiration of these skilled hands and voices joined in common to reach the summit... a truly incredible experience!
African Guitar Summit features: From Guinea, the smooth fire of Juno Award winner Alpha YaYa Diallo; from Madagascar, the quicksilver guitars and harmonies of Donne Roberts and multiple Juno Award winner Madagascar Slim; and the heartbeat of drummer Kofi Ackah from Ghana. They are backed by electric bass and ballafon, the African marimba, played by Naby Camara from Guinea.
Their debut CD African Guitar Summit was honored with a Juno as World Music Album of the Year at the 2005 Juno Awards in April. Their second album, African Guitar Summit II, garnered a 2007 Juno award nomination in the same category.
"At their best they make a powerful case for the guitar as the signature instrument of modern Africa." (NPR Music)
Donné Roberts is a passionate performer. When he hits the stage he carries with him an energy that immediately exhilarates the crowd—even if they've never heard his music before. Donné performs mainly in Malagasy. Donné Roberts came to wider recognition after he released two great albums, Rhythm Was Born and Internation, and for his contribution to the African Guitar Summit project. Donné raised and educated in Moscow, Russia, and now lives in Toronto. He was the first black VJ on MTV Russia.
Randriamananjara Radofa Besata Jean Longin (Madagascar Slim) was born on Halloween night of 1956 in Antananarivo, the capital city of Madagascar. "One day I heard this incredible music on the radio. It was 'Hey Joe' played by Jimi Hendrix and it really changed my life and the kind of music I wanted to play then. I literally spent days and nights trying to figure out the chords and especially that fantastic solo part. Later when I heard some records by B.B. King, I recognized the same crying solo pattern but in a more direct and simplified form. Those two giants and the local Malagasy music were the biggest influences to my playing. My parents sent me to Canada in 1979 to further my studies and get a good education, but in my mind the real reason I came over was to learn English so I could sing the kind of songs I had fallen in love with when I was younger."
Alpha Yaya Diallo, from Guinea in West Africa, is one of the hottest acts on the current world music scene. Now based in Vancouver, Canada, he's earned a matchless reputation internationally for the excellence of his musicianship and the excitement of his live shows. Diallo is a uniquely multi-talented artist. His dexterous acoustic and electric guitar-playing, with its fluid melodic lines and compelling grooves, places him in the front ranks of African axemen. In addition, he is a skilled and experienced performer on a variety of percussion instruments, and on the balafon (traditional wooden xylophone). To complete the abundance of riches, Diallo writes his own compositions, and sings with a supple and beautifully modulated voice.
Master percussionist Kofi Ackah, son of Jewel Ackah, was born into a musical family in the town of Ema, Ghana. His father is known as the King of Highlife in Ghana, one of the best Highlife musicians in the world. His father was his mentor. The first band he played with was his father's, known as The Butterfly Six band. After that Kofi moved to Canada in 1992 and joined The Highlife Stars with Pat Thomas and Theo Yao Boakye. Kofi is the chief percussionist and drummer for the African Guitar Summit, and has contributed in their recordings and on their tours across Canada and the U.S.
---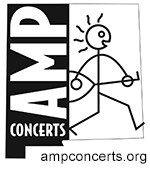 loading tweets
Coming Up