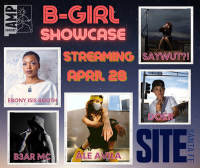 B-Girl Showcase
Streaming Event
Time: 8:00pm Day: Wednesday Ages: All Ages
This Event Has Ended
Check out our other videos at AMP Concerts Facebook Page and YouTube channel.
Please subscribe to us on YouTube too!
In collaboration with AMP Concerts, SITE Santa Fe honors some of the most talented B-Girls in New Mexico in a showcase of their talents. This iteration includes spoken word by Ebony Isis Booth, beatboxing by Ashley Moyer aka Saywut?!, breakdancing with Alejandra Avila, beats by Doer aka Mandy Mas and  B3ar MC.
As part of the Feminist Art Coalition, SITE Santa Fe is presenting the work of May Stevens and Mary Weatherford. Accompanying public programming during this time centers women in creativity across disciplines.
Donations will go directly to support the artists!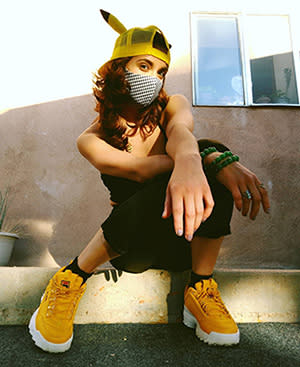 Alejandra Avila is 25 years old and has been dancing for 20 years. She was 16 when she met her crew, 3hc, and she is the only female in the crew. She believes her Crew changed and saved her life through real raw HipHop. By participating in a male-dominated culture, her HipHop journey is where she discovered her powers as a woman. Today she and her Crew enjoy sharing their life lessons through FREE breaking classes (which her Crew has been sharing for over 20 years). Alejandra's "home life" is not the average. She is married to a Bboy and together are raising his little brother (8 years old) who also is an up and coming young Bboy. Her most recent project "HIPHOP UNIVERSITY NM" was created in 2019 when Covid-19 hit. HipHop University is an online platform dedicated to support the youth during quarantine. HHUNM offers FREE weekly art classes taught by Local HipHop artists, free tutoring,weekly dance sessions and much more. 
@ale_3hc
@hiphopuniversitynm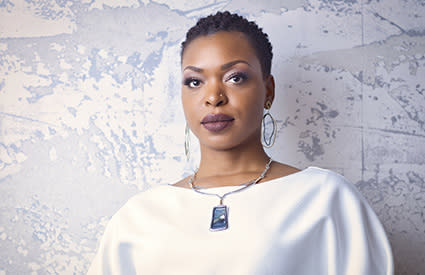 Ebony Isis Booth is a passionate and engaged community organizer, creative, and writer whose work very much centers the lives of Black women. She is a personal and leadership development coach for racial equity and social justice, healer and poet. Ebony is the founder of the African American multimedia showcase, Burque Noir, and Honeysuckle Creatives, a consultancy specializing in cultural engagement strategies, project management, and event design with People of Color in mind. She is a member of W.K. Kellogg Foundation's Community Leadership Network of Fellows, and cultural strategist who employs Joy as an act of resistance. As a facilitator, Ebony uses creative expression and empowerment techniques to engage community members toward inclusive cultural awareness. Originally from New Jersey and a longtime resident of Denver, Ebony is honored to have spent the past six years being enchanted by Pueblo land now called Albuquerque, New Mexico.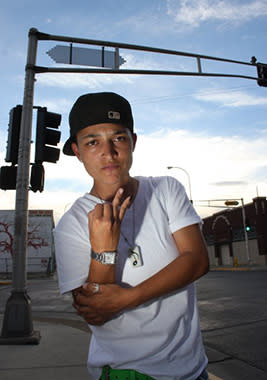 Doer, AKA Mandy Mas, is a seasoned DJ/MC that brings clean performance technique and powerful wordplay to every stage. Born and raised in Santa Fe,NM, this fem-cee has shown audience members that women of any shape or size just might take that crown, so watch out boys, hip hop is evolving and Doer is out to get ya! A collective member of the OCC (Outstanding Citizens Collective), a Santa Fe-based hip hop collective, and self proclaimed artist, DOER brings real life scenarios, and experience to the listener's ear through conscious writing and professional stage presence. From nationwide tours with notable artists like Scarub from the west coast favorites Living Legends, to unanimous competition wins and her residency gigs in her hometown hot spots, Doer has proven herself as a relevant asset for the hip hop culture.  Although you can find her music via some social media outlets like Soundcloud, Doer prides herself on letting her accolades come from the stage where real skill is witnessed firsthand. Catch Mandy Mas DJing or MCing throughout New Mexico or follow her on Instagram (@doermandymas) and see for yourself, the skill is real!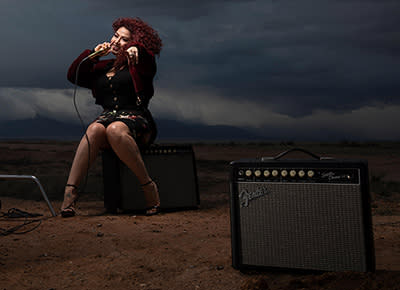 Widely known for her unique talent of Beatboxing (producing sounds and beats through her mouth), Ashley Moyer aka Saywut?! is an award-winning female beat boxer. She has been a fixture in the hip hop scene from coast to coast performing for Federal and state educational, environmental, and humanitarian aid workshops through the use of non-traditional, alternative music outlets. Ashley's performances and workshops are directed towards community awareness and development through education and acceptance of alternative music outlets. Her social and cultural workshops include Sequoia Adolescent Treatment Center, Albuquerque Public Schools, Santa Fe Public Schools, The Girls Ranch, Santa Fe Indian School, the YDDC (ABQ Youth Detention Center), and New Mexico Youth Organized. She toured Europe in 2011 with CocoRosie as their beatboxer and was a guest of La MaMa Theater in Manhattan, NY during their annual North American Human Beatbox Festival both years of 2010 & 2011. More recently she was featured in Tom Tom Magazines Museum takeover of MoMa PS1 in Queens, NY and the Brooklyn Museum for The Verbal History Of Female Drummers. Ashley also taught incarcerated teen girls in 2013 how to produce, write and record their own music which was released through the non-profit New Mexico Jazz Workshop. She currently performs and lives in Albuquerque and recently started her own skincare business, Beatbox Beauty Company.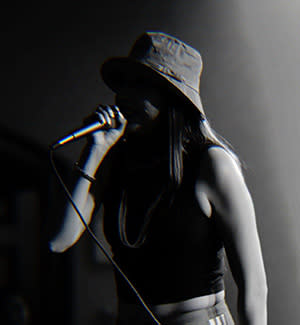 A Taos Pueblo tribal member with a powerful message is emcee B3ar, aka Bear Marcus. Marcus possesses an inspirational, contemporary voice, a rarity in some Native American communities. "Our community being patriarchal, women are unable to use their voice to inspire in positions like such." B3ar noted that "being a female emcee allows me to use my voice to bring awareness to how crucial it is to stick to tradition, to preserve the sacredness of our land and culture."
Marcus attributes this outlook to growing up both traditional and modern. "I've learned there must be balance. In the modern world the idea of tradition is almost unheard of nowadays," she said. "Being Indigenous, participating in ceremony is my norm." (Taos News)
---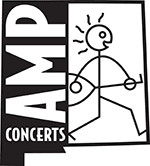 loading tweets
Coming Up