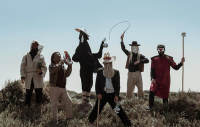 Hit La Rosa
Baracutanga
Albuquerque Summer Scene
Time: 5:00pm Day: Sunday Doors: 2:00pm Ages: All Ages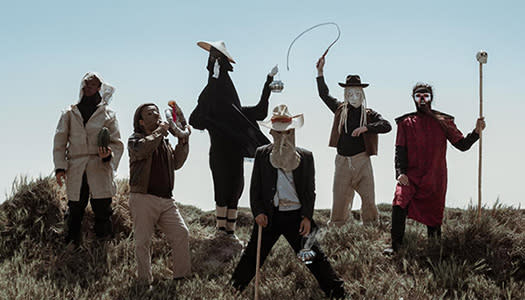 AMP is excited to collaborate with FUSION in launching an exciting new downtown outdoor performance space—The FUSION Meadow! The Meadow is an expansive outdoor venue on the FUSION arts campus, with a 1500 square foot covered stage overlooking an outdoor space with a capacity of 1200.  FUSION, home to the FUSION Theater Company, is a center for the arts and culture in Downtown Albuquerque with a multi-use venue, 35,000 square foot campus, three performance spaces, and indoor and outdoor event spaces.  It's located just south of 1st and Lomas NW, at the northern terminus of the future Rail Trail—a mixed use path that will follow the Railroad from the Railyards to the FUSION space.  
Albuquerque Summer Scene will take over this space every Sunday from June through August. FUSION will be organizing family-friendly afternoon activities from 2-4 PM that will lead into the early evening concerts. Each night will feature two performers, with the first one taking the stage at 5 PM.
We are so excited about this project that we are putting up a sneak peek so you can see how it is coming together.  
Check back for more details soon!
SPONSORS!
Big Thanks to Rick & Gail Thaler for being our first sponsors of Albuquerque Summer Scene.  We are going to need A LOT more sponsors to pay for this.  If you are an individual or local business eager to support a new art scene downtown, let us know!

AMP is happy to welcome another exciting artist as part of the Center Stage program. Hit La Rosa will be doing an artist residency from June 14-19, kicking off on the Santa Fe Plaza and culminating at the FUSION Meadow.  
AMP Residencies provide artists an opportunity to perform several shows in New Mexico, visit schools, do workshops and get to know our beautiful state and people. These are great opportunities for the groups and for all of us!
The presentation is part of Center Stage, a public diplomacy initiative of the U.S. Department of State's Bureau of Educational and Cultural Affairs, administered by the New England Foundation for the Arts in cooperation with the U.S. Regional Arts Organizations, with support from the Doris Duke Foundation for Islamic Art, and the Trust for Mutual Understanding. General management is provided by Lisa Booth Management, Inc.
Free! Make a reservation to get event updates and additional details.
One of Lima's leading indie bands, Hit La Rosa delivers tight sets of pulsing tropical beats, rolling surf sounds, and sly lyrics to heal what ails you. At the center is Cumbia, the sound and beat of a collision of various cultures, and the heartbeat of contemporary Peruvian music.
By turns precise and dreamy, Hit La Rosa plumbs cumbia and pop music, folklore, jazz, and dancehall, to produce its distinctive grooves and hooks. Add to this a punk sensibility designed to, as lead singer and primary lyricist Chaska Paucar puts it, "bring healing to people," by exploring, not shunning, life's shadowy sides.
"Our music has a bit of mystery with lots of supernatural and fantastic elements. It's about mind travel. You have this duality between dark and healing, experiences that are not comfortable but that everyone has to find their way through."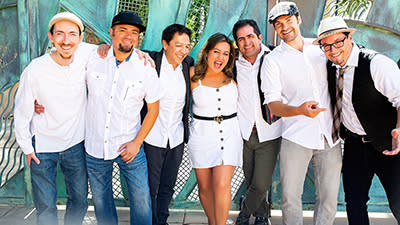 Baracutanga is a seven-piece band, representing four different countries (Bolivia, Ecuador, Peru, USA), that blends South American ancestral traditions with a modern sensibility, whose exciting and distinct Latin flavor keeps crowds dancing and always wanting more.  Baracutanga creates songs that cross linguistic and cultural barriers, building bridges between the south and the north, overcoming the barriers of discrimination and promoting intercultural experiences that empower Latinos and all people with a positive message of self-affirmation.
---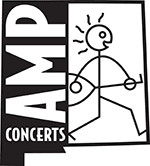 loading tweets
Coming Up