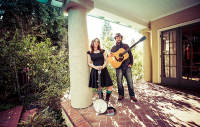 School of Rock for Folkies with The Small Glories
Time: 7:00pm Day: Monday Doors: 6:30pm Ages: All Ages
All Associated Events
The Small Glories Residency Package
May 21, 2022 7:30 pm
The Small Glories (Albuquerque)
May 21, 2022 7:30 pm
The Small Glories (Santa Fe)
May 22, 2022 7:30 pm
School of Rock for Folkies with The Small Glories
May 23, 2022 7:00 pm
Harmony Singing with The Small Glories
May 24, 2022 7:00 pm
This Event Has Ended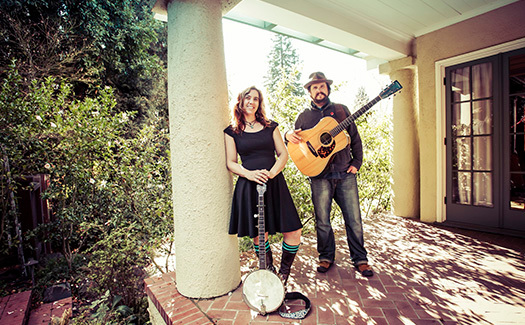 One of the top "new" folk groups from Canada, The Small Glories, the duo of Cara Luft and J.D. Edwards have been on our radar for some time. When AMP ED Neal Copperman saw them at Folk Alliance in Montreal in 2019, he vowed to get the group their first New Mexico shows. While the duo has never played in New Mexico before, Cara was an original member of The Wailin' Jennys, who played at the Biopark in 2004 and did a house concert with us while they were here! (That was our 63rd house concert, for those with a score card.)
The Small Glories New Mexico residency will include concerts in Albuquerque and Santa Fe and several workshops presented in collaboration with Rock 101 Music Academy at the Rock 101 Headquarters in Covenant Presbyterian Church (9315 Candelaria Rd NE).
The workshops are $25 each (+ $3 service charges). Discounts are available for Rock 101 participants.  They are also available by phone through Hold My Ticket at 505-886-1251.
Go for the full Small Glories immersion package and come to the two workshops and both concerts for just $60! 
School of Rock for Folkies
With voices and instruments working together in a group context, participants will acquire the "tools" necessary for bringing a song to life. Does that sound like fun or what!? Come prepared to rock out folk-style (i.e. taking rock songs and folkin' them up!). If you sing (untrained more or less) and/or play an instrument (beyond the beginner stage), then this class is for you. Some of those "tools" mentioned will include: how to learn and arrange a song as a group, dynamics within a song, blending instruments, listening to each other, knowing when to play simply and when to step it up, how to play in support of the vocalist or soloist, and how to get out of the way and let the song speak. We will also explore how to do tasteful fills, how to sing in harmony, and performance techniques. Any acoustic instrument is welcome (guitar, bass, dobro, mandolin, fiddle, banjo, ukulele, bodhran, accordion, etc etc), and don't forget about the voice! Come prepared to have fun!
Bring instruments to play along with the band!  Someone asked how well you needed to be able to play.  The answer - it's better if you don't play that well :) 
---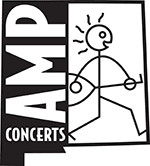 loading tweets
Coming Up