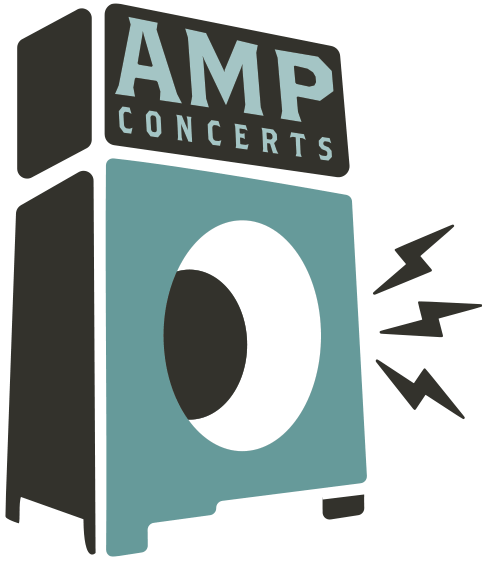 Search
AMP Concerts offers innovative and inspiring arts programming throughout New Mexico. A portion of all AMP ticket sales goes to fund free community concerts, workshops, school programs & artist residencies.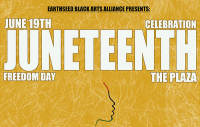 Love and Happiness / 2nd Annual Juneteenth Celebration
Featuring Chali 2na and Cut Chemist
Presented by Earthseed Black Arts Alliance
Time: 5:00pm Day: Sunday Doors: 4:45pm Ages: All Ages
This Event Has Ended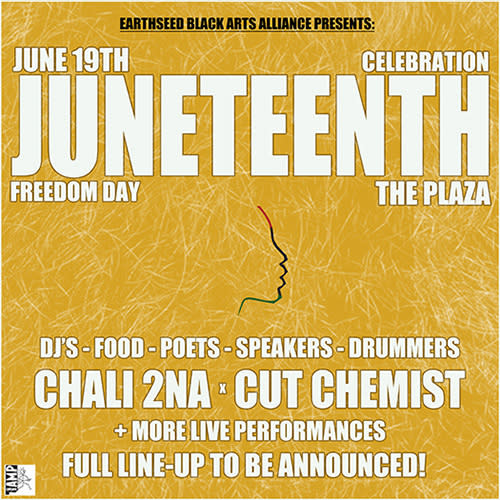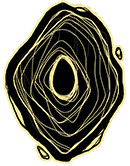 Presented by Earthseed Black Arts Alliance
The Santa Fe Plaza Concert Series invites Santa Feans and visitors alike to gather and enjoy great live music together in the 400-year-old historic heart of Santa Fe.
Feel free to bring chairs to the concert.
This is an alcohol-free event. 
Bring your water bottle, as we will have water stations on site. 
There is a city parking garage on West San Francisco Street across from the Lensic. 
Register for the event and we'll also send you updates if there are any schedule changes, as well as info on future free programs and events around Santa Fe and Albuquerque.
AMP is pleased to partner with Earthseed Black Arts Alliance for the second annual Juneteenth Celebration. Fittingly, New Mexico is the 19th state to make Juneteenth an official state holiday. Read the Governor's Official Proclamation here.
Thanks to the New Mexico Office of African American Affairs for their sponsorship of this event.

Earthseed  Black Arts Alliance is raising money for the Shontez 'Taz' Denise Morris Memorial Scholarship in conjunction with this event.  Taz was a friend to us all and a huge part of our community.  We all miss her!
Shontez 'Taz' Denise Morris, a former Board member of the Human Rights Alliance, manager at Security Asset Solutions, empowered Black female artist, and LOVE activist, passed away suddenly and unexpectedly on March 17, 2022 from complications due to chronic asthma and the lingering effects of COVID at the age of 43.  Working with her family the Human Rights Alliance has set up a special endowed scholarship fund at the Santa Fe Community College in her name to be awarded on an annual basis to Black, indigenous or People of color wanting to pursue the arts.

Featuring live performance by Chali 2na & Cut Chemist (Jurassic 5), plus more live music, DJ'S, food, poets, speakers, live drummers, and more! Full line-up TBA.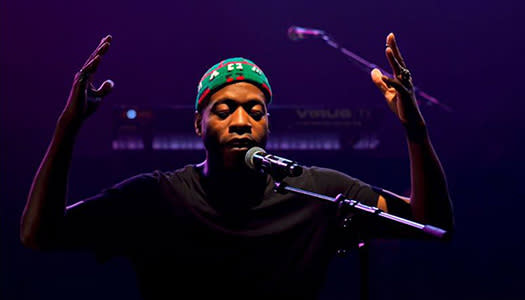 Raashan Ahmad is an emcee, producer, DJ and label owner with a thriving career as a Hip Hop artist. He has garnered national & international critical acclaim from worldwide press such as XXL, Giles Peterson's World Wide Awards, France 24, Urb, and Rolling Stone.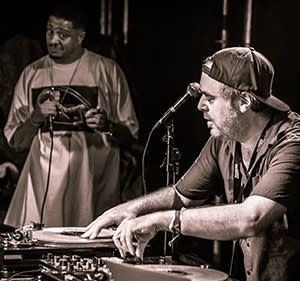 Chali 2na and Cut Chemist have been inseparable for 35 years. It all started in 1987 when they formed their first group UNITY Committee just a couple years after Chali moved from Chicago to Los Angeles.
In 1994 they combined forces with local rap group Rebels Of Rhythm to form Jurassic 5. Although J5 was in full swing making music and doing shows, Chali and Cut also were founding members of the fusion Latin group Ozomatli in 1995. Since then the two have been busy with both groups and still managed to find time to separate and embark in solo careers on the side. Cut Chemist went on to do remixes and features for such acts as DJ Shadow, Less Than Jake and Blackalicious. Chali also explored his rap prowess with such acts as Roots Manuva, Lyrics Born, Slightly Stoopid and Galactic just to name a few. Separately they also landed solo deals with Interscope and Warner Brothers.
The two have kept busy with their own separate careers while always finding time to collaborate. It's a 35 year old friendship that manifests into music and art.
For the last three years they've been doing a special collaborative performance that tells the story of their lives in music together. The catalogue is as endless as the time they spent together creating over the years. 
---