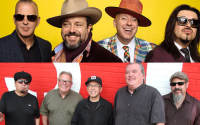 The Mavericks & Los Lobos
Time: 6:30pm Day: Saturday Doors: 5:00pm Ages: All Ages
All Associated Events
Taos 4th of July Music Getaway Weekend! Three shows for $59!
July 4, 2019 4:15 pm
Lake Street Dive with Jake Shimabukuro
July 5, 2019 5:00 pm
The Mavericks & Los Lobos
July 6, 2019 6:30 pm
Enjoy the full holiday weekend in Taos 
with concerts on July 4, 5 and 6 for only $59!  
Click here to purchase a weekend package.
Weekend packages go on sale to AMP members on Tuesday, March 19 at 10 am. 
Regular on-sale for packages and individual events is on Friday, March 22 at 10 am.
Click here for info on AMP Membership.
Tickets to this event alone are $49 in advance, $54 day of show (including all service charges). 
Kids 12 and under only $9 (including all service charges). 
Tickets are also available by phone through Hold My Ticket at 505-886-1251.
LAWN AND CAMPING STYLE CHAIRS WELCOME • NO COOLERS • NO OUTSIDE FOOD OR DRINK • SEALED BOTTLES OF WATER OK • SORRY, NO PETS!
THE MAVERICKS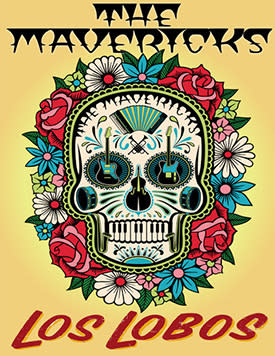 "Beyond category" is the only label that truly suits Grammy Award-winning group The Mavericks.
As Entertainment Weekly noted in 2017, "'What kind of music do The Mavericks record?' is a question with no real answer. On the one hand, the Miami-bred outfit records bits of everything: Elvis Presley-esque rock, Roy Orbison-style balladry, Latin-fusion party tunes, throwback country, irresistible pop. On the other hand... a vocabulary for their style remains out of reach." 
The band has resolutely defied pigeonholing since their founding in 1989; they played their earliest dates in Florida's alternative rock clubs, where their on-stage contemporaries included another new act on the scene, Marilyn Manson. Celebrating their 30th anniversary in 2019, The Mavericks abide as an American musical treasure, with an all-encompassing sound that's as deep, rousing, and entertaining as it is stubbornly impossible to pin down. 
LOS LOBOS
Los Lobos were already East L.A. neighborhood legends, Sunset Strip regulars and a Grammy Award winning band (Best Mexican-American/Tejano Music Performance) by the time they recorded their major label debut How Will The Wolf Survive? in 1984. 
Although the album's name and title song were inspired by a National Geographic article about real-life wolves in the wild, the band—David Hidalgo, Louie Perez, Cesar Rosas, Conrad Lozano and Steve Berlin—saw parallels with their struggle to gain mainstream rock success while maintaining their Mexican roots. Perez, the band's drummer, once called their powerhouse mix of rock, Tex-Mex, country, folk, R&B, blues and traditional Spanish and Mexican music "the soundtrack of the barrio." Four decades, two more Grammys, a worldwide smash single ("La Bamba") and thousands of rollicking performances across the globe later, Los Lobos is surviving quite well—and still jamming with the same raw intensity as they had when they began in that garage in 1973. 
---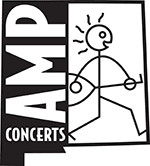 loading tweets
Coming Up