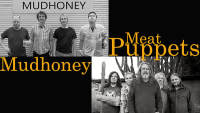 Mudhoney / Meat Puppets - SOLD OUT
Time: 7:30pm Day: Tuesday Doors: 6:30pm Ages: 21+ without parent or guardian
This Event Has Ended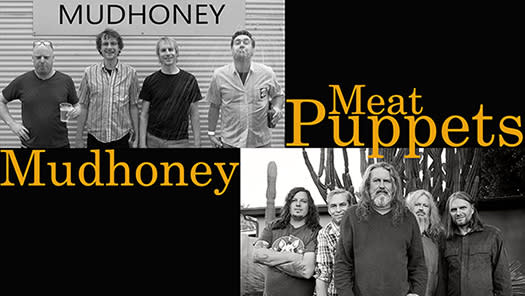 PROOF OF VACCINATION OR NEGATIVE TEST REQUIRED FOR ENTRANCE
Mudhoney and the Meat Puppets are still requiring either a proof of vaccination completed at least 14 days prior to the event or a negative COVID test administered by a health care professional within 72 hours of the event. Originals or photos of documents with a matching ID will be accepted.
Thanks for your cooperation and understanding.
Tickets are $31 in advance, $35 day of show (including all service charges). They are also available by phone through Hold My Ticket at 505-886-1251.
Both bands will be performing full sets, with Meat Puppets going first and Mudhoney closing.
Since the late '80s, Mudhoney—the Seattle-based foursome whose muck-crusted version of rock, shot through with caustic wit and battened down by a ferocious low end—has been a high-pH tonic against the ludicrous and the insipid.
Thirty years later, the world is experiencing a particularly high-water moment for both those ideals. But just in time, vocalist Mark Arm, guitarist Steve Turner, bassist Guy Maddison, and drummer Dan Peters are back with Digital Garbage, a barbed-wire-trimmed collection of sonic brickbats. Arm's raw yawp and his bandmates' long-honed chemistry make Digital Garbage an ideal release valve for the current pressure cooker, its insistent rhythms forcing movement and Arm's sardonic lyrics offering a funhouse-mirror companion to the ever-more-ridiculous news cycle. "My sense of humor is dark, and these are dark times," says Arm. "I suppose it's only getting darker."
The band's latest release, Morning in America, consists of seven songs that were recorded during the sessions for Digital Garbage.
At their induction into the Arizona Music & Entertainment Hall of Fame in 2017, Meat Puppets, one of the most compelling, original and enduring bands in rock history, managed to both honor their story and introduce its next chapter.
On that night in August, at the Celebrity Theatre in Phoenix, founding members Curt Kirkwood, on vocals and guitar; his brother Cris Kirkwood, on bass and vocals; and Derrick Bostrom, on drums, joined together onstage for the first time in over two decades. Throughout a set that included era-defining songs like "Lake of Fire," "Plateau" and "Backwater," the chemistry was more than promising, as Bostrom isn't shy to point out. "It was so intense that even I couldn't deny it!" he recalled recently. "It was just like, now I remember why we did this. It was magical."
The white-hot enthusiasm he felt at that awards ceremony in Phoenix hasn't waned. That rekindling has resulted in Dusty Notes, the first Meat Puppets studio album Bostrom has participated in since 1995's No Joke! "This is a classic situation where the project took us over and we way exceeded our expectations," he said of Dusty Notes, going on to call it the "best record we've ever done."
---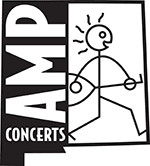 loading tweets
Coming Up