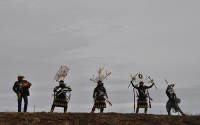 Bosque Redondo Memorial Gourd Dance
Healing the Past For Our Children's Future
Time: 11:00am Day: Saturday Doors: 10:00am Ages: All Ages
This Event Has Ended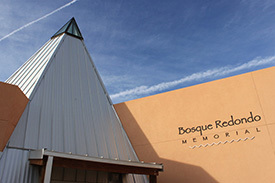 AMP Concerts is thrilled to once again collaborate with JJ Ahboah and Elle Curley-Jackson to coordinate the Third Annual Gourd Dance at the Bosque Redondo Memorial in Fort Sumner. This year marks the 150th anniversary of the signing of the Treaty of 1868, which allowed the Navajo people to return home after being imprisoned at Army Fort Sumner in Bosque Redondo.
Note: Please bring your own chairs and canopies.
Join us beginning at 11 AM for a day featuring respected speakers, traditional foods, and craft vendors from both the Mescalero Apache Tribe and the Navajo Nation. After the Gourd Dances, at 8 PM, Joe Tohonnie Jr. and the White Mountain Apache Crown Dancers will be performing their fire dance to close the ceremonies.
Gourd Dancing actually originated with the Kiowa Tribe. According to Kiowa Gourd Dance coordinator JJ Ahboah, "in the time when humans could still communicate with animals, a Kiowa man was separated from his tribe. Lost, hungry, and dehydrated, he began to hear singing. Following the singing, he came upon a Red Wolf standing upright. This Red Wolf shared songs and dances with the Kiowa man from sunrise to sunset. When the Kiowa man returned to his tribe, he shared all of the songs and dances with them. This dance began as a warriors dance as well as to promote well-being within the tribe. Now it has evolved into a social dance, because so many other tribes have adopted it."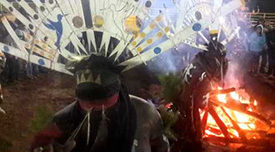 The Navajo and the Mescalero Apache adopted Gourd Dancing in the mid-20th century. Today, Gourd Dances can be held for many purposes such as: return of veterans, birthdays, or in the case of Fort Sumner Historic Site, to promote healing and strengthening of intertribal relations. Many Navajo and Mescalero Apache Elders are journeying from the Four Corners region and the area surrounding the Sacramento Mountains to be a part of this historic dance, despite what their oral traditions have dictated. For many, the oral traditions passed down from the generations held in captivity at Bosque Redondo Reservation have stated not to go back to Fort Sumner or speak of the atrocities that occurred. However, the current generations understand that the contemporary tragedy occurring is the loss of cultural history with their youth. Through this dance, they are reclaiming that history. We invite you and your families to join us on this momentous occasion.
M.C.: Mike Burgess, Comanche, Lawton, OK
Head Gourd Dancer: Al Footracer, Diné, Prescott, AZ
Head Lady Gourd Dancer: Marjorie Washee Begay, Diné/White Mountain Apache/Cheyenne, Dallas, TX
Host Drum: Hale & Company, Diné Nation, Pico Rivera, CA
Arena Director: Tyrone Benally, Diné/Zuni, Breadsprings, NM
Co-Hosting Gourd Societies: Mescalero Apache Gourd Society, Mescalero, NM and Diné Land Gourd Society, Gallup, NM
Raffle Coordinator: Merrick Tate, Diné, Inscription House, AZ
Gourd Dance Coordinators: Elle Curley-Jackson, Diné, Coyote Canyon, NM and JJ Ahboah, Kiowa/Cheyenne, Anadarko, OK
Special Guests: Joe Tohonnie Jr. and the White Mountain Apache Crown Dancers, Whiteriver, AZ

New Mexico Culture Squared (NMC2) is a NM Department of Cultural Affairs (DCA) project to build and manage partnerships between DCA institutions and cultural organizations that will enhance the impact, effectiveness, attendance, and visitor experience of exhibits and programs of DCA entities. Under the management of AMP Concerts, NMC2 will create programs in collaboration with State Historic Sites, DCA Museums and various cultural organizations with the goal of increasing public programs statewide and promoting New Mexico as a destination for arts and culture.

loading tweets
Coming Up