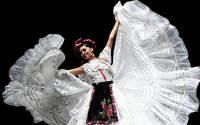 AMP Concerts and the National Hispanic Cultural Center present
Ballet Folklórico de México de Amalia Hernández
Time: 7:30pm Day: Tuesday Doors: 7:00pm Ages: All Ages
This Event Has Ended
Tickets cost $25, $39 and $49 (plus applicable service charges).  Tickets are available from the NHCC Box Office (online, in person and by phone - (505) 724-4771).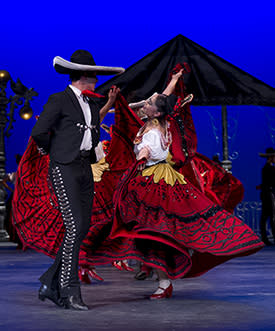 In 2018, Ballet Folklórico de México will return to the United States for an extended multi-city tour featuring renewed performances of the company's classic choreography. Founded in 1952 by dancer and choreographer Amalia Hernández, Ballet Folklórico brings together the music, dance and costume of Mexican folklore from pre-Colombian civilizations through the modern era. With its permanent home at the Palacio de Bellas Artes, one of Mexico City's most historic venues, the company has developed choreography for 40 ballets, composed of 76 folk dancers who have performed extensively across Mexico and abroad.
Folkloric dance, like its equivalent English term folk dance, means "dances of the people." The dances reflect the traditions, customs, legends, beliefs and lifestyles of people in particular countries and regions. Folkloric dance expresses the life and spirit of a people through its movement and music. It is both historical and current, preserving tradition yet moving with the present times.
Ballet Folklórico de México founder Amalia Hernández wanted the dance company to reflect not only her love of her native Mexico but also provide a history of Mesoamerican culture. She set out to capture the beauty of the universe in motion as reflected in the pre-Colombian civilizations and through the Hispanic influences of the Viceroyal era up to the Revolutionary years of the early 20th century. Throughout her life, Hernandez continuously revised and renewed her work, a tradition continued today by her family. The result is a re-creation of Mexican traditions on stage, preserving the diversity and characters found throughout the regions of Mexico.
Born in 1917, Hernandez developed a passion for performing and dance early in life. She became a choreographer at the Fine Arts National Institute, where she taught modern dance. She then turned her focus to traditional Mexican folk dances. She combined these dances with more choreographed movements from her formal training, helping to create an entirely new style of dance known as baile folklorico.
In 1952, Hernandez founded the Ballet Folklorico de Mexico. Beginning with just eight dancers, the troupe grew to over three hundred in the years to follow. The company performed on television for the first time in 1954, after which they were featured in a weekly broadcast. This success allowed Amalia's group to tour North America and even represent Mexico in the Pan American Games in 1959. 
Since its inception, the group has danced for more than 22 million people. Hernandez remained involved with the company until her death in 2000, working alongside her daughters and grandson.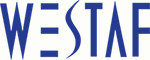 Ballet Folklórico de Mexico's performance is made possible in part by a grant from the Western States Arts Federation (WESTAF) and the National Endowment for the Arts.
---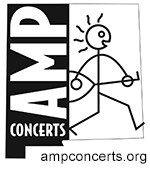 loading tweets
Coming Up