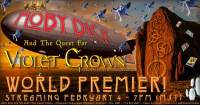 Moby Dick and the Quest for Violet Crown
Live from Violet Crown
Time: 7:00pm Day: Thursday Ages: All Ages
This Event Has Ended
Rescheduled from January 27.  
This event will be streamed from the AMP Concerts Facebook Page and YouTube channel.
Sign up for reminders at either location.
Free, but donations are encouraged!
Another word from the band:
Hello again friends and neighbors!
Wanted to check in with y'all real quick, it seems I have good news and bad news to report...
First the good news: I've been able to get a gander at some of the footage coming out of our video production department, and it looks great! They've got some fun little surprises in store for you, and I honestly think this is some of the coolest stuff the boys in the blimp have ever produced.
And now for the bad news: Moby Blimp One got stuck in customs coming back from a short jaunt to Cairo (we're honestly not sure what it was doing there or why it was stopped. Probably best not to delve too deeply), and the show simply can't go on without it. Our lawyers have been in negotiations with the Egyptian Consulate and they assure us that they are close to a settlement and that the blimp will be back home by week's end.
And so, unfortunately it falls to me to announce that the worldwide streaming premiere of "Moby Dick and the Quest for Violet Crown" is to be pushed back exactly one week to Thursday, February 4, 2021. It pains us greatly to share this news, and we here at Moby HQ deeply regret any inconvenience this may cause. We also sincerely hope that this doesn't reflect too poorly on the lads in the band, or the customs officials in Giza. They're just trying to do their jobs. 
Moby Dick And The Quest For Violet Crown! (Now) Streaming Thurs, February 4, 2021, 7pm (MST). Do join us, won't you?
A word from the band:
Howdy howdy friends n' neighbors! 
Well, it's been a long time... and no mistake! The last time the Moby lads got together onstage was way back at the end of February, roughly two weeks before the whole world turned upside down. Things being what they are, any plans for any sort of live performance from the boys have been shelved indefinitely; that is, they were, until the fine folks at AMP Concerts hit us up with a proposal... Namely, would we be interested in putting together a show to be filmed at the Violet Crown theater, using the screens to project stuff while we played? 
"It depends," we responded. "Will there be drink tickets...?" 
We kid, of course. We jumped at the chance! 
And so, it gives me no end of pleasure to announce "Moby Dick From The Violet Crown ~ A Cinematic Experience Edition." Will the band be playing live? Yes! Will they be playing your favorite Led Zeppelin songs? Yes (well, hopefully your favorite will make the cut)! Will there be all kinds of cool graphics provided by local film-makers? Yes! Will there be improper usage of copy-written material? Hopefully not! Will it be inspired by both Monty Python and "The Song Remains The Same"? Probably! Will there be "fantasy sequences" for each band member? DEFINITELY! Will it be free to stream? YES! Will it be family friendly? YES! (we're talking to Disney+'s people) (no we're not. Please don't sue us). Will you be able to tip the band and film-makers? YES!!! Will the band get drink tickets? YES, YES, A THOUSAND TIMES YES!!! 
...Well, actually, we haven't sorted that out yet. But the rest of it is totally true. :)
Moby Dick has a simple goal: to do justice to some of the most influential, challenging and generally kick ass songs in the history of hard rock... In short, to pay tribute to the legacy of the World's Greatest Rock Band, Led Zeppelin.
Moby Dick's live show draws inspiration primarily from the classic 1973 "Song Remains The Same" Madison Square Garden footage, capturing the look and sound of Zep at their prime. The set list spans the group's entire discography however, from the early bluesy rock of "Good Times Bad Times" & "Heartbreaker" to later more adventurous tracks like "Nobody's Fault But Mine" & "Kashmir". Powerhouses like "Whole Lotta Love" & "Black Dog" are interspersed with the more nuanced "Ramble On," "Over The Hills And Far Away" and "Stairway To Heaven." Be it 45 minutes or 4 hours, a Moby Dick performance has something for just about everyone, unless they don't like Zep of course. In that case, f**k 'em.
---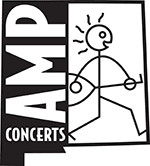 loading tweets
Coming Up