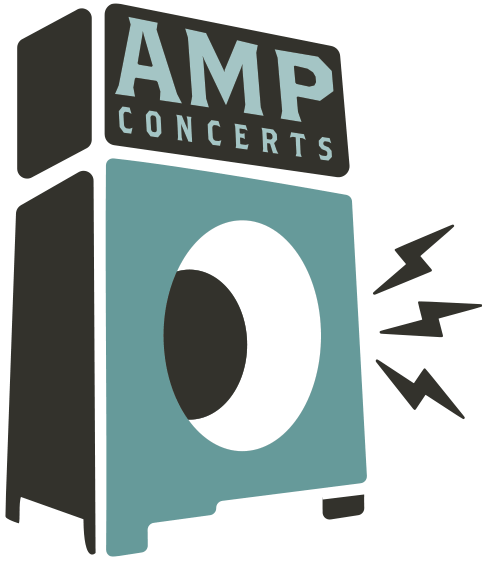 Search
AMP Concerts offers innovative and inspiring arts programming throughout New Mexico. A portion of all AMP ticket sales goes to fund free community concerts, workshops, school programs & artist residencies.
AMP Radio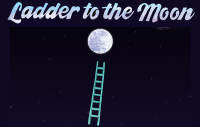 Ladder to the Moon Festival at Ghost Ranch
Music, camping, food, drink, poetry, yoga and more at the home and studio of Georgia O'Keeffe
Time: 4:00pm Day: Friday Doors: 3:00pm Ages: All Ages Price: FREE - $230
This Event Has Ended
Sunday Schedule Changes:
Cannons to replace Wet Leg on Sunday Schedule.  
Allison Russell taking time off to rest her voice and will not be peforming Sunday.
Sunday day schedule is now Adia Victoria, Jade Bird, Cannons & Indigo Girls
After Patti Smith's epic performance, it was clear there was room for more people, so we are increasing capacity and Sunday tickets are again available.
Last Minute Hotel Options!  
4 rooms were just released at the Abiquiu Inn for Saturday night!  Perfect for a last-minute Saturday excursion to see The Head and The Heart, Angel Olsen, Watchhouse and more!
See Ghost Ranch info, artist bios and festival FAQ on the Ladder to the Moon festival page.
Support:
- GhostRanchInfo@ampconcerts.org reaches the most people at once!
- Hold My Ticket: 505-886-1251
- Ghost Ranch: 505-685-1000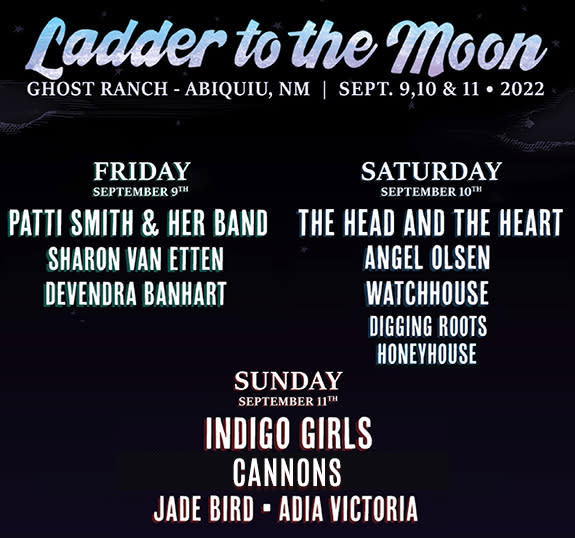 September 9-11, 2022: An intimate concert experience under a full moon in the heart of the iconic landscape that inspired Georgia O'Keeffe.
In 1958 Georgia O'Keeffe painted a pueblo style ladder floating in the evening sky over her home at Ghost Ranch.
In 2021 AMP Concerts produced the first ever music festival at Ghost Ranch, two very special nights of music beneath the glorious full moon.
In 2022 AMP is excited to be back with a bold new name inspired by that moon and the connection to the place of O'Keeffe's work.
Three nights of incredible performances, food, poetry, hiking, art and more... all under the full moon in the heart of the landscape that inspired Georgia O'Keeffe!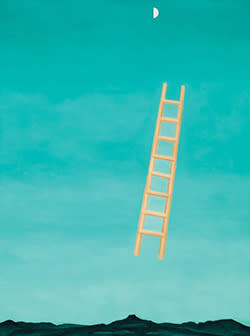 Georgia O'Keeffe, Ladder to the Moon
Used by permission of the Georgia O'Keeffe Museum
TICKET TYPES AND PRICES
FRIDAY SINGLE DAY TICKETS ARE SOLD OUT!  SATURDAY & SUNDAY SINGLE DAY TICKETS ARE STILL AVAILABLE, AS WELL AS A SMALL NUMBER OF 3-DAY PASSES.
3-day pass: $230 + $33 in facility and service charges = $263 total
1-day ticket (Friday or Saturday): $115 + $17 in facility and service charges = $132 total
1-day ticket (Sunday): $50 + $10 in facility and service charges = $60 total 
Kids 14 and under: free!
NEW SINGLE DAY AND MULTI DAY SATELLITE CAR CAMPING ADDED
We have added unimproved car-camping sites just across Hwy 84 from the Ghost Ranch entrance. Max. 4 adults per spot. Each camper MUST have a valid single or three day festival pass for access to the campgrounds! Size of camping site: 30 x 30 (including your vehicle!) Size of camping site: 30 x 30 (including your vehicle!)
For larger vehicles, contact tim@ampconcerts.org.
Shuttles will run from camping to festival grounds Friday, Saturday and Sunday. 
There will be portable toilets and hand wash stations ONLY. NO POTABLE WATER. No showers or amenities. Cook stoves ok. No open fires. RV's and trailers ok.
CLICK HERE to purchase satellite camping
Add-ons (Available to purchase with your ticket or separately at a later date):
Friday & Saturday VIP Dinners from Open Kitchen: $260 (Friday) and $280 (Saturday), including all service charges
Open Kitchen and AMP Concerts invite you to two elevated and original food + drink experiences at Ghost Ranch amidst stunning red-yellow cliffs, under boundless skies during the Ladder to the Moon music festival:
Friday: "From Garden to Desert and Sky Above" Cocktail & Wine Pairing Dinner
Saturday: "Chef-Curated Open Hearth Feast" 
3-Day VIP Bar and Viewing Area, hosted by Tumbleroot Distillery: $150, including all service charges
Amenities include VIP Bar on the Agape Deck with access to VIP viewing area in front of the stage.
Click here to learn more, see the menus, and purchase tickets to these VIP experiences.
LADDER TO THE MOON FESTIVAL FAQ
See the FAQ on the festival website laddertothemoonNM.com
SOLD OUT -ON-SITE CAMPING- SOLD OUT
We have created additional primitive camping options for the festival weekend. These options are available as add-ons when you purchase your ticket.  These camp sites have a minimum 2-night stay.  Each camper must purchase a separate 3-day pass.
On-Site Car Camping: $90 3-day, $40 single day, maximum 4 adults per spot. (Size of car area: 30 x 30; for larger vehicles, contact tim@ampconcerts.org) 
On-Site Tent Camping (The Hollow): $70 3-day, $30 single day, maximum 4 adults per spot. (Size of space is approximately 24 x 24.)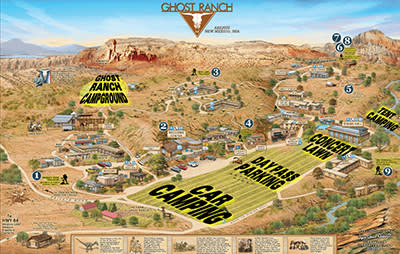 Click on the map to see a larger version
PERFORMANCE/EVENT SCHEDULE
Times subject to change. Show times are estimated.

Friday:

10 AM: Three day pass check-in begins (Front Gate)
2 PM: Single Day Friday check-in begins (Front Gate)
3 PM: Traditional bread baking (Horno Oven)
5-5:40 PM: The Little Tulips 
6-7 PM: Devendra Banhart
7:20-8:30 PM: Sharon Van Etten
8:55-10:25 PM: Patti Smith & Her Band
10:30 PM-12 AM+: After-music stargazing with Peter Lipscomb of Astronomy Adventures. Drink in views of Jupiter, Saturn, the Moon, and other celestial treats on a 20-inch reflector telescope.
Saturday:
8:30 AM: Yoga with Emily Branden (TBD)
10 AM: Satellite camping check-out (Satellite Camping)
12 PM: Single Day Saturday check-in begins (Front Gate/Satellite Camping)
3 PM: Traditional bread baking (Horno Oven)
4:30-5:10 PM: Honeyhouse
5:30-6:15 PM: Digging Roots
6:30-7:30 PM: Watchhouse (duo)
7:50-9 PM: Angel Olsen
9:25-10:45 PM: The Head & The Heart 

10:30 PM-12 AM+: After-music stargazing with Peter Lipscomb of Astronomy Adventures. Drink in views of Jupiter, Saturn, the Moon, and other celestial treats on a 20-inch reflector telescope.
Sunday:
8:30 AM: Yoga with Emily Branden (TBD)
10 AM: Satellite camping check-out (Satellite Camping)
12 PM: Single Day Sunday check-in begins (Front Gate/Satellite Camping)
3 PM: Traditional bread baking (Horno Oven)
(Tentative Updated Schedule)
4:30-5:15 PM: Adia Victoria
5:30-6:30 PM: Jade Bird
7:00-8:00 PM: Cannons
8:30-10:00 PM: Indigo Girls
ABOUT THE MUSICAL ARTISTS
FRIDAY: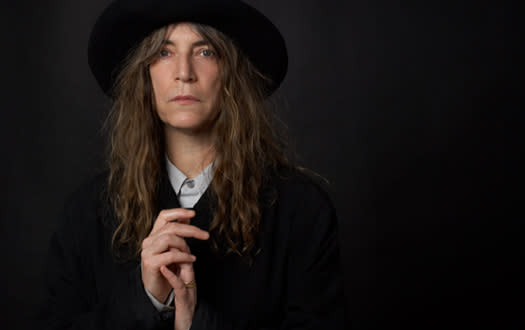 Patti Smith, born in Chicago and raised in South Jersey, migrated to New York City in 1967. Her extensive achievements as a performer, author, recording and visual artist is acknowledged worldwide.
Released in 1975, Smith's first recording, Horses, was inducted into the National Recording Registry at the Library of Congress in 2010 by the National Recording Preservation Board. Smith was awarded the prestigious 2010 National Book Award for her bestselling memoir, Just Kids, chronicling her deep friendship with photographer Robert Mapplethorpe and the evolution of their work. In 2007 she was inducted into the Rock and Roll Hall of Fame. She was honored by ASCAP with the Founders Award in 2010, representing lifetime achievement.
Her renowned band includes guitarist and author Lenny Kaye, drummer Jay Dee Daugherty, Tony Shanahan, and her son, guitarist Jackson Smith.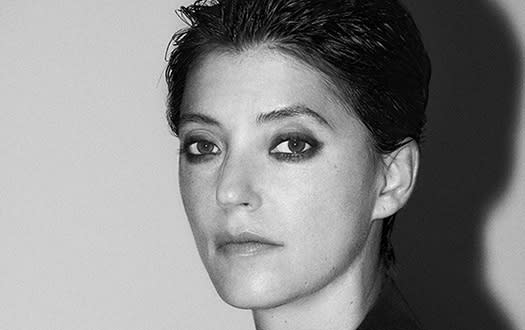 Sharon Van Etten has always been the kind of artist who helps people make sense of the world around them, and her sixth album, We've Been Going About This All Wrong, concerns itself with how we feel, mourn, and reclaim our agency when we think the world—or at least, our world—might be falling apart. How do we protect the things most precious to us from destructive forces beyond our control? How do we salvage something worthwhile when it seems all is lost? And if we can't, or we don't, have we loved as well as we could in the meantime? Did we try hard enough? In considering these questions and her own vulnerability in the face of them, Van Etten creates a stunning meditation on how life's changes can be both terrifying and transformative. We've Been Going About This All Wrong articulates the beauty and power that can be rescued from our wreckages.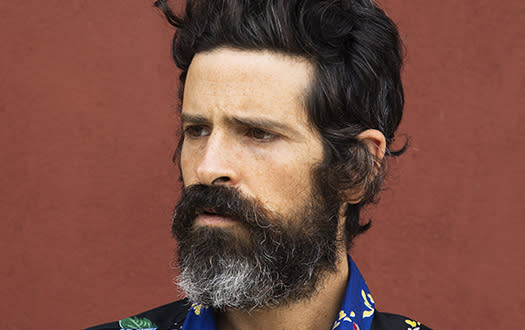 Devendra Banhart emerged seemingly out of nowhere in 2002 with his first CD collection, Oh Me Oh My...The Way the Day Goes By the Sun Is Setting Dogs Are Dreaming Lovesongs of the Christmas Spirit, compiled by Swans frontman Michael Gira for his Young God label from homemade recordings the itinerant Banhart had amassed as he traveled the world. He was born Devendra Obi Banhart in Houston, Texas, but spent his childhood in Caracas, Venezuela; as a teenager, his family returned to the States, relocating in Southern California, where he soon became enamored of skateboard culture. Like Nonesuch label-mates Caetano Veloso and David Byrne, Banhart has embraced an astonishingly wide range of musical ideas, from folk to blues to the avant garde. 
SATURDAY: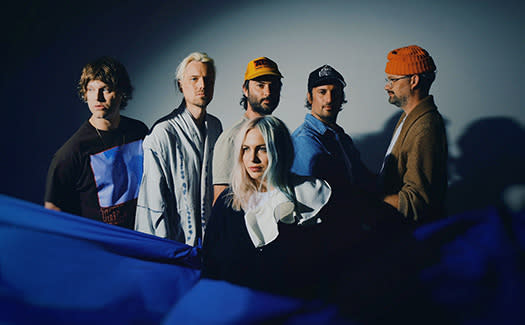 Initially self-released in 2011, The Head And The Heart's self-titled breakout debut produced instant classics including "Rivers and Roads," "Down In The Valley" and "Lost In My Mind" (#1 at AAA) and is now Certified Gold. Their next two albums, 2013's Let's Be Still and 2016's Signs of Light, settled into Billboard's Top 10 albums chart, with Signs of Light securing the #1 position on the Rock Album Charts.
"Honeybee" became a fan favorite and breakout track from the band's fourth full-length album, Living Mirage, released to critical praise in 2019. The track has seen 100 million streams globally. The band's high energy live show has established their status as a touring powerhouse, having landed prime time mainstage slots at Coachella, Lollapalooza and Austin City Limits.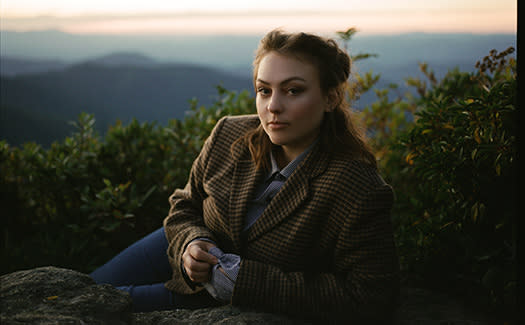 Fresh grief, like fresh love, has a way of sharpening our vision and bringing on painful clarifications. No matter how temporary we know these states to be, the vulnerability and transformation they demand can overpower the strongest among us. Then there are the rare, fertile moments when both occur, when mourning and limerence heighten, complicate and explain each other; the songs that comprise Angel Olsen's Big Time were forged in such a whiplash.
Big Time is an album about the expansive power of new love, but this brightness and optimism is tempered by a profound and layered sense of loss. During Olsen's process of coming to terms with her queerness and confronting the traumas that had been keeping her from fully accepting herself, she felt it was time to come out to her parents, a hurdle she'd been avoiding for some time. "Finally, at the ripe age of 34, I was free to be me," she said. Three days later, her father died and shortly after her mother passed away. The shards of this grief—the shortening of her chance to finally be seen more fully by her parents—are scattered throughout the album.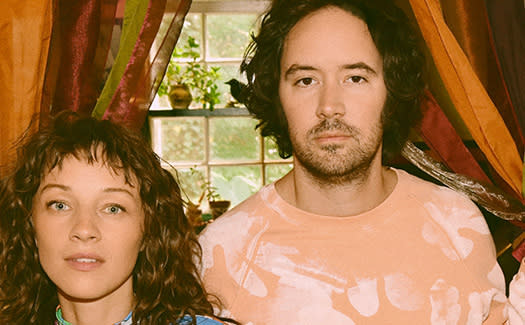 By the time 2019 came to its fitful end, Andrew Marlin knew he was tired of touring. He was grateful, of course, for the ascendancy of Mandolin Orange, the duo he'd cofounded in North Carolina with fiddler Emily Frantz exactly a decade earlier. Still, every night, Andrew especially was paid to relive a lifetime of grievances and griefs onstage. After 2019's Tides of a Teardrop, a tender accounting of his mother's early death, the process became evermore arduous, even exhausting. What's more, those tunes—and the band's entire catalogue, really—conflicted with the name Mandolin Orange, an early-20s holdover that never quite comported with the music they made. Nightly soundchecks, at least, provided temporary relief, as the band worked through a batch of guarded but hopeful songs written just after their daughter Ruby's birth. They offered a new way to think about an established act.
Those tunes are now Watchhouse, which would have been Mandolin Orange's sixth album but is instead their first also under the name Watchhouse, a moniker inspired by Marlin's place of childhood solace. The name, like the new record itself, represents their reinvention as a band at the regenerative edges of subtly experimental folk-rock.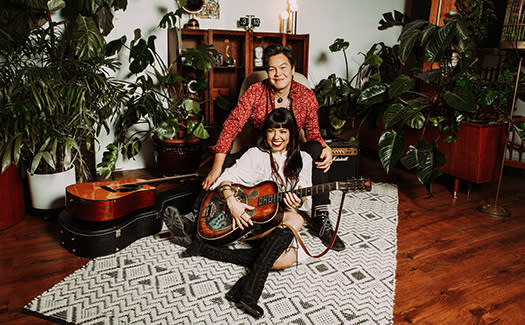 Digging Roots breathe life into songs from their land, Turtle Island, to raise their voices in solidarity with a global chorus of Indigenous artists, activists and change-makers. For over a decade, JUNO Award winners Digging Roots have traveled the world with a joyful message of resistance, celebrating Anishinabe and Onkwehonwe traditions of round dance and interconnectedness interwoven with the bedrock sounds of blues, soul and rock 'n roll.
The beating hearts of Digging Roots, founding duo ShoShona and Raven, have built a home for a talented community of players and collaborators including their son, drummer Skye Polson and Hill Kourkoutis. More than a band, Diggings Roots have taken their place at the frontline of the fight for equity and representation in the arts, with involvement in industry advocacy and organization, including the International Indigenous Music Summit and Ishkode Records, to empower arts communities worldwide.
SUNDAY: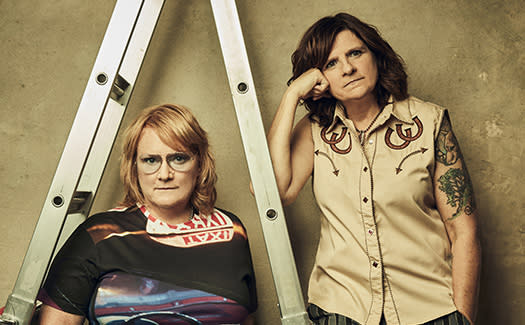 Released in 1989, Indigo Girls' eponymous major label debut sold over two million units under the power of singles "Closer to Fine" and "Kid Fears" and turned Indigo Girls into one of the most successful folk duos in history. Over a thirty-five-year career that began in clubs around their native Atlanta, Georgia, the Grammy-winning duo has recorded sixteen studio albums (seven gold, four platinum, one double platinum), sold over 15 million records, and built a dedicated, enduring following. 
On their 16th studio album, Indigo Girls tell their origin story. Look Long is a stirring and eclectic collection of songs that finds Amy Ray and Emily Saliers reunited with their strongest backing band to date as they chronicle their personal upbringings with more specificity and focus than they have on any previous song-cycle.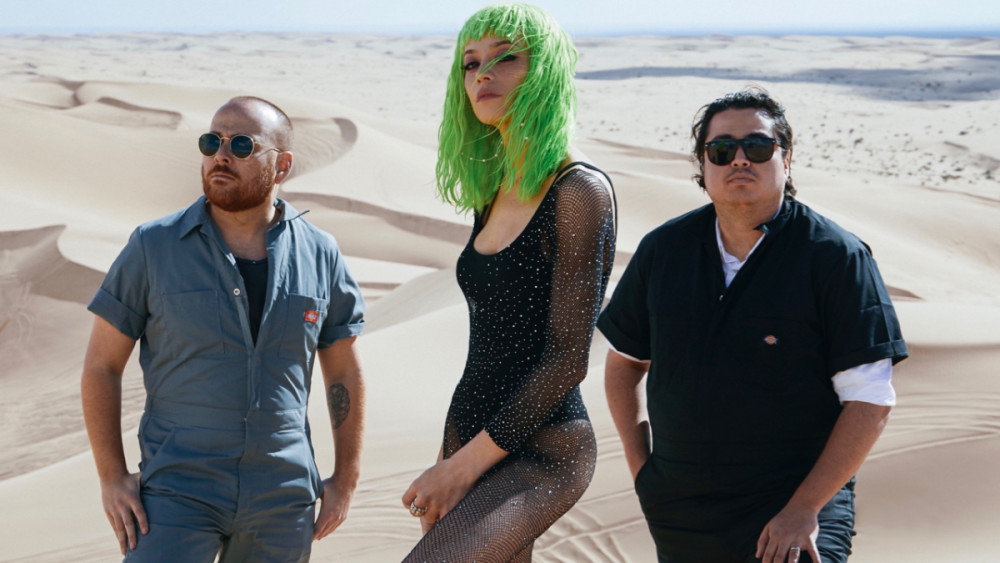 With loads of enthusiasm and a life-long raw passion for music, Cannons, a new indie-electro band, found one another in 2013 in Los Angeles, CA. Wasting little time, lead singer Michelle Joy, Lead Guitarist Ryan Clapham, and Paul Davis on drums and keys, created their own unique sound that naturally formed while fans quickly filled in the big genre question mark with more refined names like "nudisco", "future boogie", and "chill-wave/indie pop". Cannons artfully melds organic and electronic sounds with an influential background based on 80's synth, 70's R&B/soul, current deep house music and electronic production. Cannons has been taking on fans of all ages from all over the world in such a short amount of time with their truly unique and impossible to pinpoint with just one word sound. Cannons has one mission! To keep you dancing all night long!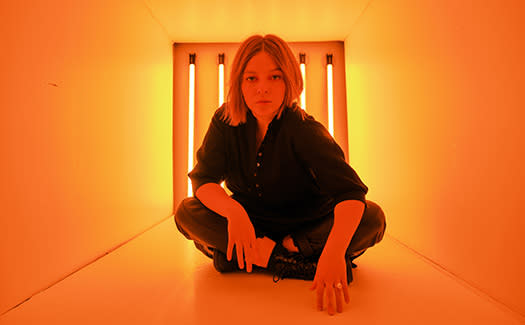 For Jade Bird, the second that lockdown lifted, there were no aimless summer days spent meeting friends in parks; no languorous evenings in pub gardens. She was headed straight back to Nashville to complete her second album, Different Kinds of Light—albeit via a strict two-week quarantine in Mexico City. She allowed herself to see no more of the Mexican capital than the local store and a leg-stretching walk around the block, not wanting to jeopardize any chance of being allowed into the U.S. to finish what she had started with Grammy-winning producer Dave Cobb (Brandi Carlile, John Prine, Lady Gaga). The highlight of her stay in Mexico was literally her boyfriend pointing out a particularly gnarly spider he spotted as he had a cigarette on the balcony. "I move on really quick," Jade explains of the urgency she felt. "My partner always says there's no in between with me whatsoever, it's on or it's off. My feeling was: I'm in it, I love these songs, I want to sing. That's why we made heaven and earth move so I could do that in that moment."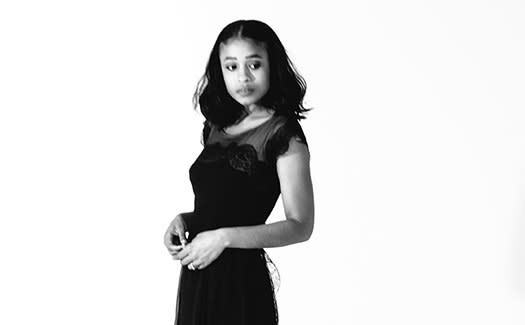 Adia Victoria is a daughter of the South, a born and bred South Carolinian who now makes her home in Nashville, Tennessee. It is no surprise, then, that stories of the South find their way into her music, into the lyrics she pens and the chords she plays. It has been the case through her first two albums—2016's Beyond the Bloodhounds and 2019's Silences—and it remains so for third full-length effort, A Southern Gothic. 
---