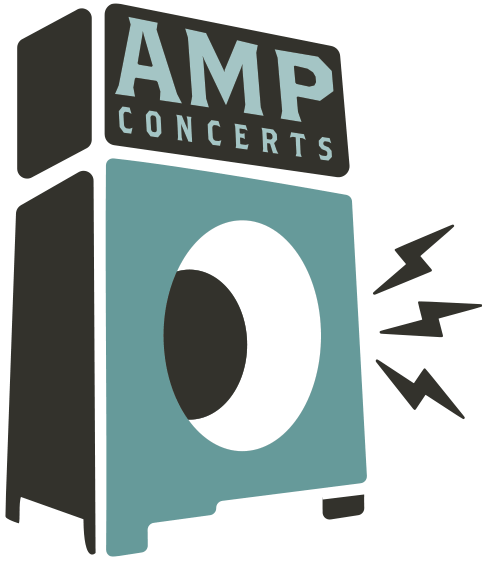 Search
AMP Concerts offers innovative and inspiring arts programming throughout New Mexico. A portion of all AMP ticket sales goes to fund free community concerts, workshops, school programs & artist residencies.
AMP Radio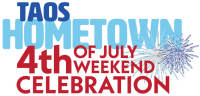 4th of July Music Getaway Weekend! Both Taos shows for just $59!
Friday: Lake Street Dive with Jake Shimabukuro, Saturday: Mavericks & Los Lobos
Time: 4:15pm Day: Thursday Doors: 3:30pm Ages: All Ages
All Associated Events
4th of July Music Getaway Weekend! Both Taos shows for just $59!
July 4, 2019 4:15 pm
Lake Street Dive with Jake Shimabukuro
July 5, 2019 6:00 pm
The Mavericks & Los Lobos
July 6, 2019 6:00 pm
This Event Has Ended
Enjoy the 4th of July weekend in the cool mountains of Taos with two great concerts for the low package price of only $59 (including all service charges)!
Kids 12 and under only $15 (including all service charges).


VENDORS ALL WEEKEND INCLUDE:
Chili Willies (Turkey Legs, Corn)
Espresso Yourself
Freshie's Juice
Jen's Diner (New Mexican)
JJ's Lunchbox (Frito Pies, Hot Dogs, Nachos)
Mystic Dance (Hot Dogs, Hamburgers, Fries, Nachos)
Rocky Mountain Chocolate CompanyTaos Cow Ice Cream
Tacos Gracias Madre (Tacos, Burritos, Tortas, Quesadillas)
Texas Hill Country (Sausages!)
Friday, July 5:
PICNICS WELCOME • CHAIRS & BLANKETS WELCOME • SHADE STRUCTURES AND UMBRELLAS AT BACK OF PARK ONLY • NO OUTSIDE ALCOHOLIC BEVERAGES • BEER, WINE & FOOD AVAILABLE • FREE WATER REFILL STATIONS (Bring your own reusable bottles) • SORRY, NO PETS!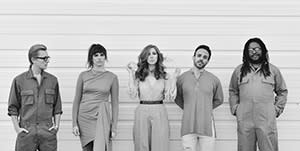 With their singular mix of soul and R&B and wholehearted rock & roll, Lake Street Dive make music that's timeless yet immediate, exuberant yet reflective. In the 15 years since their formation, the band's infectious vitality has only magnified in appeal, as proven with the release of their 2018 album Free Yourself Up. Along with earning lavish acclaim, the Boston-bred act's most recent full-length debuted in the top ten on the Billboard 200, and spent a virtually unprecedented seven-and-a-half months on the non-commercial radio charts.
Their most intimate and collaborative work to date, Free Yourself Up finds Lake Street Dive expanding their sound with more intricate textures, fuller-bodied arrangements, and stacks of sublime background harmonies. The album's title serves as both an exhortation to listeners and a statement of purpose for the band, its songs unfolding with a joyful swagger even when channeling anxiety over the state of the world. "This album is based in the realities in our time, which have inevitably become part of everyone's daily life," notes Kearney. "It's something you think about and obsess over—and write songs about. Free Yourself Up is about empowering yourself, emboldening yourself, no matter what's going wrong."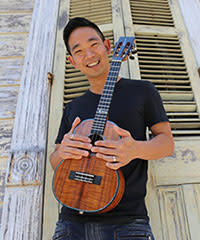 Jake Shimabukuro's wholly unique approach to the ukulele started early. As a youngster growing up in Honolulu, Hawaii, Shimabukuro started playing the instrument at the age of four, learning the basics from his mother, Carol, and then developing his craft further by studying the likes of musical masters such as Eddie Kamae, Ohta-San and Peter Moon. As he matured, Shimabukuro also found inspiration from guitar players, drummers, pianists, and singers. Even athletes helped fuel the intensity of his artistic fire.
Shimabukuro's records have topped the Billboard World Music Charts on numerous occasions, and as a live performer he has become one of the hottest tickets around. He's played with world-renowned orchestras and at prestigious venues such as the Hollywood Bowl, Lincoln Center and the Sydney Opera House, and has dazzled audiences at music festivals including Bonnaroo, SXSW, the Playboy Jazz Festival and Fuji Rock Festival. He even performed for that rarest of audiences: Her Majesty Queen Elizabeth II. Not too shabby for a humble young man from Hawaii and his trusty ukulele.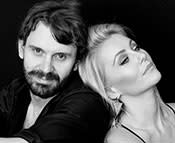 Beat Root Revival is a multi-instrumentalist roots duo, combining elements of folk, blues, country and rock to create a melodic sound, made up of powerhouse harmonic vocalists Andrea Magee and Ben Jones.
Originally from England and Ireland, Ben Jones and Andrea Magee came to the USA like their ancestors before them, looking for a new life and to share their music far and wide. With just a guitar, a Bodhran and a hunger in their harmonies and songs, Austin, Texas became their adopted home and they have developed an ever-growing fan base gigging regularly while writing prolifically.
Saturday, July 6:
CHAIRS & BLANKETS WELCOME • NO COOLERS • NO OUTSIDE FOOD OR DRINK • BEER, WINE & FOOD AVAILABLE • SEALED BOTTLES OF WATER OK • FREE WATER REFILL STATIONS (Bring your own empty reusable bottles) • SORRY, NO PETS!
THE MAVERICKS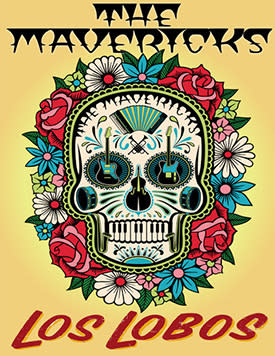 "Beyond category" is the only label that truly suits Grammy Award-winning group The Mavericks.
As Entertainment Weekly noted in 2017, "'What kind of music do The Mavericks record?' is a question with no real answer. On the one hand, the Miami-bred outfit records bits of everything: Elvis Presley-esque rock, Roy Orbison-style balladry, Latin-fusion party tunes, throwback country, irresistible pop. On the other hand... a vocabulary for their style remains out of reach." 
The band has resolutely defied pigeonholing since their founding in 1989; they played their earliest dates in Florida's alternative rock clubs, where their on-stage contemporaries included another new act on the scene, Marilyn Manson. Celebrating their 30th anniversary in 2019, The Mavericks abide as an American musical treasure, with an all-encompassing sound that's as deep, rousing, and entertaining as it is stubbornly impossible to pin down. 
LOS LOBOS
Los Lobos were already East L.A. neighborhood legends, Sunset Strip regulars and a Grammy Award winning band (Best Mexican-American/Tejano Music Performance) by the time they recorded their major label debut How Will The Wolf Survive? in 1984. 
Although the album's name and title song were inspired by a National Geographic article about real-life wolves in the wild, the band—David Hidalgo, Louie Perez, Cesar Rosas, Conrad Lozano and Steve Berlin—saw parallels with their struggle to gain mainstream rock success while maintaining their Mexican roots. Perez, the band's drummer, once called their powerhouse mix of rock, Tex-Mex, country, folk, R&B, blues and traditional Spanish and Mexican music "the soundtrack of the barrio." Four decades, two more Grammys, a worldwide smash single ("La Bamba") and thousands of rollicking performances across the globe later, Los Lobos is surviving quite well—and still jamming with the same raw intensity as they had when they began in that garage in 1973.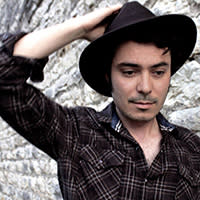 Max Gomez has always had the heart of an old soul. As a child, the first songs he learned to sing were originally recorded in the 50s by Johnny Cash. As a teenage guitarist he adopted Big Bill Broonzy as his blues master. And as a budding performer, he apprenticed in the rarefied musical climate of northern New Mexico, where troubadours like Michael Martin Murphey and Ray Wylie Hubbard helped foster a folk and Western sound both cosmic and cowboy. You'll find his hometown of Taos and nearby Red River right there between Colorado and Texas on both your sonic and Google maps. Splitting his childhood between there and a farm in the Flint Hills of Kansas, Gomez is at home in the heartland, too.
Judging by the company he keeps, Gomez is there positioned to emerge as a prominent voice of Americana's next generation. Since the release of his debut album, Rule the World, in 2013, he's shared billing on hundreds of stages with stalwarts of the genre like Shawn Mullins, James McMurtry, Buddy Miller, Jim Lauderdale, Patty Griffin, and John Hiatt.
---